In his first State of the State address to the Republican-led Legislature and the people of Wisconsin Tuesday, Democratic Gov. Tony Evers pledged to follow "the will of the people" while tackling racial disparities, investing in public education and improving the quality of the state's drinking water.
Evers also pledged to withdraw Wisconsin from a lawsuit seeking to overturn Obamacare — despite a law prohibiting him from doing so without legislative approval — and discussed his plans for health care, transportation and income taxes in his speech delivered Tuesday evening at the state Capitol.
The state of the state, Evers said, is "that we've got work to do, and we're ready for bipartisan solutions."
The half-hour speech reinforced big-picture themes on which Democrats and Republicans agree while highlighting areas large and small where the parties diverge. 
"I have no doubt that there will be issues on which we disagree. I have no doubt that there will be times when we will be frustrated by the deliberative process of democracy. But we will engage civilly," Evers said. "We will have discourse and dialogue, but it will not devolve into disrespect. And we will govern with a humble appreciation that the will of the people — our people — is the law of the land."
Education
Evers repeated a common refrain from his campaign: "What's best for our kids is best for our state."
Joint Finance Committee co-chair Sen. Alberta Darling, R-River Hills, said she also supports the two-thirds funding commitment. Darling said Republicans also want to direct more funding to special education programs, but she wants to see the details of Evers' budget proposal to find out how he plans to pay for his ideas.
"Tonight he asked for bipartisan solutions, and I welcome that. I think we have to have bipartisan solutions, but quite frankly, he talked about connecting the dots — I'm going to be interested in seeing his budget where he actually connects the dots," Darling said after the speech. 
Evers has also proposed expanding and funding new programs in the state's five largest school districts, which have disproportionate shares of students with significant achievement gaps.
"It is urgent that we increase support for our low-income students and students of color. The longer we wait to invest in closing our achievement gap, the wider the gap will get, and the more it will cost us in the long-run," Evers said.
Health care
The governor's speech came just a few hours after the state Assembly voted to approve legislation requiring insurance companies to cover pre-existing conditions if the Affordable Care Act is overturned. Sixteen Democrats joined Republicans in passing the bill, but Evers has signaled he might not sign it into law.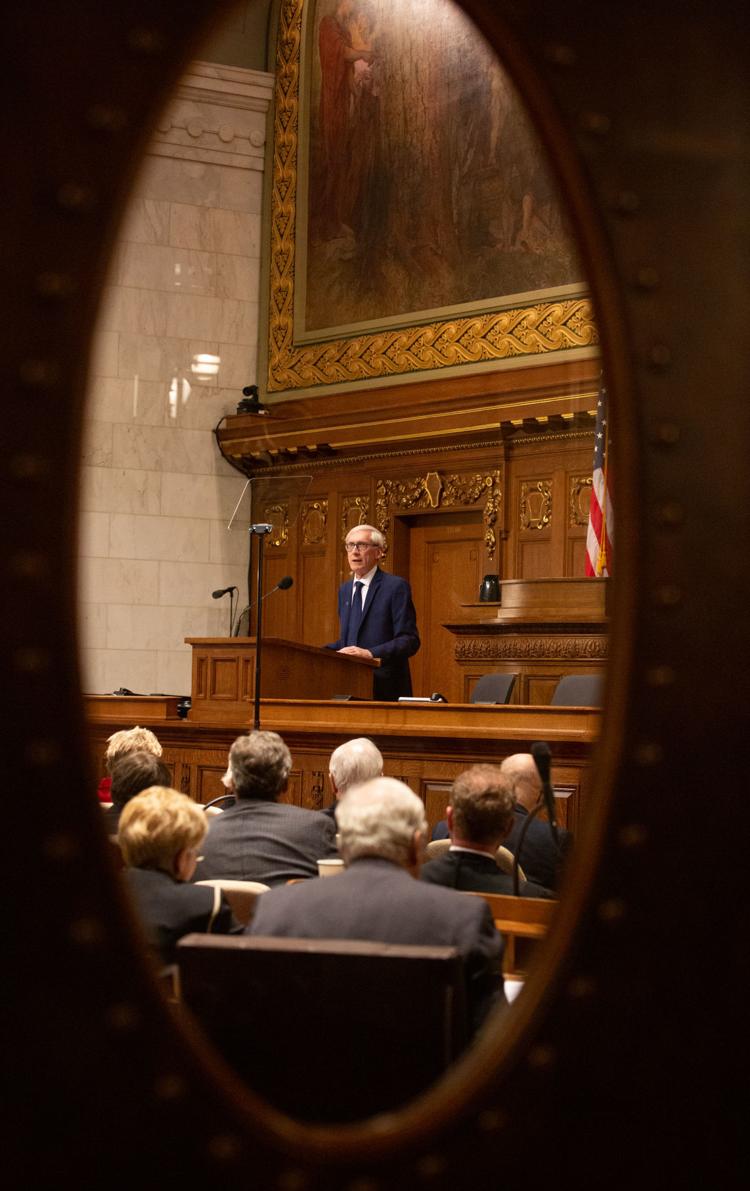 Evers campaigned on a promise to withdraw Wisconsin from a multi-state lawsuit seeking to overturn Obamacare, but his ability to do so without legislative approval was removed in a set of laws passed by the Republican-led Legislature after he was elected. A federal judged in Texas ruled the ACA unconstitutional in December, but it is still being enforced as the lawsuit is appealed.
Despite the extraordinary session law, Evers said he has instructed Attorney General Josh Kaul to withdraw from the lawsuit. He told reporters earlier this month he believes he can do so without violating the state law, but did not offer details. 
"I've said all along that I believe the best way to maintain protections for healthcare here in Wisconsin is to stop trying to dismantle those protections at the federal level," Evers said.
Assembly Majority Leader Jim Steineke, R-Kaukauna, said it appears Evers is directing Kaul to "take illegal action."
"This is a really important lawsuit and the Department of Justice will act consistently with the law. We intend to respond to the governor's request promptly," Kaul told reporters after the speech. 
Asked whether he sees the direction as an instruction to act illegally, Kaul said, "we are going to act in accordance with the law."
Evers also promised once again to include a provision to accept the federal Medicaid expansion in his first budget — a move Vos has said would be a "nonstarter" for Republican lawmakers. 
Following the speech, Fitzgerald said Evers should give up on his commitment to the Medicaid expansion.
"No," Vos said when asked if there's room to compromise on the issue.
According to the nonpartisan Legislative Fiscal Bureau, accepting the expansion would bring in about $180 million per year in federal funding, and the number of people covered by Medicaid would grow by about 75,000. Republicans oppose the move because it would put more people on government-sponsored health care.
Transportation
"While I know that caucus members in both houses support different approaches to solving our transportation funding crisis, it's going to take sacrifices and compromises to find a long-term, comprehensive solution that works for everyone," Evers said, announcing plans to create a task force to craft a transportation funding plan.
Some Republican senators have voiced opposition to Evers' pick for transportation secretary, former Wisconsin Transportation Development Association executive director Craig Thompson. Evers praised Thompson as someone who will work with people on both sides of the aisle.
The task force, Evers said, will seek feedback "from key partners from all regions of the state, all sectors of the economy, and users of all different modes of transportation."
Drinking water
Evers declared 2019 "the year of clean drinking water in Wisconsin," promising to designate a position at the Department of Health Services to oversee efforts to improve water quality throughout the state. 
According to a state Department of Health Services study, about 40 percent of Wisconsin households rely on private wells as their water source. A 2013 study found that 47 percent of wells tested in a specific program contained contaminant levels above a groundwater standard. Another recent study of 301 private wells in Iowa, Grant and Lafayette counties found that 42 percent exceeded federal standards for bacteria or nitrate.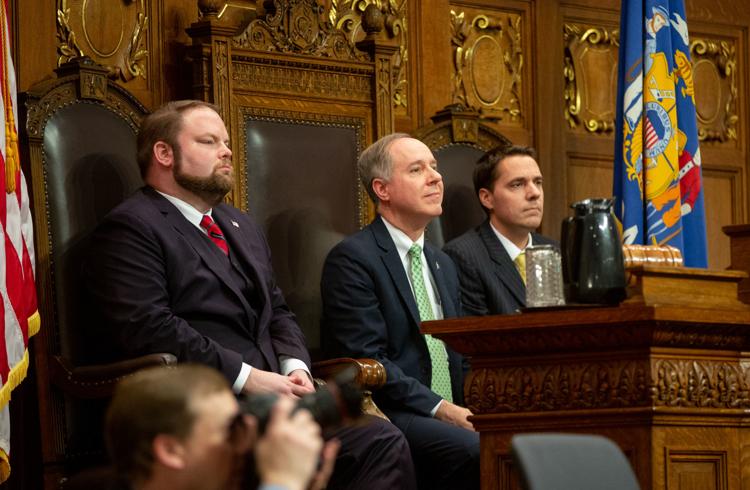 The state also has at least 176,000 lead service lines connecting public water mains to homes, according to an estimate from the U.S. Environmental Protection Agency.
The issue of water quality offers another opportunity for bipartisan cooperation. After requests from two Republican lawmakers, Vos said earlier this month he will form a water quality task force in the Assembly.
Taxes
Both Evers and Assembly Republicans have said they want to cut taxes for middle-income earners by 10 percent — a promise Evers reiterated in his speech — but they disagree on how to fund the reduction. 
Assembly Republicans introduced a proposal last week that would use the state's positive budget balance to fund the cut. Evers has proposed funding it by capping the state's manufacturing and agriculture tax credit, which reduces the state income tax for manufacturers and agricultural producers.
"I don't make promises I can't keep, and I'm not going to propose things that we can't pay for," Evers said.
Republicans oppose Evers' method because they argue capping an existing tax credit would amount to a tax hike for farmers and businesses. 
"Tony Evers has the chance to work together and not just say it," Evers said of Republicans' proposal.
Bipartisanship
Evers mentioned a phrase inscribed on the ceiling in the governor's conference room: "The will of the people is the law of the land." 
"That means I expect legislation arriving on my desk will be passed with broad support and in the spirit of bipartisanship," Evers said. "That means instead of taking up an entirely new budget of its own, I expect the Legislature to take up the budget I crafted by and with the people of our state."
But Fitzgerald said after the speech that based on its contents, Republicans will "absolutely" work from a base budget rather than what Evers proposes. 
"What he's building right now is a top-down budget," Fitzgerald said.
Vos said he has hoped that Republicans can work with Evers' budget, but they likely won't if his proposal includes the Medicaid expansion and a cap on the manufacturing and agriculture tax credit.
"I've tried to be optimistic to say we can certainly work off his budget if he doesn't build it on a house of sand knowing all this money is never going to be there that he wants to spend," Vos said. "He still has the opportunity to change his mind."
Senate Minority Leader Jennifer Shilling, D-La Crosse, said in a statement that Democrats are "committed to lowering property taxes, strengthening local schools and giving Wisconsin children the best possible education by restoring millions in state aid cut by Republicans."
"With Gov. Evers' leadership, these goals are all within our reach, but we need to find new ways to work together, invest in our communities and expand opportunities for everyone — not just the wealthiest one percent," Shilling said.
Assembly Minority Leader Gordon Hintz, D-Oshkosh, said Evers "knocked it out of the park."
"How refreshing to see an agenda that expands health care access, makes a commitment to our public schools, and rebuilds our transportation infrastructure. These are the issues that people across Wisconsin care about, and these are the issues Governor Evers is prioritizing," Hintz said in a statement.