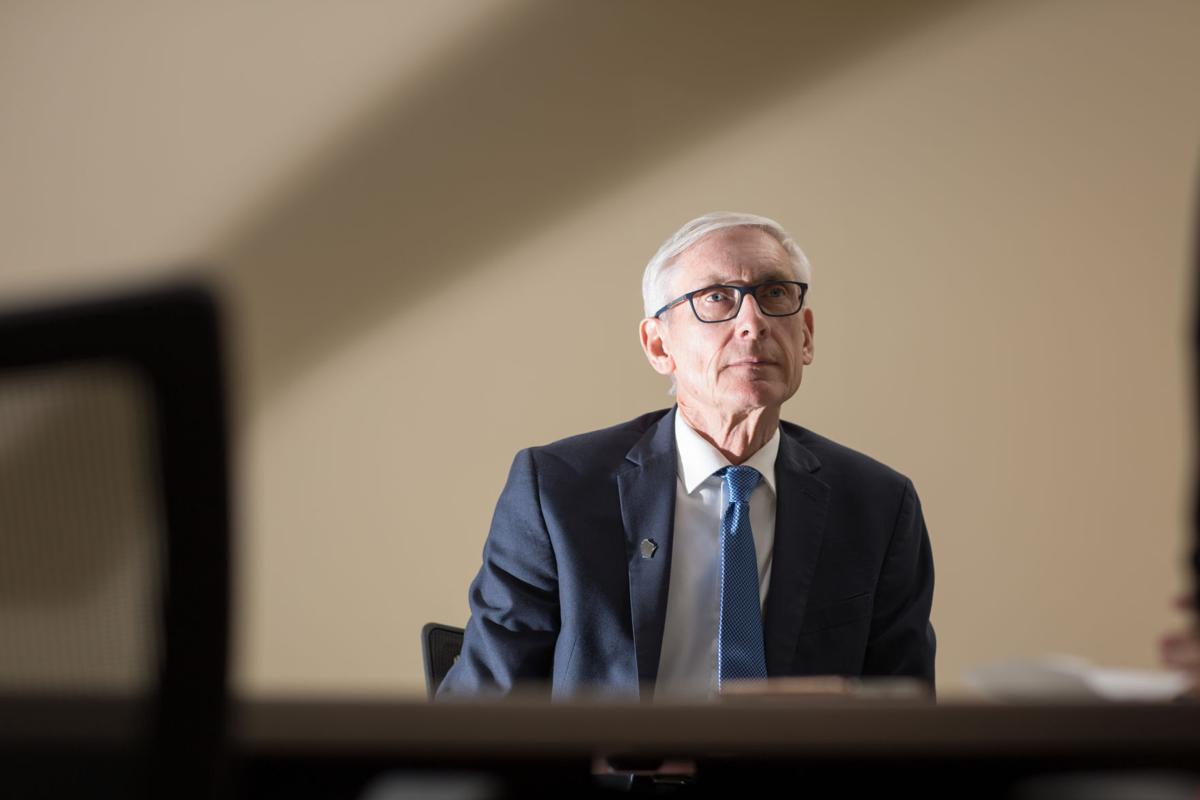 Gov. Tony Evers vetoed a bill on Tuesday that would have ended Wisconsin's participation in federal pandemic relief programs that increase the amount of government assistance available for unemployed people.
The supplemental assistance is set to expire on Sept. 6, but at least 25 states started phasing it out earlier this month.
The bill would have reduced the maximum weekly unemployment benefit in Wisconsin from $670 per week to $370 week. It also would have prevented the state Department of Workforce Development from waiving unemployment work search requirements for any reason related to COVID-19. It passed on party-line votes in both chambers of the Legislature.
"Eliminating this lifeline for many Wisconsinites will cause continued economic hardship for those impacted the most by the pandemic and create additional hurdles to return to family-sustaining jobs," Evers wrote in his veto message. "As a result, the entire state economy likely would be negatively affected."
Evers said he rejected the bill because he objects to the Legislature encroaching on the administration's authority and because it would hurt people whose livelihoods have been hit the hardest by the pandemic. He argued there is no evidence proving that the additional benefits are keeping people on the sidelines.
"The Legislature needs to confront issues surrounding child care, wages, and workplace COVID-19 safety for those returning to the workforce," Evers wrote. "Eliminating the supplemental federal benefits while simultaneously failing to address systemic problems faced by individuals remaining in and returning to the workforce is irresponsible."
DWD Secretary-designee Amy Pechacek noted during a legislative hearing last month that low-wage workers, women and people of color have had higher rates of job loss and slower rates of economic recovery related to the pandemic — attributed in part to family caregiving needs and employment in the service and hospitality industries. Access to affordable child care has impeded some people's ability to return to work, she said.
Republican lawmakers introduced the legislation amid a continuing workforce shortage, based on the assumption that the enhanced aid is deterring people from returning to work.
Scott Manley, executive vice president of government relations for Wisconsin Manufacturers and Commerce, has said previously that the group's members believe the supplemental aid has had a significant effect on their ability to hire workers — which results in some businesses having to turn down contracts or reduce their hours of operation.
Republicans were quick to criticize the governor's decision. Assembly Majority Leader Jim Steineke, R-Kaukauna, said it is "absolutely mind-boggling to learn our governor thinks we should still be paying folks an extra $300 per month to sit home on their couch."
Sen. Howard Marklein, R-Spring Green, disputed Evers' assertion that there is no link between the extra money and the state's workforce shortage.
"Every single employer I have talked to is challenged to find workers. Hardworking employees, who have been stretched very thin, tell me that they are getting tired," Marklein said. "From restaurants to manufacturers to city governments to state parks. Every single employer is competing with the government's unnecessary enhanced unemployment checks."
Unemployment insurance should be a "safety net," not a "brick wall for employers," Marklein argued. Assembly Speaker Robin Vos, R-Rochester, argued the veto only serves to add "one more hurdle" for businesses trying to recover from the pandemic.
Economists say the federal dollars could be playing a role in hiring difficulties, but also point to child care access, health concerns and career changes as other factors.
A study published recently by the Wall Street Journal indicated that the number of people receiving unemployment assistance has declined faster in states that have ended the federal benefits than in states that are still issuing the additional funds. At the same time, an analysis by the job-search site Indeed found that ending the benefits hasn't necessarily resulted in an uptick in job searches.
Wisconsin's current unemployment rate is 3.9%, compared to 3.1% in March 2020 before the coronavirus hit, and 14.1% in April 2020. The U.S. average is 5.8%
Share your opinion on this topic by sending a letter to the editor to tctvoice@madison.com. Include your full name, hometown and phone number. Your name and town will be published. The phone number is for verification purposes only. Please keep your letter to 250 words or less.