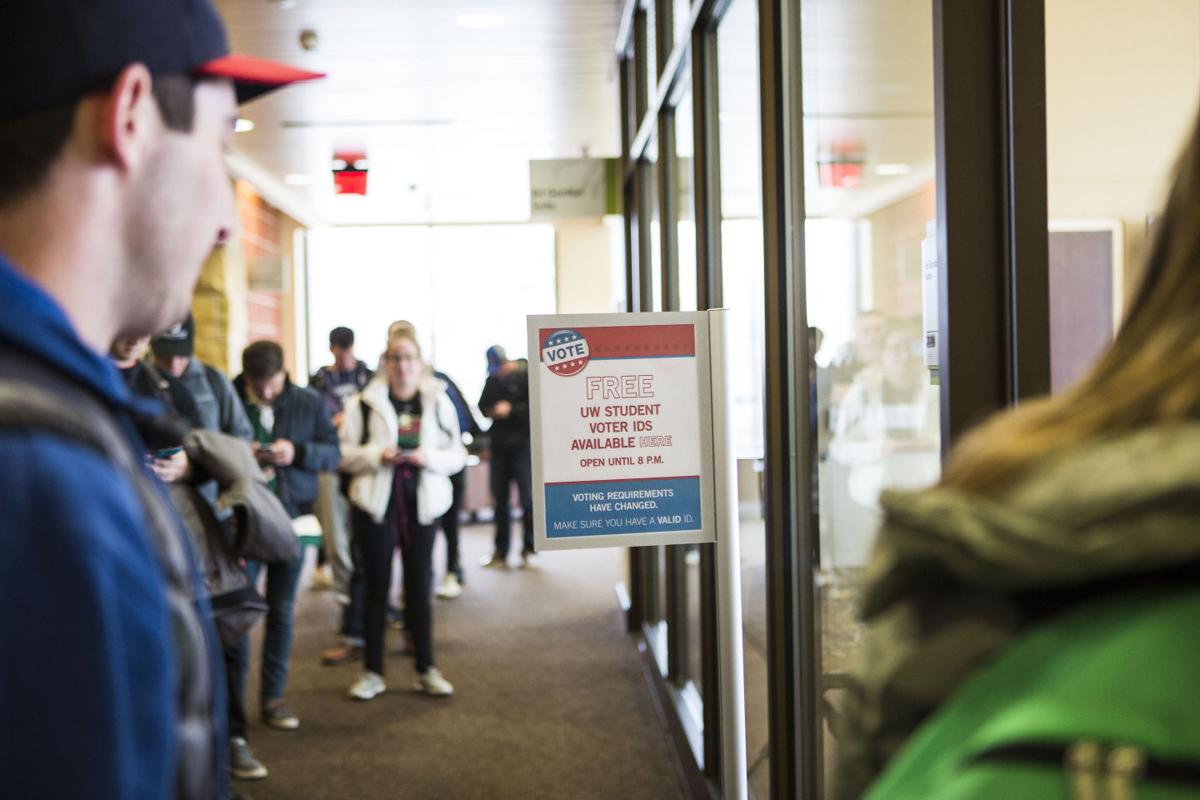 Attorneys challenging a series of Wisconsin voting laws implemented over the last five years argued Monday that lawmakers intended to discriminate against non-white voters by passing them.
The trial began with a former Republican legislative staffer testifying that not only was that the intent, but some state senators were "giddy" to do so.
Todd Allbaugh, who served as chief of staff to then-Sen. Dale Schultz, R-Richland Center, when the state's voter ID law was passed in 2011, said there initially wasn't much enthusiasm among Senate Republicans to pass the bill.
Sen. Mary Lazich, R-New Berlin, argued on the bill's behalf to her colleagues in a closed caucus meeting, Allbaugh testified.
"She got up out of her chair and she hit her finger on the table and said, 'Hey, we've got to think about what this could mean for the neighborhoods around Milwaukee and the college campuses around the state,'" Allbaugh said.
Schultz, who did not seek re-election in 2014, voiced some opposition to the bill and what it might do to voting rights, Allbaugh said. His opposition was met by a spirited defense from then-Sen. Glenn Grothman, now a member of Congress.
"At that point, Sen. Grothman cut him off and said, 'What I'm concerned about is winning. You know as well as I do the Democrats would do this if they had power … so we better get this done while we have the opportunity,'" Allbaugh said.
Allbaugh said Sen. Leah Vukmir, R-Wauwatosa, and then-Sen. Randy Hopper, R-Fond du Lac, were "giddy" and "politically frothing at the mouth" over the bill. 
He said several other senators — Neal Kedzie, who resigned in 2014, Robert Cowles, R-Green Bay, and Luther Olsen, R-Ripon — appeared "ashen faced." 
Others, he said, didn't show any reaction.
Requests for comment from several senators named in Allbaugh's testimony were not immediately returned. 
"Restricting access to the ballot box was not simply a consequence, but the very purpose of these laws," lawyer Josh Kaul told the court, asking not only to have the laws struck down, but for a judge to find they were passed with discriminatory intent. 
Assistant Attorney General Clay Kawski countered those claims, arguing the plaintiffs are using anecdotal, "one-in-a-million" cases as an argument to strike down the laws. 
Kawski noted the state's increased turnout in elections that have occurred since the state's voter ID law was passed in 2011. He also emphasized that the state Department of Motor Vehicles provides free IDs to those who need them. 
"Wisconsin elections are fair, easy to navigate and open to all," Kawski said.
The lawsuit, filed a year ago, contends that voting policies signed into law by Gov. Scott Walker between 2011 and 2015 violate the Voting Rights Act and several portions of the U.S. Constitution.
Plaintiffs include One Wisconsin Institute, Citizen Action of Wisconsin Education Fund and six individuals. Arguments, heard by U.S. District Judge James Peterson, started Monday and are expected to last nine days. 
The new lawsuit challenges not only the voter ID provision, but several other changes to voting practices including restrictions on early voting and the elimination of straight-ticket voting. Plaintiffs say those changes disproportionately burden African-Americans, Latinos and young voters.
Kawski said the challengers are using a "scattershot" approach by challenging a collection of laws.
Walker approved the voter ID law, which requires certain forms of photo identification to be shown at the polls in order to vote, in 2011. The American Civil Liberties Union and the National Law Center for Homelessness and Poverty filed a lawsuit that year challenging the law. The measure was in place for the February 2012 primary, but was then blocked by orders from judges in state and federal court.
After a series of legal challenges, the requirement was in place for the first time in the Feb. 16 spring primary, and then for the April 5 presidential primary election.
This trial comes about a month after a federal court sent another case back to a district judge to determine whether the voter ID law applies to those who face significant burdens obtaining a photo ID.
The judges on that panel noted that some voters might be told they can't obtain a photo ID without a Social Security card, only to find they can't receive a Social Security card without a photo ID. Other examples of significant hurdles included people whose birth certificates were destroyed in fires and people whose names don't match their birth certificates.
The current lawsuit argues the system voters use to obtain a free ID — the ID petition process, or IDPP — isn't effective and is failing minority groups in particular.
Kaul called the IDPP "almost cartoonishly unconstitutional," noting that the majority of IDPP applications that have been denied have been for non-white applicants.
But Kawski said those denials pale in comparison to the number of free IDs that have been issued.
According to the state, 420,000 free state ID cards have been issued since July 2011, 127,000 of which were new IDs, while 1,289 IDPP petitions were filed.
Last week, Walker approved an emergency rule that would allow people who have a hard time getting a photo ID to vote with a receipt from the DMV. The rule took effect May 13.
Under the emergency rule, the DMV will issue receipts to would-be voters who are in the process of obtaining a photo ID but aren't able to provide the necessary documents in time for an election. Voters will be able to cast ballots with those temporary receipts.
Kaul argued that rule is "nothing more than a Band-Aid" designed to mask problems just long enough for the voter ID law to survive litigation. 
"The state is trying to help people get ID cards. That's what's going on," Kawski said.
Share your opinion on this topic by sending a letter to the editor to tctvoice@madison.com. Include your full name, hometown and phone number. Your name and town will be published. The phone number is for verification purposes only. Please keep your letter to 250 words or less.