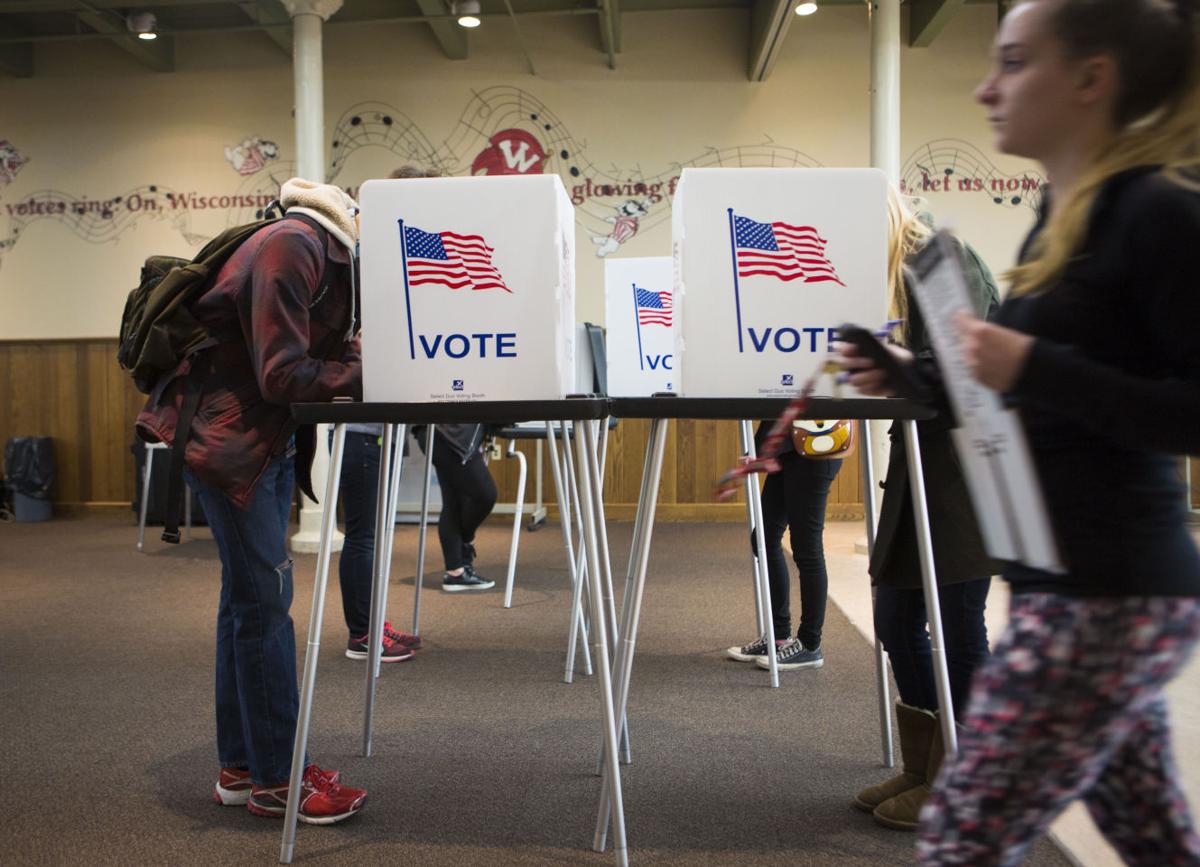 Restrictions on early and weekend voting implemented by Wisconsin Republicans over the last five years are unconstitutional, a federal judge ruled Friday. 
U.S. District Judge James Peterson found a series of other voting changes signed into law by Gov. Scott Walker to be unconstitutional, but did not overturn the state's photo identification requirement.
"Wisconsin's strict version of voter ID law is a cure worse than the disease," Peterson wrote, before noting he is bound by earlier cases in Wisconsin and Indiana to reject the challenge to the law in its entirety.
The decision will not affect the Aug. 9 primary election. 
Peterson issued a series of changes to the laws that will be undertaken as the state transitions from having its elections overseen by the now-defunct Government Accountability Board to a new elections commission.
Laws that limited in-person absentee voting to one location, limited early voting hours and eliminated weekend voting are unconstitutional, Peterson ruled. 
The 2013 law limiting hours for in-person absentee voting "intentionally discriminates on the basis of race," Peterson wrote in a 119-page decision.
"I reach this conclusion because I am persuaded that this law was specifically targeted to curtail voting in Milwaukee without any other legitimate purpose. The legislature's immediate goal was to achieve a partisan objective, but the means of achieving that objective was to suppress the reliably Democratic vote of Milwaukee's African Americans," Peterson wrote.
Peterson — who was appointed to the bench by President Barack Obama in 2014 — also overturned laws that increased the residency requirement for voters from 10 days to 28 days, prohibited distributing absentee ballots by fax or email and required "dorm lists" used as proof of residence to include citizenship information.
The judge also overturned a provision of the voter ID law banning the use of expired but otherwise qualifying student IDs at the polls.
Peterson found the system does not require "wholesale invalidation," but that it does not act as an effective safety net for qualified electors who struggle to obtain proper IDs. 
"The IDPP is pretty much a disaster," Peterson wrote, later referring to it as a "wretched failure."
Under Peterson's ruling, once a petitioner submits sufficient materials, the state Division of Motor Vehicles must "promptly issue a credential valid for voting, unless readily available information shows that the petitioner is not a qualified elector entitled to such a credential." The state must also "inform the general public" of that process.
"Petitioners and the public must be informed that these credentials have a term equivalent to that of a driver license or Wisconsin ID, and that they will be valid for voting until they expire or are revoked for good cause," Peterson wrote.
According to the state, 420,000 free state ID cards have been issued since July 2011, 127,000 of which were new IDs, while 1,389 IDPP petitions were filed.
But 70 percent of the would-be voters who have gone through the IDPP process are non-white, plaintiffs' attorney Josh Kaul argued in court. And of 61 denials issued, he said, 81 percent of those who were denied were non-white.
Plaintiffs in the case sought to overturn voting policies signed into law by Walker between 2011 and 2015, including restrictions on early voting hours and locations, the elimination of straight-ticket voting and a photo identification requirement.
Laws left untouched by Peterson's ruling include provisions eliminating straight-ticket voting, statewide special registration deputies and the use of corroboration for registration.
"We argued Gov. Walker made it harder for Democrats to vote and easier for Republicans to cheat, and the judge agreed," said One Wisconsin Institute executive director Scot Ross.
Department of Justice spokesman Johnny Koremenos said the agency is reviewing and analyzing the court's "lengthy order," but based on an initial reading, plans to appeal it to the U.S. 7th Circuit Court of Appeals.
A spokesman for the governor's office said they are still reviewing the order.
"This is a liberal judge's attempt to undermine our elections less than four months out," said Assembly Speaker Robin Vos, R-Rochester. "It's also an obvious attempt to usurp the power of the legislature. I'm confident that the laws will be reinstated upon appeal. The measures did not disenfranchise voters; they protected the integrity of our elections and people's right to vote."
Michael Haas, interim administrator of the Wisconsin Elections Commission, said the decision is being reviewed in consultation with DOJ attorneys.
"If upheld, this decision would make significant changes to election laws affecting voters, which will require the Elections Commission to work very closely with local election officials to implement the changes and to educate voters. We will be providing further guidance to clerks and the public early next week," Haas said.
Attorneys challenging the laws said the state engaged in "targeted, purposeful racial discrimination" by implementing them.
"The suite of changes only makes sense if explained by an intent to gain political advantage by disadvantaging racial minorities, disadvantaging young people," argued plaintiffs' attorney Bruce Spiva in his closing arguments last month.
Spiva argued Republicans had "motivation and opportunity" to discriminate against likely Democratic voters, that there was no need for "sweeping changes" to the state's elections laws and that the state's articulated interests in implementing the changes were "paper thin."
Attorneys for the state argued plaintiffs failed to establish standing for the case.
Kawski said plaintiffs sought the "home run" solution in asking for the laws to be overturned, but said they hadn't made an effective case for it.
"Wisconsin has an exemplary elections system," Kawski said. "Wisconsin elections are fair, easy to navigate and open to all."
Plaintiffs included One Wisconsin Institute, Citizen Action of Wisconsin Education Fund and individual voters.
Share your opinion on this topic by sending a letter to the editor to tctvoice@madison.com. Include your full name, hometown and phone number. Your name and town will be published. The phone number is for verification purposes only. Please keep your letter to 250 words or less.
Get Government & Politics updates in your inbox!
Stay up-to-date on the latest in local and national government and political topics with our newsletter.