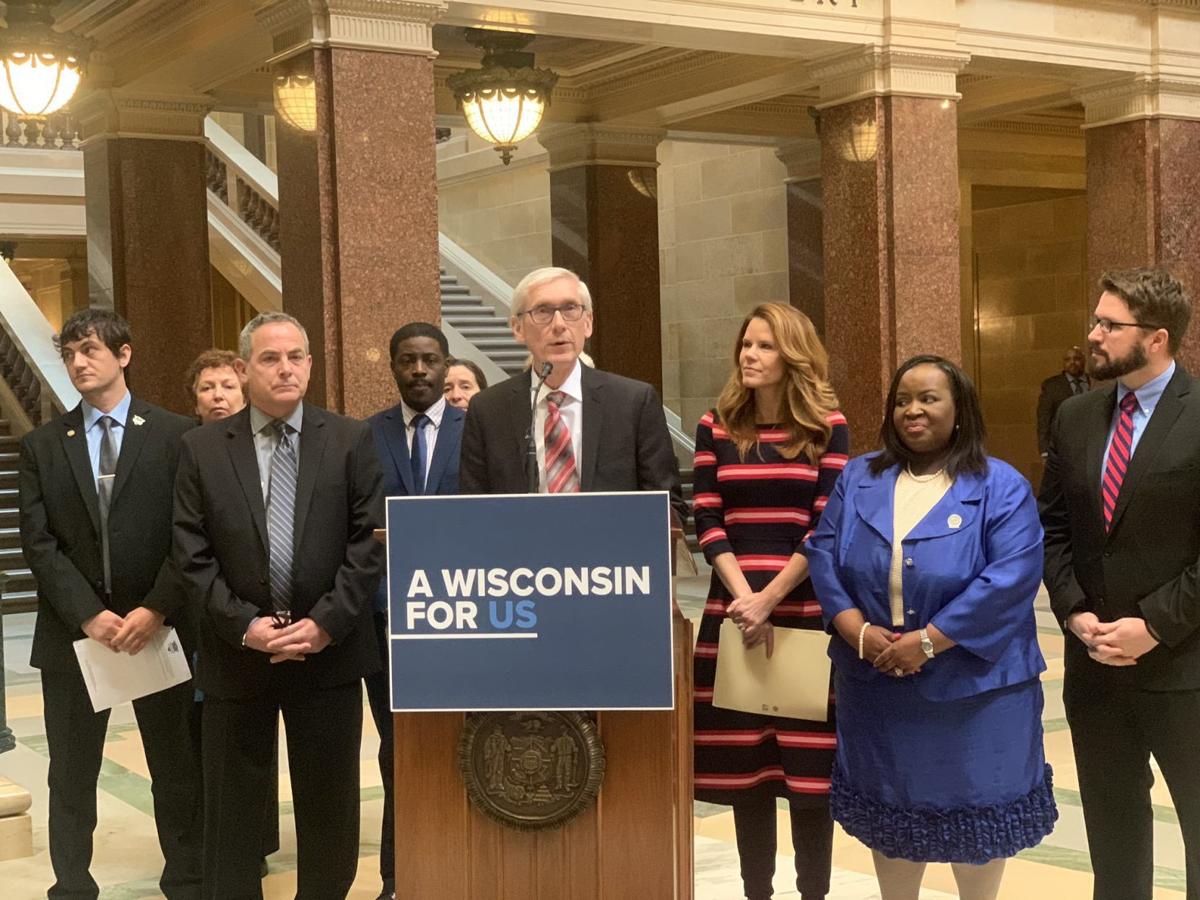 Possession of small amounts of marijuana would no longer be a crime in Wisconsin under a proposal Democratic Gov. Tony Evers plans to include in his first state budget. 
Evers' proposal would also legalize the use of marijuana to alleviate the symptoms of ailments like cancer, chronic pain and post-traumatic stress disorder, and would expand access to cannabidiol, or CBD oil.
"This is not just about access to health care, this is about connecting the dots between racial disparities and economic inequity," Evers said Monday during a news conference at the state Capitol.
Evers' plan would decriminalize the possession, manufacturing or distribution of marijuana for 25 grams or less, and would allow people previously convicted of that crime who have completed their sentence or probation to have the charge expunged from their records. Local governments could not establish their own ordinances or penalties for possession of 25 grams or less. 
Several Wisconsin municipalities, including Madison, have already passed city ordinances that make marijuana possession an ordinance violation rather than a criminal offense. But under current state law, a first offense conviction can net a $1,000 fine, imprisonment for up to six months or both. 
Supporters of the proposal argue it will offer an alternative to pharmaceuticals to patients who are suffering and will help address racial disparities in arrests and incarceration. 
A 2013 report conducted by the American Civil Liberties Union found that in Wisconsin, a black person was 5.98 times more likely to be arrested for marijuana possession than a white person, despite using the drug at roughly the same rate. The disparity was one of the largest in the country.
It's not clear whether any components of the proposal will earn the support of Republicans, who hold majorities in both chambers of the Legislature. 
A proposal introduced in 2017 to decriminalize possession of up to 10 grams of marijuana had backers on both sides of the aisle, but it was never given a committee hearing. 
Assembly Speaker Robin Vos, R-Rochester, has said he's open to legalizing medical marijuana, but Senate Majority Leader Scott Fitzgerald, R-Juneau, has said he doesn't think Senate Republicans would support it.
Sen. Duey Stroebel, R-Saukville, weighed in on Twitter shortly after Evers introduced his proposal: "Pretty sad the former head of our K-12 schools is now pushing the legalization of pot. Who is watching out for kids?"  
In a statement, Vos indicated he won't support Evers' proposal in its entirety.
"Without having specific details, his proposal appears to go too far," Vos said. "It makes it easier to get recreational marijuana and provides a pathway to full legalization, which I do not support. I'm open to medical marijuana when it's prescribed by a doctor but it has to be done in a targeted way without allowing recreational use."
Evers said he is proposing decriminalization and medical marijuana rather than full legalization because he thinks those proposals are currently more likely to earn bipartisan support.
"It's a great starting place, because it's going to help people that need additional resources at their disposal to take care of pain and other issues that they might have, and it's a good place to start to make sure we're having fairness in our criminal justice system," Evers said.
The medical marijuana program would be regulated by the state Department of Health Services and the Department of Agriculture, Trade and Consumer Protection. 
The program would allow a physician or a practitioner under a physician's supervision to recommend marijuana for a patient with a "debilitating medical condition" such as cancer, hepatitis C, PTSD or HIV. Patients would apply and pay a fee for an identification card from DHS, and anyone convicted of a violent felony within the last 10 years would not be eligible.
DATCP would oversee the licensing and regulation of dispensaries, and individuals approved for medical use could grow up to 12 of their own plants. 
Evers' budget would allocate $1.6 million to fund five positions to implement the program. The governor's office projects the state would take in $2.3 million in sales tax revenue. 
Evers' proposal would also allow people to obtain CBD oil — a substance derived from marijuana plants that has been used to treat seizures in children — without a yearly certification from a physician that is currently required under state law.
Under the governor's plan, medical marijuana usage would not be a legal defense for anyone who drives or operates heavy machinery under the influence of marijuana or who smokes marijuana on a bus or at a place of employment, a school, a correctional facility, a public park or beach, or a youth center.
Thirty-three states and the District of Columbia allow marijuana use for medical purposes, according to the National Conference of State Legislatures. 
Share your opinion on this topic by sending a letter to the editor to tctvoice@madison.com. Include your full name, hometown and phone number. Your name and town will be published. The phone number is for verification purposes only. Please keep your letter to 250 words or less.