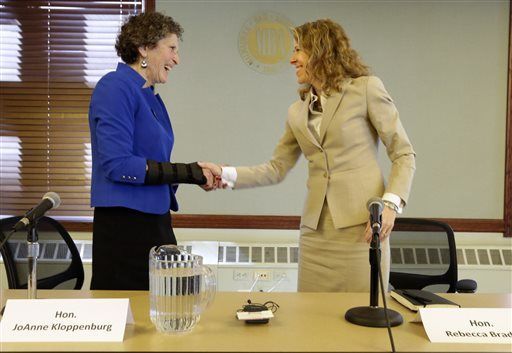 Rebecca Bradley is angry.
Her supporters are, too, and they're rallying behind the Wisconsin Supreme Court justice and candidate in the April 5 election after what could only be described as a no good, very bad week.
"The liberals and JoAnne Kloppenburg have succeeded in lowering this race into the gutter," said Brandon Scholz, a veteran Republican strategist and former campaign manager for Supreme Court Justice Patience Roggensack. 
Scholz said that's exactly where supporters of Kloppenburg need the race to be in order to have a shot at winning.
Bradley apologized throughout the week for those words, which she said do not represent her current worldview.
On Thursday, the Milwaukee Journal Sentinel reported that Bradley had represented a former co-worker whom she had dated in his child custody case in 2004-05. When the two dated, Bradley and her then-husband were still legally married, but separated. The man's ex-wife tried to have Bradley removed from the case, but a judge determined there was no conflict of interest.
"I am angry," Bradley said. "And I have every right to be. I am extremely outraged by this, but so are the people of Wisconsin. I'm doing the best I can to handle this, because I have a job to do and I have a campaign to continue. I will never, ever back down from going after the Milwaukee Journal Sentinel and other media outlets for focusing on absolutely everything that is completely irrelevant to this race."
A Bradley spokeswoman did not respond to a request for an interview. 
"I would say that revelations about Justice Bradley's conduct as a family lawyer are relevant because they speak to her judgment," said Joe Zepecki,  a Democratic strategist who has worked on statewide and presidential races. "No one is arguing that what she did wasn't ethical, but it wasn't very smart, and when you don't have a long track record as a practicing attorney and have not served on the bench very long, voters ought to have the information that exists in the world to judge someone's judgment, character and beliefs. And I think all of the revelations this week give voters information by which to do that."
Bradley's ex-husband, Gordon Bradley, released a statement on Thursday defending his ex-wife and criticizing the Journal Sentinel for characterizing the relationship as an "extra-marital affair."
"Running a false headline is both malicious and despicable," Gordon Bradley said. "Rebecca is truly a kind, gracious and generous person. We remain close personal friends. Our marriage just didn't work out but we still very much love and respect one other. That's why it pains me to see the state's largest newspaper determined to assassinate her character."
Scholz said the strategy for Kloppenburg supporters is clear: discredit Bradley on a personal level by launching attacks that bear no weight on her judicial qualifications. 
He argued they used the same playbook in 2011, when Kloppenburg lost narrowly to Justice David Prosser.
"It's just stunning to me, the hypocrisy that's bled into this round of crap, with the other side so holier-than-thou. And they're getting away with it," Scholz said, adding that he will "not accept" an argument that Kloppenburg and her campaign aren't responsible for attacks on Bradley.
He referred to One Wisconsin Now, the liberal group that unearthed Bradley's opinion columns, as one of Kloppenburg's "attack dogs."
But Kloppenburg campaign manager Melissa Mulliken said Scholz is "demonstrably wrong" that the campaign is responsible for Bradley's bad week.
"Rebecca Bradley and her allies are on the defensive, and this is a very old ploy, to lash out with unfounded attacks," Mulliken said.
Zepecki said everything that was discussed this week was within bounds.
"This isn't touch football, it's a seat on the state's highest court," Zepecki said. "This is fair game. It is about her beliefs on issues that do affect the people of Wisconsin and could come before her on the bench."
A Democratic strategist who has worked on court races said it appears Bradley's campaign is "flailing." Bradley emerged from the primary on shakier footing than most observers expected, the strategist said, adding that "she's had the worst week you could ever have in a Supreme Court race." 
Rick Esenberg, founder of the conservative Wisconsin Institute for Law & Liberty, said on Wisconsin Public Radio's Joy Cardin Show that Bradley has been appropriately apologetic for the anti-gay statements she made in 1992. 
Esenberg defended her and argued the race has become too focused on the politics of "personal destruction" rather than comparing judicial philosophies.
"This is one of the most vile and disgusting attack campaigns against anybody that I've seen in Wisconsin politics," Esenberg said.
Bradley opponents have argued that although the columns in question are more than 20 years old, they are relevant in the 2016 election because Bradley has declined in many cases to state opinions on specific issues, leaving writings like these as the only insight into her approach.
One Wisconsin Now continues to call for Bradley's resignation.
"Before this week, Rebecca Bradley was unqualified to be on the Supreme Court, and this week she is disqualified to remain on the Supreme Court," said OWN executive director Scot Ross.
Zepecki noted that it's unusual for a Supreme Court race to dominate news coverage for an entire week as it did in this case. Kloppenburg's campaign has an opportunity to mobilize supporters and can use the presidential primary election to assist with that, he said. 
A Democratic strategist also suggested Kloppenburg's campaign or an independent group supporting her should capitalize on the week of news coverage by placing an effective TV ad contrasting the two candidates. 
Asked whether the Kloppenburg campaign will be talking about this week's headlines on the trail, Mulliken said the campaign will talk about what voters say they care about: independence, integrity and experience.
"Insofar as events either of this week or in coming weeks speak to those issues, we will continue to talk about them," Mulliken said. "And voters will continue to talk about them."
Share your opinion on this topic by sending a letter to the editor to tctvoice@madison.com. Include your full name, hometown and phone number. Your name and town will be published. The phone number is for verification purposes only. Please keep your letter to 250 words or less.
Get Government & Politics updates in your inbox!
Stay up-to-date on the latest in local and national government and political topics with our newsletter.