MARINETTE — The Sunday football crowd is perched on vinyl stools at Terry's Last Stop. They sip light beer and Kessler-and-Cokes. They want the Packers to beat the Seahawks. They do not want the mine.
No one refers to it as the Back Forty, the name given to the project by Aquila Resources, the Canadian company that hopes to extract gold, zinc, copper and silver from an 83-acre section of Upper Michigan located about 150 feet from the Menominee River. Around here, it's just "the mine," and once bar owner Terry Walker starts to talk about it, it doesn't take long for his patrons to chime in.
"We do not want it," Walker said, punctuating his point with an unlit Marlboro cigarette. "We do not need it here."
Terry's Last Stop, housed in white vinyl siding and red brick, is the last place to get a drink in Marinette before Hall Avenue turns into Highway 64 going west and branches off into Highway 180 heading north. It's open from 6 a.m. until 2 a.m. and there's a small liquor store inside with carry-out sales until midnight. Outside, there's a sign: "Save the Menominee River," with the letters "NOMINE" highlighted in red.
There are a lot of signs like that in Marinette and the surrounding area — about 35 of them placed in front of homes on a 28-mile stretch of Highway 180 that snakes along the Wisconsin-Michigan border, mostly following the route of the Menominee River. There are pro-mine signs, too, but those are on the other side of the river, in Michigan's Upper Peninsula.
Aquila and its supporters say the project will bring thousands of full-time, family-supporting jobs and millions of new tax dollars to the area while respecting and protecting its natural resources. Meanwhile, a new effort in the Wisconsin Legislature to change the state's mining laws is based on the argument that the Badger State should have the same opportunity to reap economic rewards from its mineral-rich foundation — the very one that earned the state its nickname.
Aquila has spent about $70 million over the last decade developing the Back Forty site, located about 20 miles northwest of Menominee, Michigan, which shares a river border with the northeastern Wisconsin city of Marinette. The company has applied with the state of Michigan to operate a seven-year, open-pit sulfide mine, but it has said in presentations to investors that it could operate for 16 years with an amended permit to allow mining below ground.
Sulfide mining works like this: once rock is extracted from the pit, a chemical process separates the unwanted "tailings" — about 90 percent of the material — from the desired metals. One of the chemicals used in the separation process is cyanide, a toxic chemical that alarms opponents, but one supporters say can be used safely.
The tailings are mostly sulfide. When mixed with air and water, the mineral forms a toxic acid that acts as a long-term pollutant, turning rivers bright orange. Aquila plans to neutralize the tailings from the Back Forty project with alkaline material like limestone, and to store the tailings and waste rock in a double-lined, capped facility. A portion of the waste rock would also be used to backfill the pit during reclamation. The company promises: "There will be NO acidic drainage to the environment." The company also pledges to comply with Michigan regulations and monitor groundwater before, during and for 20 years after the project is complete.
Aquila has secured three of four necessary permits from the Michigan Department of Environmental Quality. To pursue the same kind of project in Wisconsin, it would face a steeper climb.
Wisconsin passed what is known in some circles as a "mining moratorium" and others as a "prove it first" law with near-unanimous, bipartisan support in 1998, signed into law by Republican former Gov. Tommy Thompson. The law requires mining companies to prove a sulfide mine can operate for 10 years and be closed for another 10 without polluting groundwater or surface waters with acid rock drainage.
The only metallic mine to have been permitted, constructed, operated and reclaimed under that regulatory framework is the Flambeau Mine, near Ladysmith. Operations began in 1991 and reclamation was complete in 1999. For mining proponents, Flambeau is an example of "mining done right." But some environmental activists disagree.
Sen. Tom Tiffany, R-Hazelhurst, and Rep. Rob Hutton, R-Brookfield, say it's time to abandon the so-called moratorium and allow sulfide mining in Wisconsin. The lawmakers introduced a bill in August that would repeal the "prove it first" law and relax regulations on wetlands, groundwater, companies' financial stability and permitting.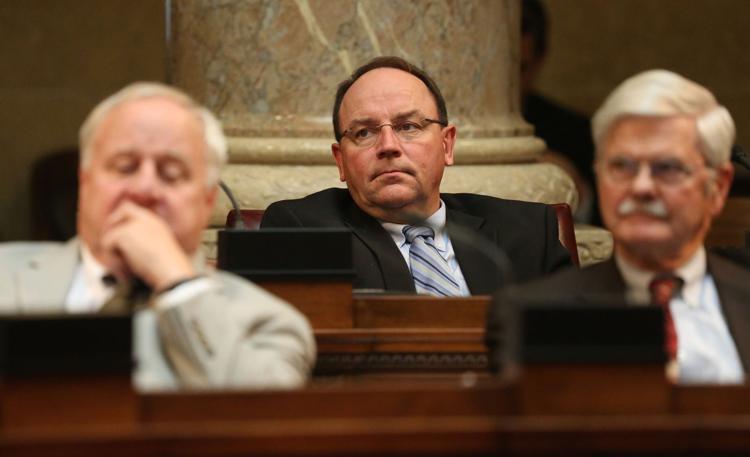 A Tiffany aide did not respond to several requests for an interview with the senator, but Tiffany has discussed the bill in opinion columns, TV appearances and a recent public hearing in Ladysmith.
"This is a great opportunity to get good jobs, high-paying jobs, to come to northern Wisconsin," Tiffany said during a recent appearance on "Upfront With Mike Gousha."
In addition to repealing the "prove it" requirement, the bill would tighten up timelines for the state Department of Natural Resources to issue bulk sampling permits, relax groundwater and wetlands standards and limit the ability to challenge mining companies' activities and DNR decisions.
Proponents argue those changes do not diminish environmental protections. Tiffany frequently notes the bill "changes no numeric environmental standards." The changes are needed, supporters say, to allow mining companies to prove that new technology can bring economic prosperity without damaging natural resources.
"We want Wisconsin to have a high bar for making sure that we protect the environment, and anyone that wants to come here and mine in Wisconsin, they're going to have to meet those standards," Tiffany said during the bill's public hearing earlier this month.
Under current law, it's nearly impossible for a mining company to even explore and propose a project, said Nathan Conrad, executive director of the newly formed National Resources Development Association. The Wisconsin-based group launched in August to support "efforts to encourage clean and safe economic development of our state's natural resources," and is lobbying in support of Tiffany's bill.
"They talk about 'prove it first,'" Conrad said. "That's all they're trying to do — prove that new technology can be used to cleanly, efficiently and in an environmentally friendly way, mine in the state of Wisconsin."
Mining companies are still held to stringent federal standards under the bill, Conrad said.
On "Upfront," Tiffany said he has heard from some exploratory companies that the moratorium law is a "deal killer," and they would explore in the state if it were repealed.
Aquila Resources has reviewed Tiffany's bill and supports it, said Chantae Lessard, the company's spokeswoman. The company is also supportive of the National Resource Development Association's efforts, Lessard said in an email.
The company owns two projects in northern Wisconsin: the Reef deposit in Marathon County, where gold reserves were found in the 1970s, and the Bend copper and gold deposit in northern Taylor County's Chequamegon-Nicolet National Forest. In a presentation to investors, the company billed the deposits as "next generation assets" in an "attractive pipeline of future projects."
"While we do have some early-stage legacy assets in Wisconsin, right now our focus remains on developing the Back Forty mine in Michigan," Lessard said. "We have no near-term plans for the Wisconsin assets."
The Menominee River starts its journey just north of the Wisconsin towns of Florence and Spread Eagle and flows south and slightly east as it gathers several smaller rivers on its way to Lake Michigan's Green Bay — which provides drinking water for  Marinette and Menominee.
Aquila plans to dig a 750-foot deep pit measuring 2,000 by 2,500 feet just 150 feet from the bank.
The river is shared by the states and it empties into a Great Lake. There are a lot of communities downstream and most of them aren't in the state making the permitting decisions.
"It doesn't make a lot of sense that the downstream people shouldn't have a say in this," said Matt Krueger, river restoration director with the River Alliance of Wisconsin.
The list of local and tribal governments that have passed resolutions opposing the mine is long and growing. It includes Brown, Door, Marinette, Menominee (Michigan), Oconto and Shawano counties. The Outagamie County Board is considering a similar resolution.
A bipartisan group of four state lawmakers representing northeastern Wisconsin introduced a resolution to oppose the project in July, but no legislative action has been taken.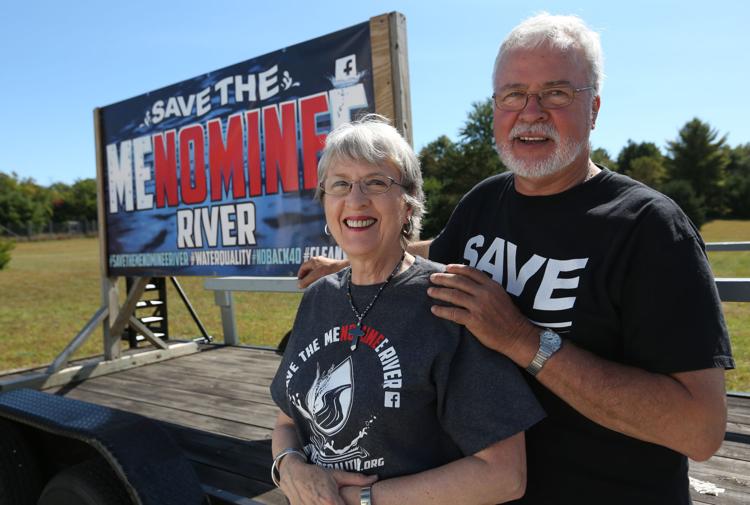 "Wisconsin should have a say in the process for approving this proposed mine because of the proximity to our border and the harmful impact the mine could have on our natural resources and public safety," said Sen. Dave Hansen, D-Green Bay, in a statement.
The project could jeopardize "everything from tourism, ground and surface water, and property values," said Rep. Amanda Stuck, D-Appleton, in a statement.
Citing similar concerns, Democratic U.S. Sen. Tammy Baldwin last month requested the U.S. Environmental Protection Agency and Army Corps of Engineers review the project and assume permitting authority from the state of Michigan.
Baldwin travels to Marinette often to tour the shipyard and attend ship launches at Marinette Marine, which manufactures littoral combat ships for the U.S. Navy. Conversation frequently turns to the river and concerns with the mine, she said on the phone from her D.C. office. In addition to local environmental concerns, she said, she's also heard from members of the Menominee Indian Tribe, whose origin story starts at the river.
It's also been pointed out, Baldwin said, that the Michigan DEQ is the same agency blamed for the Flint water crisis.
"I don't trust them, and neither do the people of Wisconsin," Baldwin said.
The senator's desired outcome is for the federal agencies to determine that Wisconsin and the Menominee Tribe have a say in the process. She received a response from the Army Corps, but nothing from the EPA.
"I'm hoping that this will not be viewed as a political decision but instead will be the EPA and the Army Corps evaluating law, precedent and basically applying the rules, and part of that involves, in my mind, hearing from those who are impacted," Baldwin said. "I hope they will draw the conclusion that one state should not be able to unilaterally make decisions that impact another without consult or the ability to weigh into those decisions."
Rep. John Nygren, R-Marinette, said in an op-ed he was disappointed to learn Wisconsin has "no direct regulatory authority over the project," but said the Michigan DEQ has promised it will meet both states' water quality standards. Wisconsin will be able to comment on or object to permit modification proposals, and if the project adversely affects the health or welfare of Wisconsinites, the governor has the authority to sue.
"Our neighbors across the Menominee River are required to ensure our waters remain pristine," Nygren wrote. "In the unlikely event that they fail, Wisconsin will be watching, waiting and ready to act to protect our natural resources."
It's easy in politically polarized Wisconsin to see most disputes as partisan ones. The mine is not one of those.
Dale Burie was a safety coordinator for Tyson Foods before he retired. He was born, raised and educated in Michigan. His wife, Lea Jane, sang backup in Nashville with artists including Elvis Presley, Dolly Parton and Merle Haggard. After Dale retired, they decided to move closer to where he grew up.
The Buries found about 24 acres of land surrounded by pine trees near the towns of Wagner and McAllister, where they built a home and drilled a well. The southeast corner of their lot is 228 feet from the Menominee River.
In his retirement, Dale Burie has become a reluctant activist, driving from hearing to hearing to say his piece about the mine.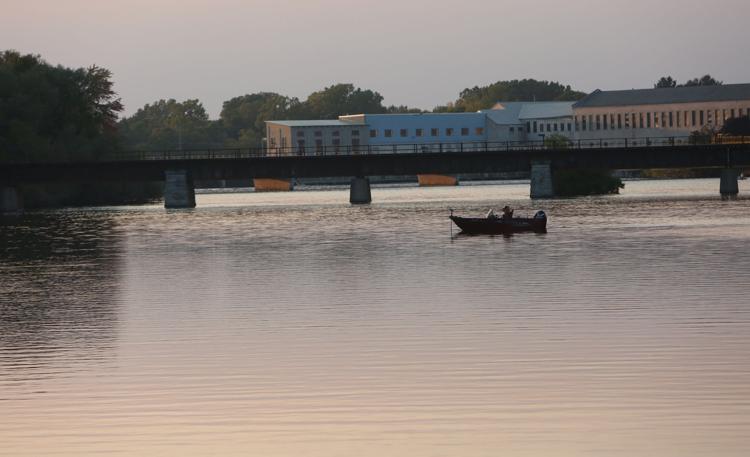 "It's really disheartening for citizens to have to fight for something that we should be assured, that our state and our federal people would protect," Burie said. "You know, my wife asked me here last week, she said, 'Dale, did you ever think that this was the way you were going to spend your retirement?' I said, 'No, I don't like having to do this. But if we don't do it, who is?'
"You know, I'm not a treehugger. I believe in mining, I do. Not 150 feet from our boundary waters and using cyanide. I don't believe in that. I can see the necessity of the metals that we've grown to become accustomed to and rely upon now. I just don't trust the process."
Burie is a member of the Coalition to Save the Menominee River, one of several grassroots groups that have sprouted in the area.
The people in these groups have nothing to gain financially, Burie said, unlike the mining companies that have profits and bottom lines to consider. He figured about 90 percent of the people at the public meetings he attends are against the mine. They're concerned about water quality and property values. They've been paying attention to the "For Sale" signs along the river. From the Marinette city limits to about 30 miles north on Highway 180, there are more than 15 of them.
"It's where we live. We are the ones that are going to get hurt with this," Burie said. "Whether it be chemical contamination or property tax losses or property value losses, we're the ones that are going to become financially disabled."
Not only is he not a treehugger, Burie said, he's a Republican — although these days he's not so sure about that. But he supports Baldwin's request for Michigan to hand off the permitting process to the EPA and Army Corps.
It wouldn't be the first time the federal government stepped in to ensure the river's preservation. The EPA named the Menominee River as a Great Lakes Area of Concern under the 1987 Great Lakes Water Quality Agreement, with contamination issues including arsenic, mercury, paint sludge and coal tar stemming from early industrial practices. The river habitat had also been threatened by years of overfishing. The Wisconsin DNR and Michigan DEQ share oversight and responsibility for its restoration, which began in the early 1990s and continues today. The river could be delisted as an area of concern as early as next year, according to the DNR.
"This is a state that has an identity tied to water, and particularly the Great Lakes. And we're talking about putting at risk Lake Michigan water," the River Alliance's Krueger said. "And that's a huge economic driver. That fishery, the tourism industry … It's a regional amenity for the state of Wisconsin and we don't think there's any way we should be endangering it."
Back at Terry's Last Stop, Kenny Schomaker put it a little more bluntly.
"We put millions and millions of dollars into cleaning this river up and they're gonna blow it to shit," said Schomaker, who grew up fishing on the river.
The fish are of great concern to just about anyone who has cast a line in the Menominee River. No one wants to see the perch, walleye, sturgeon or smallmouth bass populations depleted.
Ask around town about the fish and you'll likely hear about the tournaments. Outdoors retailer Cabela's brought its National Walleye Tournament to Marinette in August, kicking it off on the day the restored Menekaunee Harbor was dedicated and bringing in between $500,000 and $1 million to the local economy.
Several years ago, the state and federal governments teamed up with private conservation groups like the River Alliance and a private energy company, Eagle Creek Renewable Energy, to create a fish passage project. The project, operational since 2015, allows sturgeon to pass safely around the two hydroelectric dams Eagle Creek operates on the Menominee River.
Despite its challenges, the River Alliance's Krueger said, the Menominee River is in "really, really good shape" compared to other river systems in the state.
For Tim Landwehr, the draw of the Menominee is its smallmouth bass population. Some say it's the best smallmouth river in North America.
The owner of De Pere-based Tight Lines Fly Shop, Landwehr employs eight full-time guides for fishing trips on the Menominee River from May to October each year.
"The river is just structure-rich, rocks, logs and the biomass itself. This, I think, is the real key — the importance of the clear water and sustainability of the fishery," Landwehr said. "It's kind of a big soup out there, and if anything changes in that big soup, the quality of the fishery will change."
That big soup contains an ingredient of great importance to the Menominee Tribe: sturgeon. But the tribe's connection to the massive, primitive fish, is only one aspect of its deep ties to the river with which it shares a name.
The tribe's origin story, passed down for thousands of years, starts with the emergence of the bear from the mouth of the Menominee River. The bear, as the legend goes, transformed into the first Menominee and was joined by the eagle, wolf, moose and crane to form the tribe's major clans.
The area near the proposed mine site is home to Menominee burial sites, dance rings and garden beds, Menominee Nation chairman Gary Besaw said. The tribe has filed a petition seeking to halt the mine and conduct a full archaeological study of the area, with the hope that the federal government will step in to protect its interests.
"When we talk about cultural preservation, we're not talking just about the archaeological site," Besaw said. "Yes, that's important, but we also have a responsibility to the water and to the fish and to the wild rice and to the maple trees and to all those things that are within that, within our ancestral territory. And right now, never ever, not even once, have they ever had an open-pit sulfide mine that has not polluted. So we have concerns."
Besaw and other opponents of the mine — and opponents of Tiffany and Hutton's bill — don't trust that technology has advanced far enough to make sulfide mining safe.
"It's not been proven that it can go forward without polluting, and it just throws me that individuals can think, have the audacity to think they can reap rewards at the expense of their great-grandchildren," Besaw said.
But the NRDA's Conrad said it's unrealistic to think technology hasn't improved and won't continue to do so in ways that can shield the environment from the effects of mining.
Cell phones, Conrad said, have come a long way since the Flambeau mine shut down in 1997. And so has mining technology, he said.
"I understand where the passion comes from on the other side because of practices that happened 30, 40, 50, 90 years ago," Conrad said. "But to think that technology hasn't changed to ensure that we are safe is frightening."
The Tiffany-Hutton bill would allow mining companies to demonstrate how far technology has come, he said.
"Flambeau is an example of a clean mine. If you were going to build a mine tomorrow, it would not in any shape or form use that technology. That technology is 30 years old," Conrad said.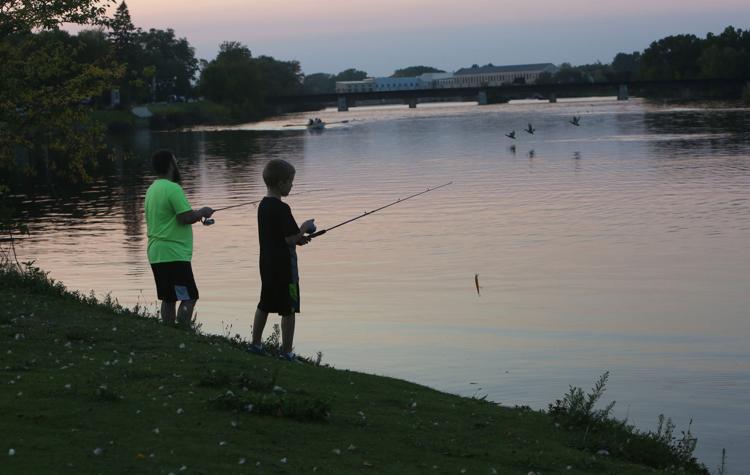 Aquila's Lessard said the company believes "technology is readily available today to develop and operate mines that are protective of the environment while creating good paying jobs in small communities like Menominee, Michigan."
An economic impact statement prepared for the company by the University of Minnesota-Duluth's Labovitz School of Business and Economics estimates the mine will create about 260 new jobs and generate about $20 million in state and federal tax revenue in a typical year.
A typical mine, Conrad said, will employ at least 300 people with an average salary in the $80,00 to $90,000 range. Then there's the "multiplier effect" of connected jobs in construction, home building, restaurants and more.
Mining is an integral part of Wisconsin's history. The state's lead deposits lured settlers to southwestern Wisconsin in the early 1800s, with more than 4,000 miners working the region by 1829, according to the Wisconsin Historical Society. Some made their shelters in the hillsides, earning the "badger" moniker. The state seal, created and modified in the 1800s, includes a "yeoman" with a pick, generally considered to be a miner.
"History, rather than the law, explains Wisconsin's unofficial nickname as the 'Badger State,'" according to the Wisconsin Blue Book. "During the lead-mining boom that began just prior to 1830 in southwestern Wisconsin, the name was first applied to miners who were too busy digging the 'gray gold' to build houses. Like badgers, they moved into abandoned mine shafts and makeshift burrows for shelter."
Like most mining proponents, Conrad highlights Flambeau as a success story. The project brought millions of tax dollars into the Ladysmith community and helped fund a new library and a visitors center.
Environmental advocates dispute the assertion that Flambeau did not adversely affect the environment. A federal judge in 2012 fined the company $275 for 11 violations of the Clean Water Act, but said the amount of pollution was "minimal." That ruling was overturned the following year by an appeals court.
Repealing the moratorium "has the potential to transform northern Wisconsin's economy," Hutton said during the bill's hearing. It would make it possible to "turn around an economically devastated portion of our state that needs jobs, that needs to be able to grow," Conrad said.
Statewide unemployment in Wisconsin is lower than the national average of 4.4 percent, at 3.4 percent when last measured in August. Marinette County, when last measured in July, was at 4.5 percent. Just across the river in Menominee County, Michigan, it was 5.4 percent. The rate in Marathon County — the site of the Reef deposit — was 3 percent, and the rate in Taylor County, the site of the Bend deposit, was 2.9 percent.
At Terry's Last Stop, Dan Van Beek said there are "plenty of jobs around here."
"Christ," he said, "Marinette Marine is begging for workers. Everyone's begging for workers."
As governor, Walker has said his biggest challenge in 2017 and beyond is "not creating jobs, but finding people to fill them."
Gerald Walk, a few seats down the bar from Van Beek, doesn't believe the economic promises — especially not for residents on the Wisconsin side of the river. He's not thrilled about the potential environmental concerns, either. At 81 years old, he says he wants his grandchildren to be able to enjoy the Menominee the same way he did growing up — fishing, swimming and boating.
"That goddamn mine ain't going to make us a nickel," Walk says. "Where they're going to do this, 150 feet from the river — I shoot deer farther than that with my rifle."
Landwehr, the fly fisher, said there are better ways to influence the economy. His company, for instance, rents out an old ranger station in Pembine where his guides stay for about five months. The guides, and thousands of their clients, eat breakfast every morning at the Pembine Family Restaurant. They buy gas, ice and food at the local gas station. One client loved the area so much he bought the Grand Motel, where he rents rooms to anglers and snowmobilers throughout the year.
Landwehr estimates the area sees an influx of "hundreds and hundreds of thousands of dollars each year, just because of our weird little operation." And his business, he argues, is sustainable.
"If I knew tomorrow that what I was doing on the river was adversely affecting that watershed, I would quit, because I love the river more than anything else," he said. "It's about more than business to me. It's the fact that you get one shot at something like this."