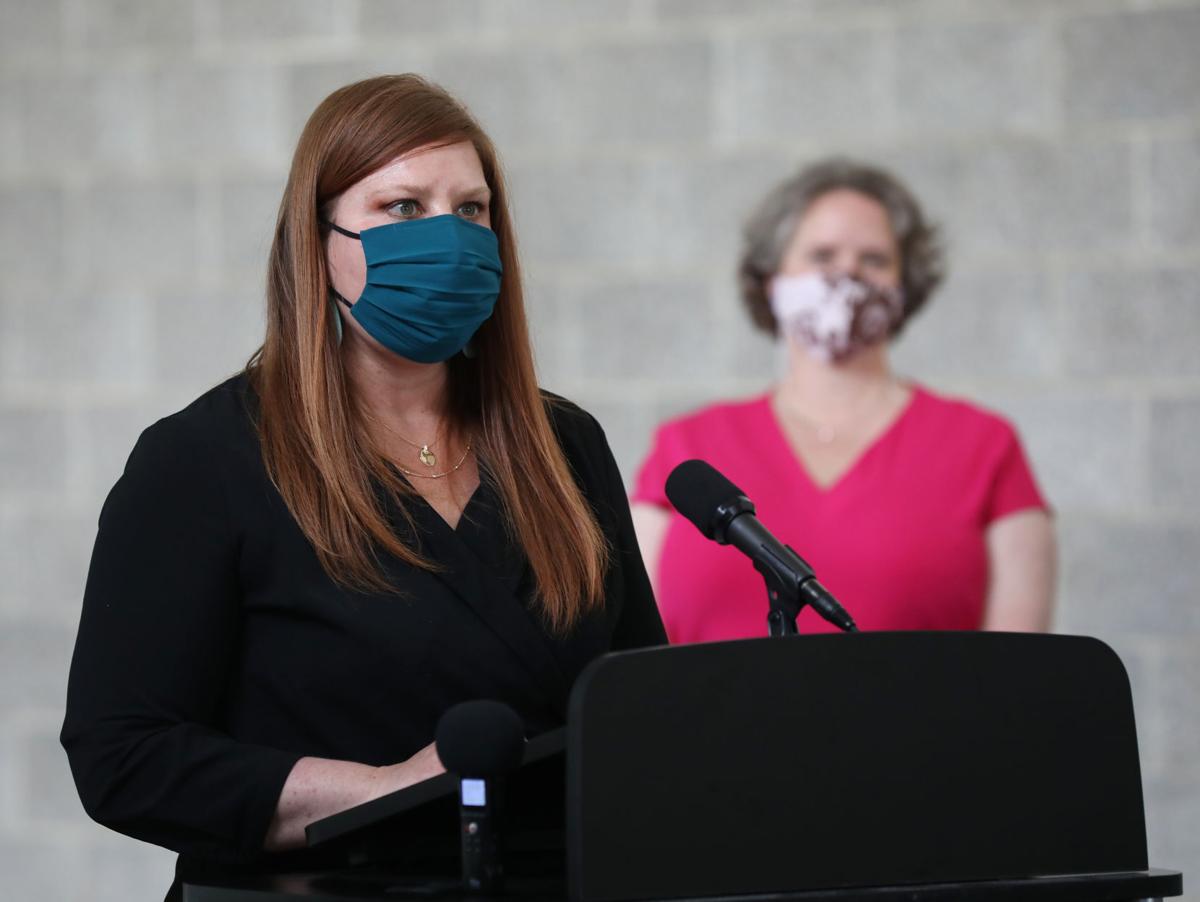 A conservative law firm is suing to overturn Dane County's most recent mask mandate before it takes effect on Thursday.
The Wisconsin Institute for Law & Liberty filed an original action with the state Supreme Court on Wednesday afternoon, arguing that a previous ruling undercuts Public Health Madison & Dane County Director Janel Heinrich's authority to issue such an order.
The local public health order, announced Tuesday, requires everyone over the age of 2 to wear a face covering or mask in any enclosed building when they are with people not from their own household or living unit. The order is set to expire Sept. 16.
It builds on Public Health Madison & Dane County's recommendation issued July 27 to wear masks indoors regardless of vaccination status. This followed Centers for Disease Control recommending the same practice — a reversal in guidance issued in mid-May when the agency said fully vaccinated people didn't need to wear masks in most settings.
The order and the ensuing legal challenge come as local, state and national officials seek to mitigate a surge in COVID-19 infections stemming from the more contagious Delta variant strain. 
In June, the state Supreme Court ruled local public health officials do not have the authority to close schools and that an order from PHMDC last year infringed on religious rights.
WILL argues that the June ruling establishes that Heinrich's authority is narrower than local government currently perceives it. The law firm is asking the court to issue a temporary injunction blocking enforcement of the order, followed by a permanent injunction after considering the arguments presented.
Wisconsin law only confers a "series of discrete powers" upon health officials, and if the power is not "specifically conferred," then "that power is not authorized," WILL argues.
The law firm is representing Sun Prairie resident Bryant Stempski.
"The courts have made clear that unelected public health officers do not have unlimited authority. Dane County's health officer, simply put, doesn't have the power to order universal masking, or anything else, without express legal authority," said WILL deputy counsel Dan Lennington.
PHMDC is "confident" the order is legal, and will not comment further on pending litigation, said spokeswoman Sarah Mattes.
Wisconsin is experiencing a "concerning steady increase" in COVID-19 cases, Gov. Tony Evers said last week. 
The state's current seven-day average is 1,224 COVID-19 cases per day. In Dane County, the seven-day average is 84 cases per day. That's up from 19 per day just a month ago.
"We still believe vaccines are our best tool to protect our community," Heinrich said in a statement Tuesday. "But as cases continue to increase, requiring face coverings is an easy added layer of protection to further help keep people safe, including our youngest children not yet eligible to be vaccinated."
State public health officials have stressed the importance of mask-wearing, even for vaccinated people, in public indoor settings or at large gatherings. That's because the CDC has found that vaccinated people can contract and transmit the virus — although cases among vaccinated people are considered to be rare and generally less severe than among those without the vaccine. However, Evers cannot issue a statewide mask mandate without legislative approval, following a 4-3 state Supreme Court ruling issued in March.
Local officials said goal of the mandate is to see COVID-19 cases stabilize and hopefully decline over the next several weeks. Dane County Executive Joe Parisi emphasized that the mandate is needed to protect children from getting sick, as children under the age of 12 are currently not eligible for the vaccine.
At the state level, 53.5% of Wisconsinites have received at least one COVID-19 vaccine dose, and 50.3% have completed the entire series. At least 80% of the state needs to be vaccinated in order to reach "herd immunity." In Dane County, 71.4% of people are partially vaccinated and 68.3% are fully vaccinated.
Vaccines are "highly effective" in preventing severe outcomes from COVID-19, and effective — but less so — in preventing infection, the public health order notes. 
The order notes that masking, distancing and ventilation remain key tools to preventing the spread of the virus. Face coverings are necessary to protect those who are unable to get vaccinated and those who are immunocompromised, officials said.
People with medical conditions that prevent them from being able to wear a mask are exempt from the order. The order makes exceptions to the mandate including when a person is eating or drinking, receiving dental care or swimming. 
Abigail Becker and Scott Girard contributed to this report.
Share your opinion on this topic by sending a letter to the editor to tctvoice@madison.com. Include your full name, hometown and phone number. Your name and town will be published. The phone number is for verification purposes only. Please keep your letter to 250 words or less.