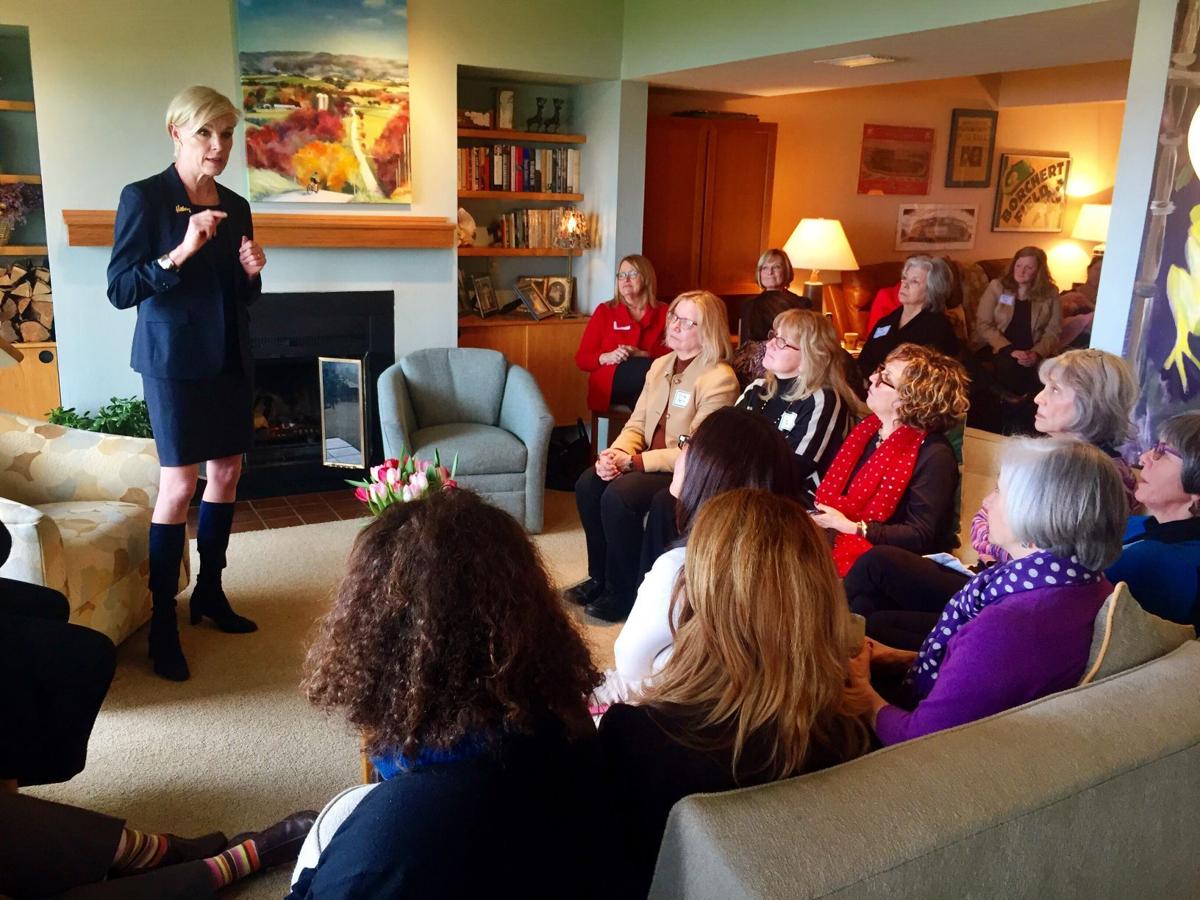 The scene in Kathleen Falk's living room on Saturday was a veritable who's who of Democratic women in Madison. 
State and county elected officials, doctors, lawyers and political aficionados gathered at the former Dane County executive and two-time gubernatorial candidate's home to hear Planned Parenthood CEO Cecile Richards speak in support of Hillary Clinton.
Planned Parenthood, in its first-ever presidential primary endorsement, is backing the former secretary of state over Vermont Sen. Bernie Sanders. Richards was in Madison over the weekend working to energize supporters and voters to support Clinton in Wisconsin's April 5 primary election. 
"This is the big one," Richards said. "This is a woman who has been standing for women her entire life."
Commending women who serve as elected officials, Richards said, it's still not easy to be a woman in office. 
"This is sort of the pinnacle of everything we've fought for all our lives," she said.
Richards, who has led Planned Parenthood since 2006, said there has never been a stronger onslaught against women's health and reproductive rights and the organization itself than she has seen in this election. 
Clinton would be "the best president our nation will ever have," Falk said.
At the time of Planned Parenthood's endorsement, former Maryland Gov. Martin O'Malley was also in the Democratic field. Richards said O'Malley, Sanders and Clinton were all "friends" of the organization with pro-choice voting records, but Clinton stood "head and shoulders" above the rest.
Richards said she believes Clinton is the most qualified presidential candidate the country has seen in her lifetime, citing her experience as first lady, in the U.S. Senate and as secretary of state.
Again noting the pro-choice voting records of other Democratic candidates, Richards argued there is "a difference between being a vote and being a leader."
Turning to the Republican field, Richards mentioned real estate mogul Donald Trump's recent comments that, if abortion were illegal, women ought to be punished for having one. 
Trump later walked back his statement, saying he believes abortion should be illegal but that abortion providers and not the women who receive them should be punished. But the candidate received criticism from his GOP rivals, including Texas Sen. Ted Cruz, who said, "We shouldn't be talking about punishing women."
"I actually think what Donald Trump said about punishing women was very important. And it's because it has, frankly, pulled the curtain back on the real agenda of the people who are running for president of the United States in the Republican party," Richards said. "I feel like Donald Trump has now kind of opened this Pandora's box, and they're going to have to own it in this election. And I can tell you, there's not a daylight of difference between Donald Trump and Ted Cruz and John Kasich, and the world needs to know it."
Richards said this will be the biggest election in terms of investment from Planned Parenthood's political action committee.
Rep. Chris Taylor, D-Madison, noted that many of her constituents are strong Sanders supporters who question her support for Clinton.
"He votes the right way, but he isn't that champion," Taylor said.
It matters not just to have someone who "says the right things and votes the right way, but who actually has demonstrated when the chips are down that they will go the distance," Richards responded, noting that President Barack Obama vetoed a budget bill that would have defunded Planned Parenthood.
"That's the difference between leadership and raising your hand and saying 'Aye,'" Richards said.
Clinton trails Sanders at 45 percent to his 49 percent among Wisconsin Democrats, according to a Marquette University Law School poll released last week. 
Share your opinion on this topic by sending a letter to the editor to tctvoice@madison.com. Include your full name, hometown and phone number. Your name and town will be published. The phone number is for verification purposes only. Please keep your letter to 250 words or less.