Gov. Scott Walker has eaten the same thing for lunch — two ham sandwiches and a bottle of cranberry juice — for more than a quarter-century. When he goes to Coldstone Creamery, he orders a scoop of vanilla. He likes to post photos of sunsets on Instagram. His preferred brand of rebellion is drinking Leinenkugel's Summer Shandy all year long.
"I say I'm predictable. Tonette says I'm boring," Walker said, referring to his wife of 25 years.
Then there's Tony Evers, Walker's Democratic opponent. He gets excited about McDonald's Egg McMuffins. He also gets a vanilla soft serve on his McDonald's trips. His wife of 46 years, Kathy, was his high school sweetheart. When his family lived in Tomah in the early 1980s, he recently said, he and Kathy "worked hard" and "recreated hard."
"We belonged to the Lions Club together and did all that kind of crazy stuff," he said.
Most national polls throughout the race have shown Evers with an edge of varying degrees over Walker, but a poll released Oct. 10 by Marquette University Law School put the two in a dead heat. Just one percent of voters were undecided with 5 percent supporting Libertarian candidate Phil Anderson, 46 percent backing Evers and 47 percent supporting Walker.
At a time when national politics are anything but bland, Wisconsin voters are about to choose between two candidates for governor who are, by many measures, exactly that. But the stakes are high for both parties. A win for Walker would all but cement Wisconsin's status as a newly minted red state, while a win for Evers would inject some hard-to-come-by hope into a Democratic party that has faced loss after loss in the Badger State for nearly a decade. Walker is trying to do something only one Wisconsin governor has done before: win a third four-year term. Evers faces a task just as daunting: unseat a politician who has lost just one election in his political career.
The Green Bay Packers hosted the Buffalo Bills on Sept. 30, the first Sunday that felt like fall in Wisconsin. Gray skies blanketed most of the state and Green Bay was one of the only places spared from an unrelenting mist. With temperatures in the upper 40s, Walker, 50, swapped his Aaron Rodgers jersey for a Packers varsity jacket as he strolled toward the tailgate lots outside of Lambeau Field. He had a ham sandwich waiting for him in a cooler back in the truck.
Walker won Brown County — home to Green Bay — by 13 points in 2010, 18 points in 2014 and 20 points in the 2012 recall election. Still, it's difficult to imagine him wading into an unpredictable crowd seven years ago, in the heated aftermath of Act 10 — the controversial legislation that effectively ended collective bargaining for most public employees and sparked massive protests at the state Capitol. Walker pushed the bill through the Legislature in the first months of his first term. But among the tailgaters, those who weren't pleased to see him only rolled their eyes or made quiet wisecracks as he passed. And they were vastly outnumbered by the people who invited him into their parties, showing off their snack spreads and posing for photos with him.
Despite the cold, Joel Sinclair was dressed only in a pair of green-and-gold overalls, a Packers bandana and a pair of yellow galoshes. He waited patiently for a photo with Walker and once they had a chance to speak, he sent well wishes from supporters he knows in Texas.
Sinclair, 25, grew up in Barron County and lives in De Pere now. He's a Marine Corps veteran studying at the University of Wisconsin-Green Bay and he referred to himself as a "country boy in the big city." Sinclair is solid in his support for Walker and President Donald Trump.
"I love Scott Walker," he said. "He's a true Republican. He doesn't back down."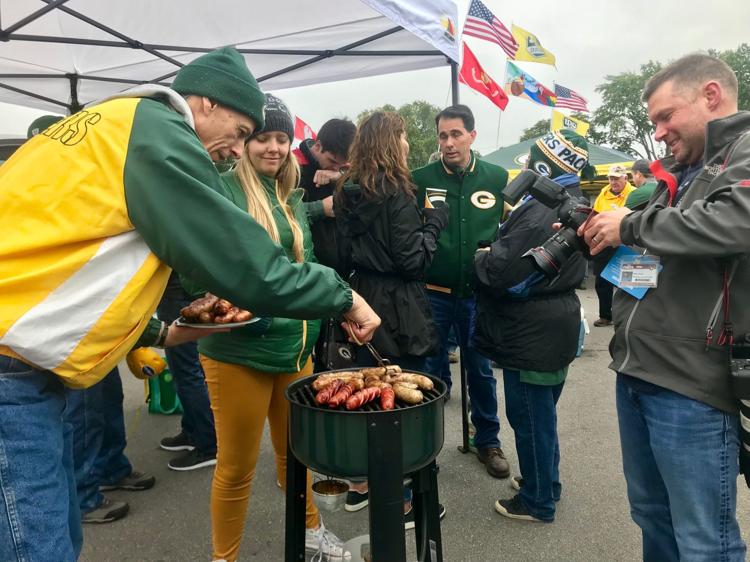 A few minutes later, Walker joined another group of revelers. From the speakers of a red pickup truck, "The Bears Still Suck" — a polka ditty by the Happy Schnapps Combo — played, followed by House of Pain's "Jump Around." After admiring a grill painted to look like a Packers helmet, Walker danced with a family before a volunteer snapped a photo of the group.
Asked how he wants to be remembered as a governor in an interview later, Walker said: "transformational."
"I think both in terms of, not just in terms of more job opportunities, higher wages, better opportunities for folks, but also transformational in terms of government. I think the reforms we put in place didn't just save money for schools, local governments like the one I used to work in and now state government — the fact that we can hire based on merit now and pay based on performance — I think it really is transformational. I'd like to not only have those reforms stay, but to build on them," Walker said. "That's one of the points that I mention often, about the distinction between us and Tony Evers. It's not personal, he and I have worked together and stuff. We get along just fine. But he clearly wants to undo those reforms. I think those reforms are essential to the state going forward positively."
Tiffany Kavanaugh said she feels like Walker has brought more jobs to the state. He's also fostered a positive environment for small businesses, said her friend, Melanie Gonnering.
The pair, from Freedom, lauded Walker's 2017-19 budget, which included a $639 million boost for K-12 schools. Both women are mothers of young children. Gonnering said Walker is working to make sure no children are left behind in their schooling.
"That's a lot of income for our counties," she said.
Asked about the president, Kavanaugh said she is a Trump supporter.
"I feel like he's doing really good for the country. He just needs to not talk," she said.
As Walker stopped for yet another photo with yet another group, an especially inebriated couple — the man dressed in head-to-toe Bills garb, the much shorter woman clad in green and gold — photobombed. "Go Pack Go" was written in gold on her green-painted face, the letters scrawled backwards suggesting she'd written the phrase while looking in a mirror. After the photobomb, the couple wobbled its way toward the governor, voiced their support and asked for a photo of their own.
"I'm a New York voter," the man slurred earnestly. "Sorry about Cuomo."
Walker chuckled, thanked them and moved onto the next group. He never made it far before pausing to meet with another set of tailgaters — some who flagged him down, others who said, "sure" when asked by volunteers if they wanted to meet the governor. He stopped to record a quick TV interview, then turned around to be met by the men of the Packers Tailgate Band, who played "On, Wisconsin" while Walker clapped and bounced along.
Dave Ehren, of Luxemburg — a band member for more than two decades — obliged to having a Walker sticker placed on his jacket, but said he's "not so sure" he'd vote for the governor, adding that he's a former high school band director.
Ehren said he hadn't made up his mind about who to vote for, but would decide based on whoever would make the best choices for education.
"Fast Freddy" Beyer, of Shawano — on his 19th year with the band — is also a former teacher-turned-musician. As he showed off his banjo, Walker pointed to a sticker on the headstock: "Da Bears Still Suck."
As they stood for a photo, Beyer joked that posing with the governor might ruin his credibility as a former teacher. Walker laughed and said the one thing everyone can agree on is that "the Bears still suck.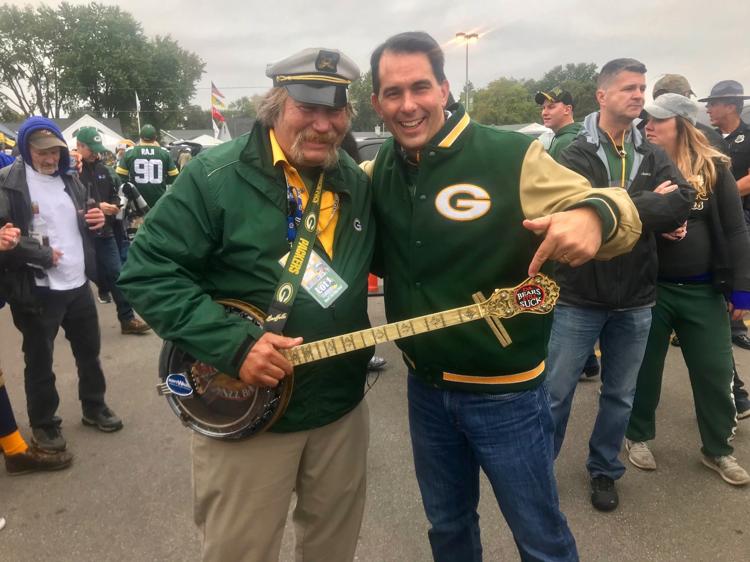 Only one Wisconsin governor has won re-election to a third four-year term: Republican Gov. Tommy Thompson, in 1994. Thompson won his third term with 67 percent of the vote and went on to win a fourth term with 60 percent of the vote in 1998. Just before the Packers-Bills game, Walker said he has no plans to challenge Thompson's four-term record.
"That's really our focus, is, for the next four years, a third term, finishing the job off right and handing it on to the next generation," Walker said, confirming that his third term would be his last.
Bill McCoshen, a Republican strategist and lobbyist, managed Thompson's 1994 campaign. He sees the Walker-Evers race as a toss-up — with a slight edge for Walker thanks to his incumbency and the Republican Party of Wisconsin's strong statewide machine.
He also thinks Walker probably had to make clear that he wouldn't ask voters to turn out for him again after Nov. 6 to assuage any potential supporters who were left with doubts after he launched his presidential bid so quickly after winning a second term as governor.
Forty-eight percent of voters have a favorable opinion of Walker, according to the most recent Marquette poll. At 2.9 percent, Wisconsin's unemployment rate is even lower now than it was when Thompson won in 1994 (4.5 percent).
"If people aren't giving (Walker) credit for the economic resurgence here in Wisconsin … his numbers should be higher," McCoshen said. "So then it comes down to personality, how they feel about him personally, which may be dragging down his numbers a bit."
Part of that could be residual effects of the Act 10 battle, McCoshen said, but it's also voters left with a bad taste from Walker's flirtation with the national stage.
Walker said his presidential campaign helped him learn how much he enjoys being governor. He "completely immersed" himself in his return to Wisconsin, he said, by holding listening sessions throughout the state and incorporating ideas and suggestions into his 2017-19 budget.
Asked if he would consider running for president again, Walker said he doesn't see it, and "certainly not as governor."
"One of the things I learned from that last experience is you can't do both," he said. "You're not going to be able to do the one run successfully and it's just going to take away from your ability to do the other. I'm focused on being governor."
McCoshen said about 75 percent of Thompson's 1994 message was focused on the future, with 24 percent on past accomplishments. The campaign also spent a limited amount of time highlighting contrasts with Thompson's Democratic opponent, former state Sen. Chuck Chvala of Madison. Walker has had to spend more time contrasting himself with Evers, McCoshen said, since he started behind in the polls.
"When you're running for a third term, it has to look like the future. You have to certainly remind people of the good things you've done, but you've got to tell them what you're going to do in the future," McCoshen said. "That was sort of our secret sauce with Tommy in 1994 — people liked him, they knew he got a lot done, and he still had an agenda for the future. So they weren't quite ready to give him a gold watch and say, 'Thanks for your service.'"
Polls showing a dead heat are no surprise to either party, said Democratic strategist Tanya Bjork, who has served as a senior adviser on several major Democratic campaigns in Wisconsin. It was always going to be a close race, and it will be a close race until the end.
The two strategists also noted that an early set of negative ads — known in political circles as the "teacher porn ads" — that went after Evers for not revoking the licenses of teachers who behaved inappropriately in the classroom did not appear to have much impact. One ad referred to a comment a teacher made about a student brushing up on "blow job skills," with the word "job" blurred onscreen. Walker's team has largely abandoned the strategy of highlighting teacher misconduct and instead seized on a simple narrative: Evers will raise taxes.
McCoshen said that's a smart move. Evers started strong with a definitive Democratic primary win, he said, but made several unforced errors when he was asked about potential increases to gas and income taxes. Asked about transportation funding, Evers said, "everything is on the table," an opening the Walker campaign quickly seized on despite Evers' arguments that he wants to bring everyone to the table rather than dictate an approach.
"They haven't been particularly dynamic in their ads recently. Their messaging is, 'It's time for a change,'" McCoshen said. "I'm not sure that they've established the case that it's time for a change. They had started on that trajectory and let Walker control the narrative, and now I think they're trying to figure out how to land this plane. They got their plane out in front of Walker and now they don't know how to get it on the ground."
Democrats see Walker's tack toward taxes as a sign of desperation.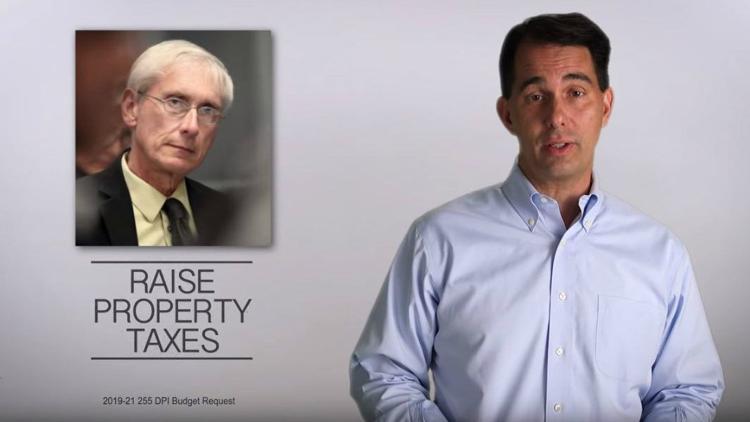 "If I were Walker I would be doing what they're doing, too. I would be desperately trying to change the subject (away from health care and education)," Bjork said, adding that taxes are a "safer space" for Republicans.
Both Bjork and Democratic consultant Melissa Baldauff, a former communications director for the state party, pointed to health care as an issue that matters to voters, and one that gives Democrats an advantage. Ninety-three percent of voters in the most recent Marquette poll said the Affordable Care Act's requirement that insurance companies cover people with pre-existing conditions is somewhat or very important to them.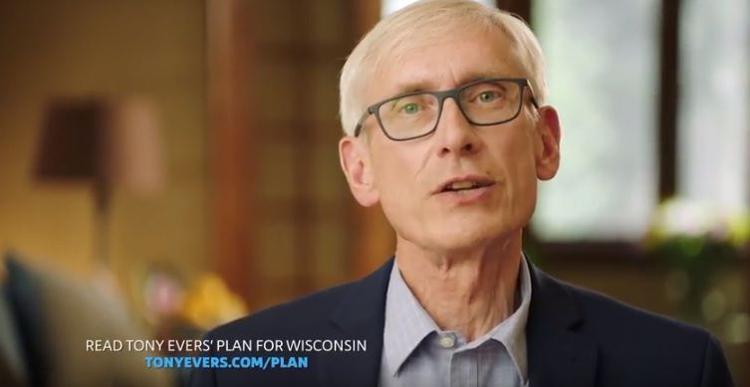 That's why both Evers and Walker are making the case that they would maintain that requirement. Walker has done so despite having approved Wisconsin's participation in a multi-state lawsuit seeking to overturn the ACA and its pre-existing conditions requirements. Walker has pledged to implement those protections at the state level, arguing that the issue is personal to him. His running mate, Lt. Gov. Rebecca Kleefisch, is a cancer survivor, and several of his close family members have pre-existing health conditions. Evers, who is also a cancer survivor, has argued if Walker wants to protect coverage for pre-existing conditions, he should drop the ACA lawsuit.
Baldauff said she doesn't think voters will trust Walker's promises. Democrats "were for health care before health care was cool," Bjork said.
As long as Evers stays focused on the issues that are both important to voters and in his wheelhouse — health care and education — he could win in November, Bjork said.
For Walker, McCoshen said, it's also a matter of message discipline — one of the governor's strengths — to sell voters on one more term and to fire up a Republican base that may have grown complacent after years of Republican control.
The leaves on the trees in southeastern Wisconsin were turning golden and red last Saturday morning, hours before the Milwaukee Brewers lost a playoff game to the Los Angeles Dodgers and the Wisconsin Badgers were defeated by the Michigan Wolverines in football. Vendors did a steady business at Kenosha's HarborMarket located along Lake Michigan. A few blocks away, volunteers, supporters and campaign staff poured into the Democratic Party's county office.
It was a good day, said Evers' running mate, Mandela Barnes, to take "a walk with frequent stops." Everyone in the office who stuck around after speeches from Evers, Barnes and state Senate candidate Lori Hawkins were handed packets of maps, addresses and campaign literature, with marching orders to knock on doors and talk about the Democratic ticket.
Walker won Kenosha County by three points in 2010, lost it by 1.2 points in the 2012 recall and won it by 1.8 points in 2014.
"The energy is here, the momentum is here and, more importantly, the moment is here," Barnes said. "People are frustrated with the direction of the state of Wisconsin and it is up to us to change that."
Barnes, 31, said he's glad to hear from people who are frustrated with Walker, but Democrats will need more than that to win on Nov. 6.
"I need people to be happy, I need people to be more enthusiastic about us … Once people know who Tony is, they love him. Right? We're just two young guys going around the state," Barnes said, prompting laughter from the crowd.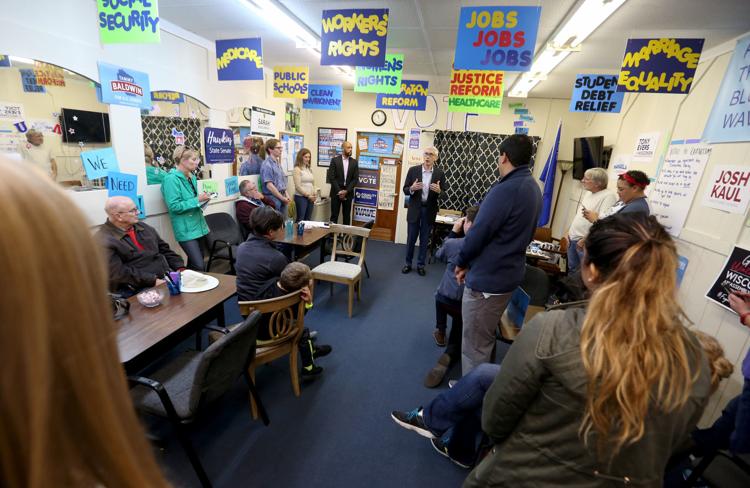 Evers, 66, looks the part of a former educator. He underwent a makeover of sorts during the Democratic primary — parting his white hair to the side and trading his thin, oval-rimmed glasses for a Buddy Holly-esque pair of thick, black, rectangular frames. Standing before the Kenosha group, he wore a sport coat and a checked shirt.
"We just can't be non-Walker, right? We have to be a group of people that care about the people of Wisconsin, care about their values," Evers said, adding that he's encouraged by the "energy" and "adrenaline" of Democrats throughout the state.
Evers' message focused on education funding (he is proposing $1.4 billion in additional funds for K-12 schools), prescription drug prices, Walker's refusal to accept the federal Medicaid expansion, insurance coverage for people with pre-existing conditions, environmental protection, wages and criminal justice reform.
Sally Simpson, the treasurer of the county party and a retired teacher, said she's feeling "kind of good" and "semi-optimistic" about Democrats' chances in November, although she said she's disappointed the local party hasn't been able to get all the volunteers it needs. Still, she said, the energy and volunteer efforts are probably standard for a midterm election.
"You'd think with everybody so ready for this election that we could get them easier than we do," Simpson said.
Simpson, who first became politically active as a UW-Madison student in the mid-1960s, said she is particularly excited about the number of Democratic women on the ballot this year.
The volunteers who showed up on Saturday were motivated and enthusiastic. They gathered under signs touting tenets of the party platform like workers' rights, student debt relief, criminal justice reform and marriage equality. On one wall hung a poster depicting a donkey on a surfboard with the caption, "Ride the Blue Wave."
That sentiment resonated with Anmol Patel, 20, and her brother Dave, 16. The pair decided to volunteer for campaigns after taking politics and government classes — Anmol at UW-Parkside and Dave at Indian Trail High School.
Both want to be doctors, so they follow health care issues closely and they like what they're hearing from Evers. Other issues that motivate them are gun violence and criminal justice reform, they said.
As the room emptied after Evers' speech, Judy and Chester "Bud" Pulaski, both retired educators from Kenosha, looked over the map they'd been handed with a list of doors to knock on.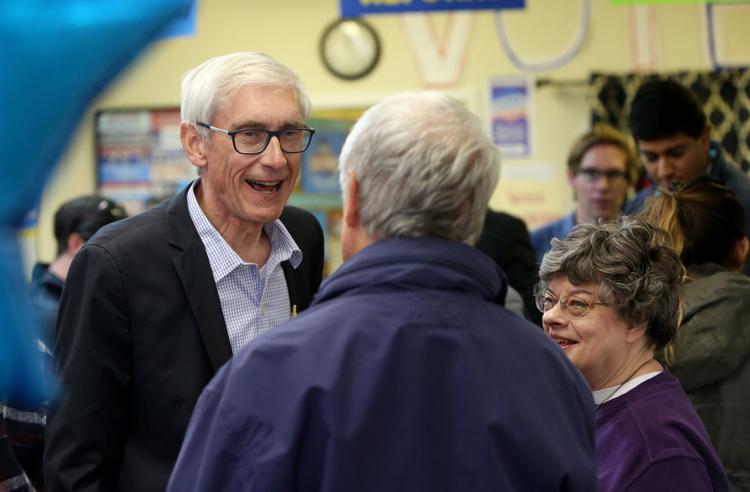 The Pulaskis named Act 10 as the catalyst for their involvement in politics. Judy taught every grade from second through ninth over a 41-year career and Chester served as a principal and administrator until he retired.
"It's baloney," Chester said when asked what he thought about Walker branding himself as the "pro-education governor."
Judy chimed in: "He lies."
Chester said he thinks Evers "has demonstrated, as a teacher, in terms of where his empathy is."
Walker's presidential campaign rubbed the Pulaskis the wrong way, too. Walker, in 2015, denied the Menominee Nation's request to partner with Hard Rock International to build an off-reservation casino at a former dog racing track in Kenosha. The Pulaskis believe the decision was influenced by Walker's efforts to score points with Iowa conservatives ahead of the state's presidential caucuses. That, Chester said, was also baloney.
The Pulaskis are also skeptical of the state's Foxconn deal and raised questions about the project's environmental impact and the company's reputation for harsh work conditions. The company's Wisconsin campus will be located near Kenosha.
"I can see bringing jobs, I understand that. But at what price?" Chester said, pointing to a poster depicting Earth. "We may have people with jobs, but if we don't have a place to live, what good will the money do?"
Evers, who had two Egg McMuffins waiting for him in the car, told reporters he has no plans to change his messaging strategy in the final three weeks of the campaign. He'll keep talking about "the positive things that we're going to do for Wisconsin," he said.
"We're doing well," Evers said. "Just keep on keepin' on."
As Evers and Barnes railed against Walker's "typical Republican" move — accusing Democrats of wanting to raise taxes — an aggressive fly buzzed over their heads. Barnes ducked dramatically while Evers shooed it away.
"Whoa! Whoa! It's Walker!" Evers joked. "How did he get here in that form? He's everywhere!"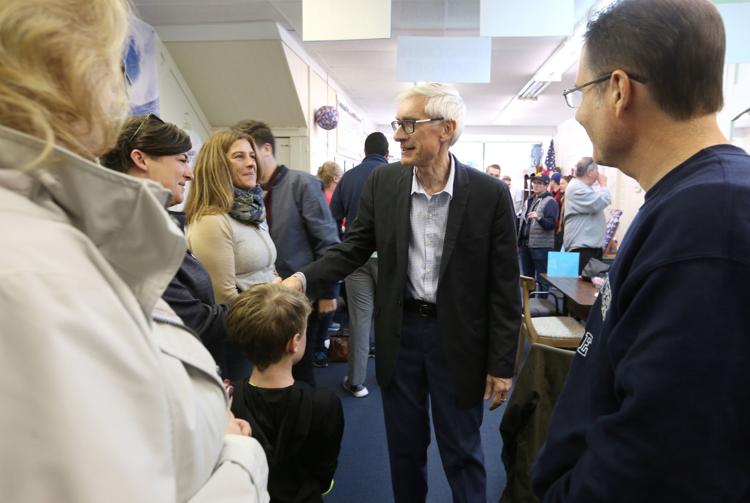 In a year that has put "resistance"-molded, far-left gubernatorial candidates like Florida's Andrew Gillum, Georgia's Stacey Abrams and Maryland's Ben Jealous on the ballot, along with unconventional congressional candidates like Texas's Beto O'Rourke and New York's Alexandria Ocasio Cortez, Wisconsin Democrats opted for a former high school principal who, but for a tendency to drop a "hell" or "goddamn" here and there, elicits somewhat frequent comparisons to Mr. Rogers.
The "resistance" in Wisconsin's gubernatorial election might not be as much about hot-blooded, Bernie Sanders-brand politics as it is about offering shelter from the unparalleled chaos of Washington under the Trump administration — but Walker has positioned himself to make that case, too.
"The Trump-level chaos is unprecedented in American politics, just about. (Former Minnesota governor and professional wrestler) Jesse Ventura was not the same as Trump. So there is a real qualitative difference between what we have as historical precedents and what we have now with President Trump," Marquette poll director Charles Franklin said, noting the tendency of Walker and other Republicans to contrast themselves with the conflicts of Washington.
Walker has argued since at least 2015 that Wisconsin Republicans — unlike members of Congress — get things done. And he maintains that he will work with Trump when the president does things that benefit Wisconsin, but will let the administration know when federal policies are causing problems in the state.
"Because people have voted so often here, we've had so many high-profile elections, I think voters are pretty smart," Walker said. "When push comes to shove, they're going to say, the election isn't how you feel about Washington, it's about who you want to be governor for the next four years."
Despite the benefits of incumbency and Walker's strong winning record in Wisconsin, Bjork said she can feel a difference in this year's election.
"I just think the enthusiasm for a gubernatorial year on the Democratic side is different than I've seen it in the past. As you know, nonpresidential years are usually not as good for us because of smaller turnout, and that was likely still to be the case this year, although I think the enthusiasm is different than I've seen it before," she said.
It's not just anti-incumbent backlash, Bjork said, noting that Democratic U.S. Sen. Tammy Baldwin was 10 points ahead of her Republican challenger, state Sen. Leah Vukmir, in the most recent Marquette poll. Democratic enthusiasm is also more widespread than the intensely focused energy of the 2012 recall election, she said.
Franklin noted that in the latest poll, just 1 percent of likely voters did not have a preference or lean toward a gubernatorial candidate, and just 2 percent lacked an opinion on Walker. That's not particularly unusual for a two-term incumbent, Franklin said, but it is unusual that opinions on Walker were cemented so early in his gubernatorial career, thanks to Act 10.
In contrast, Evers has three statewide wins under his belt, but in a much less visible office.
"Certainly, he was a less clearly established image. And that image has been shaped during the campaign to some end. The threat is that the Walker campaign has been able to establish that image for him … but it also means Democrats can see him as sort of an empty vessel and see what they want to see in him," Franklin said. "In an odd kind of way, him not having a super strong image may bring a threat of being mischaracterized, but it is an opportunity to have your co-partisans see you in the best light."
Voters are looking for authenticity, Bjork said.
"I also think voters are looking for a safe choice, and I think they really see that in Tony Evers," Bjork said. "Voters are looking for steady and thoughtful leadership and change at the same time."
That's a bit of a contradiction, she acknowledged, but one she thinks will benefit Evers.
It's entirely possible Wisconsin voters will send Baldwin back to Washington and Walker back to the governor's mansion, McCoshen said. They re-elected Democratic U.S. Sen. Herb Kohl along with Thompson in 1994, after all. But times have changed, and voters are more polarized today than they were then.
"The momentum is slightly in Walker's favor right now, but (20-some) days is a long time," McCoshen said. "It's only been done once. It's extremely rare."