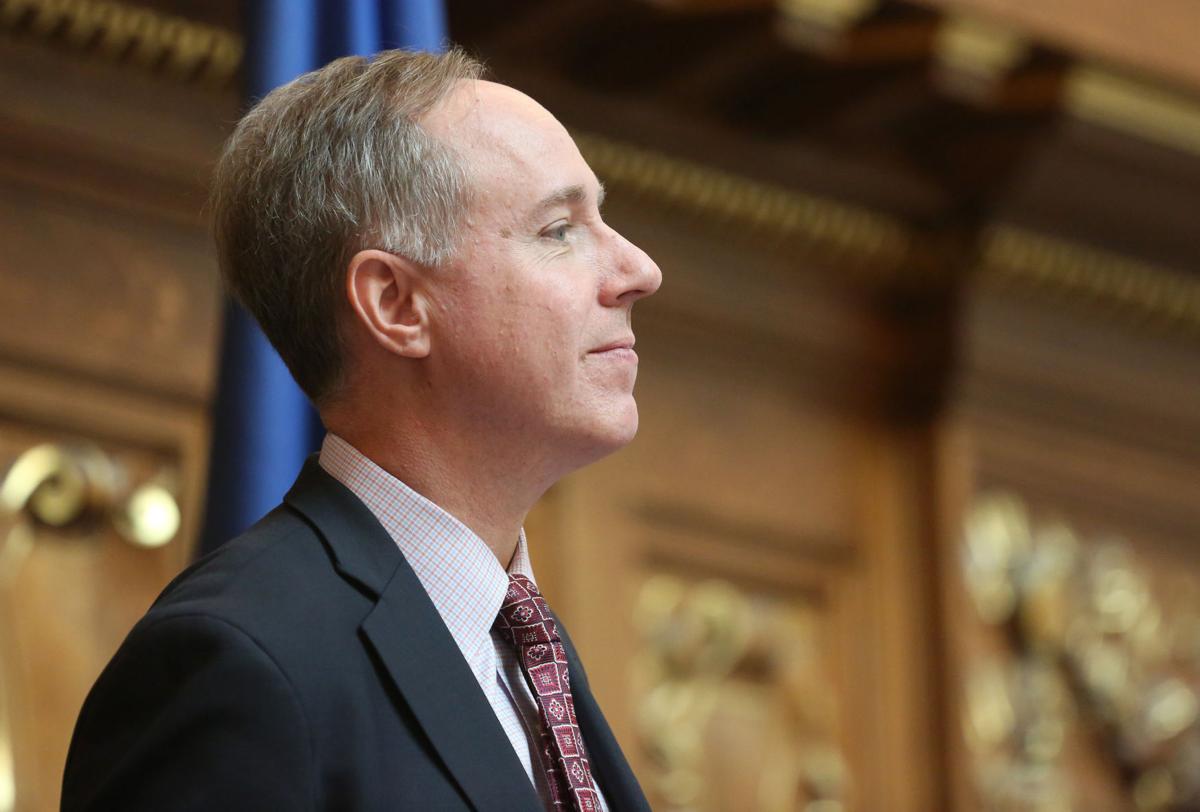 Wisconsin Assembly Speaker Robin Vos, R-Rochester, said Wednesday he hopes lawmakers will get "serious" about raising revenues to fund transportation projects in the new year.
The state's two-year budget was completed two months late, in large part due to a months-long stalemate among the Republican majority over how to pay for roads.
The deal they reached — which includes about $402 million in borrowing, new fees for electric and hybrid vehicles, construction delays and a repeal of the state's prevailing wage law — left lawmakers in agreement on one thing: the state still lacks a long-term solution to plug a projected $1 billion transportation funding shortfall.
"I think that we showcased in the last budget that Assembly Republicans are serious about finding a longterm solution. I think we declared victory because of course we have a significantly lower bonding level (than what Gov. Scott Walker proposed and Senate Republicans supported)," Vos said in an interview Wednesday. "The problem is that even with putting in all the reforms — I think we have now put in almost every possible reform that can be done, so now we really have to see where the rubber meets the road, proverbially."
While Assembly Republicans argued for a revenue boost and Senate Republicans pushed for more borrowing, all discussions in the 2017-19 budget debate were governed by Gov. Scott Walker's refusal to approve an increase in the gas tax or vehicle registration fees. He has not said whether that pledge will carry into future terms, should he win re-election in 2018.
Asked whether Walker has indicated he would be open to revenue options he has opposed in the past, Vos said he can't speak for the governor but is "optimistic that he is open-minded."
"All I have asked is for everybody to keep an open mind, and let's not draw any bright lines in the sand until we see what are our real revenues and what are our real needs," Vos said.
Vos pointed to Foxconn's plans to build a factory in Mount Pleasant as an example of the state's need to maintain and improve its roads. 
"They chose to be next to the interstate, we are required to put in all kinds of new roads for their new factory, they're between two major airports — so transportation from top to bottom was important they bring these jobs here, which we now realize is with every single business, so if we want to grow our economy, let's make the transportation fund viable," Vos said.
Continuing to borrow for transportation is not an idea Republicans will support, Vos said. 
Share your opinion on this topic by sending a letter to the editor to tctvoice@madison.com. Include your full name, hometown and phone number. Your name and town will be published. The phone number is for verification purposes only. Please keep your letter to 250 words or less.