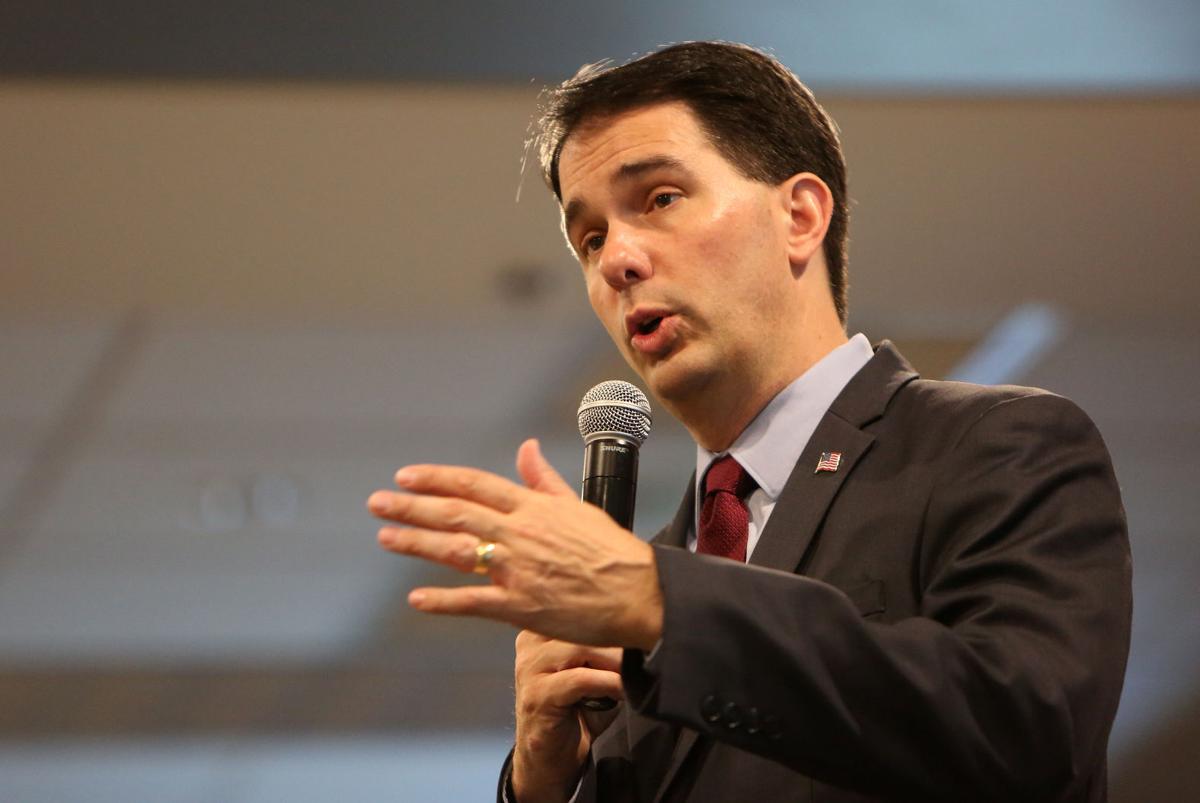 Gov. Scott Walker's office has asked legislators, lobbyists, state agency heads and local economic development agencies to help select attendees for the governor's invite-only listening sessions throughout the state, records show. 
"I call it our 2020 Vision Project," Walker said in the address. "The idea is to bring together a diverse mix of people in small group settings all across the state. I want to hear from you about what makes Wisconsin great, where we want our state to be in the next two decades and how we should measure success."
A visit to Cornell,  just outside of Eau Claire, on Tuesday marked the governor's 50th listening session since the effort launched in December. More than 1,500 people have attended, according to the governor's office.
"Thus far, our conversations with the people of Wisconsin have been incredibly constructive," Walker said in a statement. "Our goal is to create a forum for our citizens to give feedback about what they think is working in Wisconsin, what our focus should be as we approach the next budget, and what the role of state government should be."
The governor has met with groups of 20 to 50 people in places like Seymour, Prairie du Chien, Milwaukee, Osseo, Winneconne, Lodi, Pound, Delavan, Hayward, Coon Valley and other towns, including a session in Ashwaubenon focused on combating heroin and opiate abuse.
Sessions are only open to those invited, and while they are closed to media, Walker has met with local reporters for interviews in some locations. 
The governor placed blame on the media for focusing on the negatives during a call with reporters last month, adding that "headlines are always negative and bad things."
A Marquette University Law School poll released shortly before the call showed that 46 percent of the state's voters believed the state is heading in the right direction, while 50 percent said it's on the wrong track. Thirty-nine percent said they approve of the governor's job performance, down from 43 percent in March.
A new poll released on Wednesday showed little change in the governor's approval rating, down one point to 38 percent. The July poll didn't ask about the direction of the state or the budget.
But Walker said he hears good things from his conversations throughout Wisconsin.
"Obviously people want to always do better, but we hear positive things," Walker said last month.
Why the disconnect? Critics of the governor's administration say it's because the listening sessions are composed of overwhelmingly friendly audiences and, in general, people more involved in politics than the average citizen. 
About 15 percent of adults nationwide say they've donated to political candidates in recent years. Among the attendees for 21 listening sessions from December 10, 2015, through March 29, 2016, about 32 percent have donated to political candidates or causes. 
Attendees who donated have made about 3,800 total donations totaling about $1.1 million, according to state campaign finance data. Those donations overwhelmingly — at more than 80 percent — favored conservative and Republican candidates and causes.
"Instead of hearing about what's really on the minds of Wisconsinites who overwhelmingly disapprove of the job he's doing, Gov. Walker is tooling around the state on our dime hearing from an exclusive audience recruited to tell him what he wants to hear," said Mike Browne, deputy director of the liberal group One Wisconsin Now. 
Asked about the imbalance in campaign donations, Walker spokesman Tom Evenson said the office does a "tremendous" amount of work in putting together the sessions, including ensuring the group is as representative as possible.
"Our office reaches out to both Democrats and Republicans for citizens in each area they believe would be interested in attending. This is a very inclusive process," Evenson said.
Different listening sessions were given slightly different recruiting lists from the governor's office. One sought names of "farmers, welders, insurance agents, mothers, small business owners, military vets, daycare workers, healthcare workers, local law enforcement, priests/pastors, local firefighters, librarians, veterinarians and retired people," while another sought "teachers, chamber members, community members, church leaders, families with children and high school kids."
Browne and One Wisconsin Now raised questions about the selection process — particularly about the influence of lobbyists and agency heads on the make-up of the audiences. 
For instance, Browne noted, childcare workers rely on the state Department of Children and Families to do business. He questioned whether someone recommended by the agency would feel comfortable sharing negative feedback at a listening session. 
He also questioned the appropriateness of lobbyists supplying the governor with an audience, noting one exchange in which a lobbyist, asked for names, responded that he also needed to speak with the governor's office about an administrative rule. 
"Gov. Walker's office used special interest lobbyists with business before them to find attendees, state agencies were directed to 'invite' people who rely on state government to do business and fellow Republican legislators turned over their lists of local political insiders," Browne said.
Beverly Anderson, executive director of Ebenezer Child Care Centers in Milwaukee, was one of several childcare providers to be recommended by a lobbyist. Anderson said she felt the session she attended in February was worthwhile and she appreciated the opportunity to participate.
"A colleague and myself spoke about the importance of quality early care and education and how important it is for this state to focus on that and support it financially and through policies. Investments in early education will pay off in the future with less crime, less social services needed, etc.," Anderson said. "We also spoke on the negative impacts the proposed EBT Card system (proposed by the Department of Children and Families), would have on quality child care and why we are opposed to having the YoungStar bonus on the same EBT Card that the Wisconsin Shares payments are on."
Anderson said participants were asked by Walker to mention things they feel the state is doing right and to list any challenges, problems or concerns. 
Walker "truly listened" while he took notes, she said.
Democrats have been critical of the sessions' exclusivity, arguing they should be open to anyone who wants to attend. 
"Politicians hold town hall meetings all the time, all over the state that are open to the general public without having lobbyists and state regulatory agencies hand picking the the audience," Browne said. "But Gov. Walker is so concerned with the campaign optics of these events that he's unwilling to hear from the general public about what they really think about his failed agenda."
Senate Minority Leader Jennifer Shilling, D-La Crosse, opted not to offer names when asked by the governor's office for suggested attendees for listening sessions held this summer. 
"Because of the importance of this discussion and the many people who would want to be included, she recommends that the event be open to the public," a Shilling staffer wrote in an email to the governor's office. 
But Barry Mellen, a Sturgeon Bay social studies teacher, said he felt the listening session he attended in January was representative of the community's varied walks of life and political inclinations. 
Mellen, who describes himself as conservative but "at odds" with many policies championed by Wisconsin politicians in recent years, was recommended by Rep. Joel Kitchens, R-Sturgeon Bay. 
He said the most prominent concern among attendees, regardless of background or political ideology, was education. 
"There is a concern that funding cuts could not only result in reduced educational opportunities but also continue to result in local taxpayers having to approve endless cycles of referendums just to maintain standard operations," Mellen said. "There was also widespread support for our local schools and people who work in them."
Other key issues discussed in the session Mellen attended were tourism and the balance between using state and local revenue for infrastructure funding. 
Overall, Mellen said, he left the session with a positive impression and "a sense of guarded optimism for the future."
"It is no secret that the last five-plus years have been an 'interesting' time in public education in Wisconsin. It was very heartening to hear community members express their support for our schools," Mellen said.
Education funding has been a chief concern in listening sessions throughout the state, Evenson said, adding that people want to see more funding for public schools.
Walker in 2011 signed off on an $800 million cut to public schools, and ultimately kept aid flat in the 2015-16 school year after proposing a $127 million cut. The 2015-17 state budget also changed the way voucher schools are funded, taking the money from individual school districts rather than state general purpose revenue. 
"Gov. Walker wants to provide more funding for public education in the next budget," Evenson said.
Other common themes from the sessions, according to the governor's office, are "the state's strong economy, job training and workforce retention, education, broadband access and transportation infrastructure."
Attendees are pre-selected, Evenson said, in order to prevent people with "threatening criminal backgrounds" or people who intend to be disruptive from attending the events. Members of the press are kept out in order to encourage an "honest and candid conversation."
"The input Gov. Walker receives from these sessions will guide him in the next legislative session and as he works with his Cabinet secretaries to build the next state budget," Evenson said. "It's invigorating for the governor to get out around the state and talk to people about what matters most to them and their families. The governor enjoys these sessions and is pleased citizens are enjoying them as well."
Share your opinion on this topic by sending a letter to the editor to tctvoice@madison.com. Include your full name, hometown and phone number. Your name and town will be published. The phone number is for verification purposes only. Please keep your letter to 250 words or less.