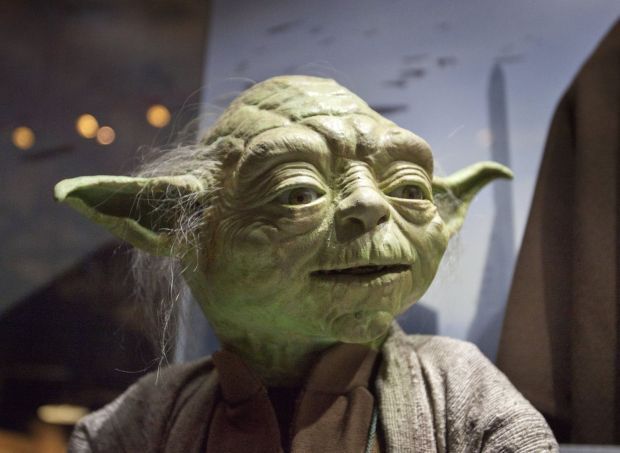 To celebrate, all you need to do is reflect on your favorite Star Wars moments and say, "May the Fourth be with you." Kind of like if Luke Skywalker had a lisp. Get it?
That brings us to the governor's tweet. There's a lot to decipher there. 
"Hope for Republicans there still is."
That's some classic Yoda-speak. 
But is "Yoda" talking about Walker? And assuming he is, is this a reference to 2016? Is this just another way for Walker to say he's running for president, without saying he's running for president? 
This seems to be the most plausible explanation for the tweet, signed "TW" — that means "Team Walker," by the way, and not "Tonette Walker," distinguishing it from tweets written by Walker himself, which are signed "SKW."
The next question, then, is who's being referenced in the quote: "That boy was our last hope ... No, there is another." 
So who is "that boy" in Walker's tweet? Who was the last hope? In the movie, Obi-Wan Kenobi was talking about Luke Skywalker when he spoke this line.
"President Reagan's influence is a key part of who I am today," Walker has said. "He was more than just a Republican or even a conservative, he was an eternal optimist in the American people."
But here's a curveball suggestion: What if "that boy" is U.S. Rep. Paul Ryan? 
He fits the bill. Another Wisconsin Republican catapulted to the national stage, in his case as a congressional budget wonk and Mitt Romney's 2012 running mate. And despite losing that election, there was a healthy amount of speculation that Ryan might seek the GOP nomination in 2016.
Perhaps Ryan was the "last hope" to send a conservative from Wisconsin to the White House. Enter Team Walker: "No, there is another."
This is where the message becomes clearer and more convoluted at once. Presumably, Walker is the "other" being referred to in the borrowed Yoda quote. Especially since the quote is followed by "SCOTTWALKER" written in the Star Wars font.
But the analogy gets trickier from there. In the movie, this is Yoda's answer to Obi-Wan. But it's not clear to whom he's referring. 
The assumption is he's talking about Leia, Luke's twin sister. But in some circles, it's been suggested that the "other" is Anakin Skywalker, based on some hope that he might still act as a force for good.
Let's go with the more likely answer, here, and say it's Leia. This leads us to an amusing range of responses sent in response to Walker's tweet.
I have so many questions. Is "That Boy" @MittRomney? Does this mean @ScottWalker is secretly Mitt's Sister? Is Chris Christie Chewbacca?

— Kevin Layde (@kclayde) May 4, 2015
Then NARAL Pro-Choice America got in on it.
But stealing the show was @darth, the anonymous Twitter superstar known for his or her on-the-fly Photoshopping skills:
Politics aside, can't we all agree to forget about Jar Jar?
Share your opinion on this topic by sending a letter to the editor to tctvoice@madison.com. Include your full name, hometown and phone number. Your name and town will be published. The phone number is for verification purposes only. Please keep your letter to 250 words or less.