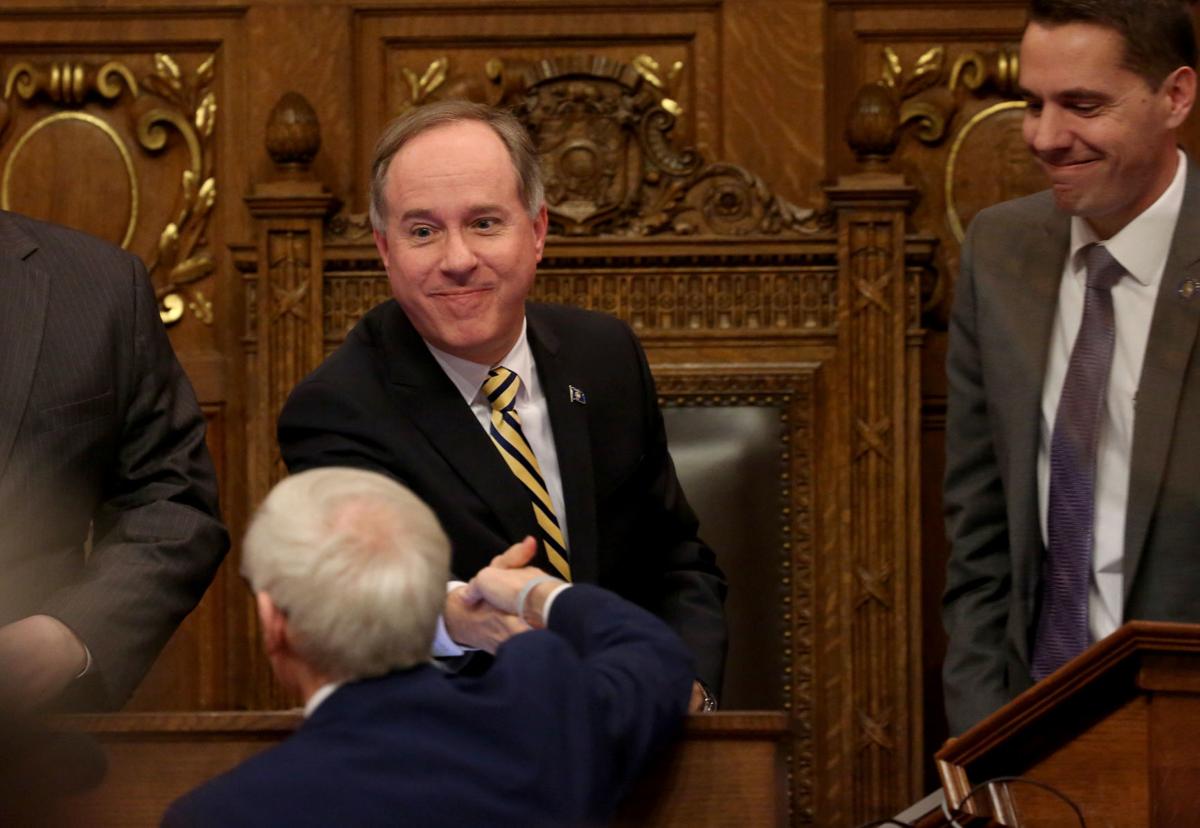 Urging unity and cooperation, Democratic Gov. Tony Evers introduced his first budget proposal on Thursday — a document he calls "the people's budget," crafted after a series of listening sessions throughout the state.
As quickly as Democrats praised the spending plan, Republicans discounted it as a "liberal, tax-and-spend wishlist." Assembly Speaker Robin Vos, R-Rochester, said he "heard some topics that I hope we will be able to find common ground on," but "there are a lot fewer opportunities than I'd hoped for."
Republicans pointed to education funding, broadband expansion and increased funding for prosecutors as examples of areas where compromise might be able to occur. But there are enough disagreements that Senate Majority Leader Scott Fitzgerald, R-Juneau, said Republicans have no choice but to throw Evers' budget out and write their own.
"We're going to start with a base budget that we're going to build that's going to put us on the right track," said Joint Finance Committee co-chair Sen. Alberta Darling, R-River Hills. "We're not going to go down this way, we're not going to let this happen."
Here are six proposals in Evers' budget facing some of the strongest Republican opposition.
1. Capping a tax credit for manufacturers. 
Evers' budget includes a 10 percent income tax cut for individual filers earning less than $80,000 and married couples earning less than $125,000. The credit would cost the state about $833 million over the two-year budget period.
Republicans support the idea of a middle class tax cut, but they don't support Evers' plan to pay for it. The governor has proposed covering about half the cost of the cut by scaling back a credit for manufacturers created in 2013. Evers argues the credit has disproportionately benefited the wealthy, but Republicans say it has allowed businesses to invest in new equipment and expand their operations. Evers' budget would cap the credit to only apply up to $300,000 — a proposal Republicans say amounts to a tax increase. 
2. Expanding Medicaid.
Evers would accept federal funds available under the Affordable Care Act to expand BadgerCare to an additional 82,000 low-income Wisconsin residents by expanding eligibility to people who earn up to 138 percent of the federal poverty level. Evers estimates the move would free up $320 million to fund other health initiatives.
Republicans have said for months they won't support a budget that includes a Medicaid expansion, arguing the move would put more people on government-run health care. 
But Evers has said he will make his case directly to people throughout the state in hopes that they will ask their elected officials to support it. In his speech on Thursday, he noted a recent Marquette University Law School poll that found 62 percent of Wisconsin voters supported the expansion.
3. Halting growth of voucher, charter school programs
Starting in 2021, Evers' budget would cap the number of taxpayer-funded vouchers available for students to enroll in private schools throughout the state, including in the state's separate school choice programs in Milwaukee and Racine, at the level of enrollment in 2020. As students graduate, existing slots would open up, but no new slots would be created. Enrollment in the state's special needs voucher program for students with disabilities would also be capped starting in 2021.
Evers' budget would also halt the creation of new independent charter schools until 2023 and would eliminate a program that allows low-performing public schools in Milwaukee to be turned over to charter schools without the approval of district officials.
Evers argues the freezes are needed so officials can reexamine the state's education system and the way each portion of it is funded.
"Governor Evers school choice freeze is a direct assault on Wisconsin('s) historic and successful school choice program," said Sen. Duey Stroebel, R-Saukville, in a statement. "Without this program, children across Wisconsin will be trapped in schools that fail to meet their educational needs. This change would have a devastating effect on Wisconsin's students that will have a ripple effect for years to come."
4. Repealing right-to-work, drug testing for public benefits
Evers would repeal the state's right-to-work law, signed by Gov. Scott Walker in 2015, which prevents businesses from entering contracts with unions requiring all workers to pay union fees. He would also restore the state's prevailing wage law, which sets minimum pay requirements for construction workers on public projects and was eliminated in the 2017-19 budget. Evers would also once again allow state and local governments to require contractors to reach project labor agreements with unions on publicly-funded projects.
Conservative groups including the Wisconsin Institute for Law & Liberty and Americans For Prosperity were quick to criticize the proposals, with WILL describing them as an "anti-freedom agenda."
Evers also proposed eliminating work and drug test requirements for Medicaid and food stamp recipients implemented under Walker.
Vos accused Evers of "trying to turn back the clock on all of the successful reforms that we have (implemented)." 
5. Decriminalizing marijuana possession
The governor's plan would — in addition to legalizing medicinal marijuana use — decriminalize the possession, manufacturing or distribution of marijuana for 25 grams or less, and would allow people previously convicted of that crime who have completed their sentence or probation to have the charge expunged from their records. It would also expand access to cannabidiol, or CBD oil.
Vos said earlier this month he believed legalizing medical marijuana had about a 40 percent chance of being approved by the Legislature, but with decriminalization included, Vos gave the proposal a chance of 10 percent. Fitzgerald has said he doesn't think Senate Republicans would vote for medical marijuana legislation.
In a statement, Sen. Steve Nass, R-Whitewater, described it as a move toward "backdoor legalization" of recreational marijuana.
"This is not a people's budget … it is a People's Republic of Madison budget," Nass said. "Governor Evers has clearly demonstrated that his administration is controlled by liberal zealots. Evers' budget is not about governing the state, instead it is the 2020 campaign manifesto of Wisconsin Democrats."
6. Funding Planned Parenthood
"It's clear that Gov. Evers is committed to prioritizing women's health care," said Planned Parenthood Advocates of Wisconsin president Tanya Atkinson in a statement. "We all should be able to agree on the importance of access to preventive health care like cancer screenings, birth control and STD testing and treatment. We applaud Gov. Evers for taking bold steps toward creating healthier communities throughout Wisconsin."
But Vos and other Republican lawmakers were quick to rule it out.
Share your opinion on this topic by sending a letter to the editor to tctvoice@madison.com. Include your full name, hometown and phone number. Your name and town will be published. The phone number is for verification purposes only. Please keep your letter to 250 words or less.