When the designers working on the annual "Design for a Difference" charity makeover pick a nonprofit organization to get a free interior redesign, they closely guards the plans.
Staff are exiled for two weeks while the renovation takes place; pictures of updates are posted in black in white, so as not to spoil even the color scheme.
This year's lucky nonprofit is the East Madison Community Center, and the neighborhood kids — temporarily banned from their after-school hangout — were getting impatient with the secrecy.
Volunteer Tara Buedding was working on the renovation one night when she spotted a group of kids crowded around outside the entry, stealing looks inside and exclaiming,"Oh my god, look at that, look at that!"
On Sunday, those kids, along with parents and EMCC staff finally got to walk into the new and improved EMCC at 8 Straubel Ct. They witnessed a renovation valued at over $600,000, put together with the help and donations of over 250 businesses and individuals and organized by local flooring company FLOOR360.
"They move everything out and give us a blank slate. Then we come in and do all new flooring. We paint all of the walls. Everything has been touched and everything looks completely different," said Angela Skalitzky, vice president of retail sales and design at FLOOR360.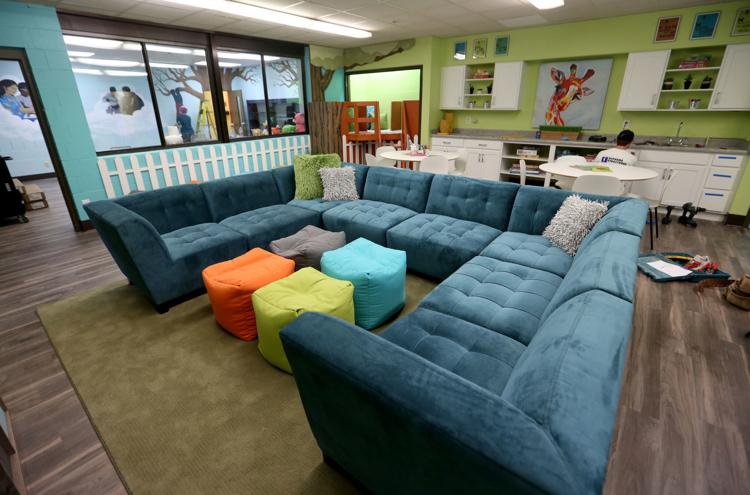 Since 2015, FLOOR360 has participated in the national "Design for a Difference" movement to transform the offices of a local nonprofit, which last year was Centro Hispano at 810 Badger Rd.
This year, after packing up their desks, games, chairs and pool tables, the EMCC staff moved into a five-bedroom apartment for two weeks. The design team — 44 volunteer interior designers — then transformed the inside of the neighborhood center to look like a neighborhood. There are painted doors and trees on the walls, kites hanging from the ceiling, mailboxes and picket fences; the windows in the hallways are surrounded with shutters. Mural artist Chad Caso painted graffiti-style art in the halls and bathrooms. A wall in the women's restroom says, "You are beautiful in every single way."
If this were a design makeover show, audiences would find the backstory segment compelling.
The EMCC offers many services like a summer day camp, book club, GED classes, basketball camp, Alzheimer's screenings and college prep workshops. In 2017, a family resource center opened on the site with an aim to build stronger families and improve birth outcomes. EMCC's food pantry served over 1,300 people in 2017 and its space needed an upgrade.
The "before" pictures of the community center show dingy floors, dim lighting and old furniture. EMCC assistant director De'Kendrea Stamps described the entryway to the building in a video for FLOOR360 as "a labyrinth." One volunteer noted the most eye-catching feature of the entryway was a prominent vending machine. 
Aesthetics often aren't the highest priority for hard-working nonprofits.
"It's very hard to make a decision on whether or not to get new furniture or redesign something when you want to make sure that you're getting enough food for our food pantry," Stamps said in the FLOOR360 video.
The EMCC was founded in 1966, starting in two two-bedroom apartments in the Truax neighborhood. The center later moved into its current location, with additions in 1991, 1997 and a 13-000 square-foot expansion in 2008 that included a commercial kitchen, full-size gym and locker rooms.
The additions gave the center plenty of space, said EMCC executive director Tom Moen, but left them with mismatched flooring. Years of heavy use have worn down the building and the donated furniture inside.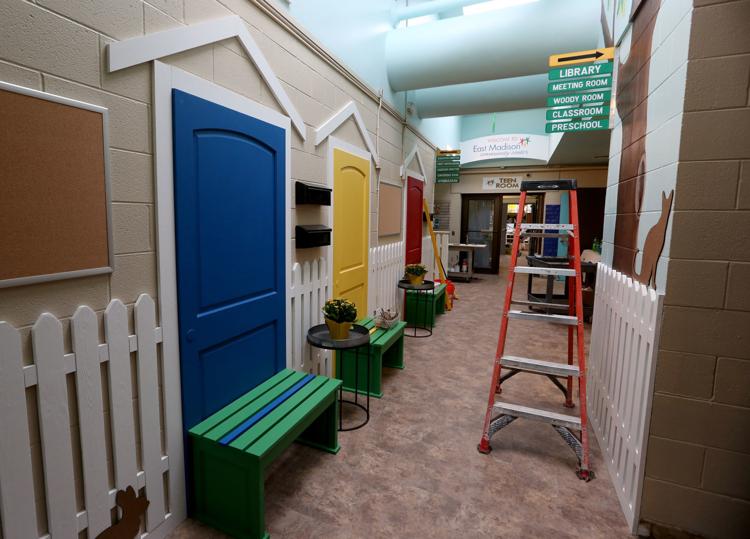 For the renovation, the design team interviewed EMCC staff to find our their needs. They tend to take input from the interviews to the next level, Skalitzky said, making it "20 times bigger than what they said." She is not exaggerating.
Take a closet in the library. The design team could have painted the walls and installed shelving to call it a day. Instead, they decked out the doorway with a tree painting and turned the inside into a cozy nook complete with a hammock chair, making an indoor "treehouse."
"They reimagined the space into something inspirational ... isn't that the coolest thing?" Skalitzky said during a tour of the facilities Friday. "I'm getting goosebumps because these kids are going to be so excited."
Another example: the First Impressions closet. First Impressions provides suits to men with job interviews on the horizon. Previously, these suits lived on a rack in the food pantry, and men tried them on in the bathroom. The design team took a small conference room and transformed it into a men's boutique, complete with a snazzily dressed mannequin, fitting room and barber's chair for grooming.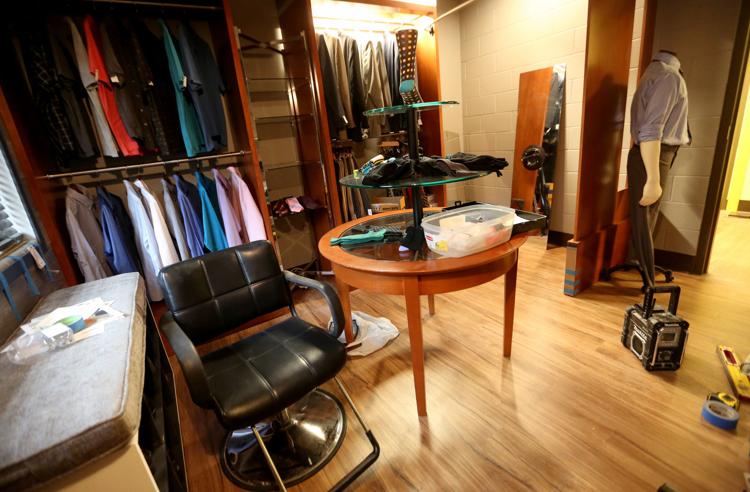 The interviews with staff allow the design team to decorate offices with a personal touch. It turns out Moen loves tropical living and goes to an island for vacation any chance he gets. So his office is now an oasis: a tropical mural covers an entire wall, there are palm accents and a deck chair for "beach" reclining.
The Friday before the big reveal, crews were busy with finishing touches and cleaning. Volunteers Buedding of The Happy Home Organizer, Cathy Driftmier of Driftmier Design and Brenda Szarek of Autumn Light Interiors made up the team tasked with entryways and hallways. Asked how many hours they'd dedicated to the project, Driftmier offered "one hundred" as Buedding simultaneously said "one million."
But they don't mind, because they're "hooked," they said. Buedding and Driftmier have been a part of the movement since year one, when they witnessed the RISE center's reaction to their freshly decorated facility.
"We cried so much ... We said, 'We want to do this the rest of our life,'" Buedding said. "You work in all different fields and you all come together and you become this big happy design family."
Holly Meyers, an independent artist and hair stylist, was also in the building Friday, paintbrush in hand, completing a mural of a girl hanging from a tree. She too, had worked on a previous FLOOR360 redesign, and remembers the reveal.
"It actually was a little surreal. It was really beautiful that something so simple as painting could make such a big difference," she said.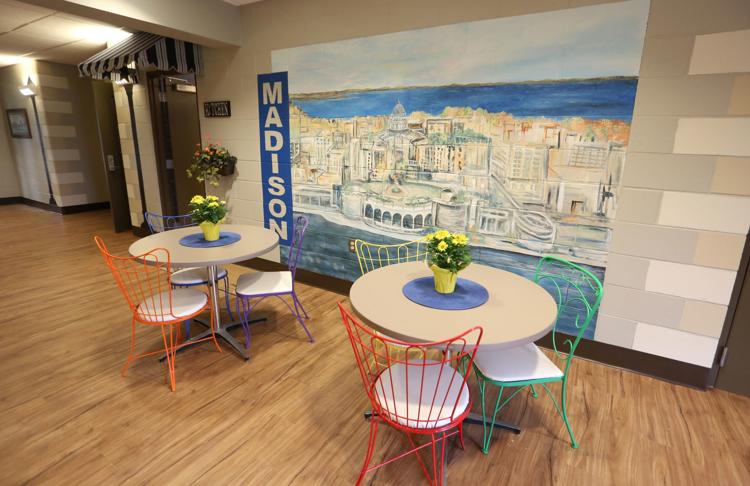 FLOOR360 says that the goal of the redo isn't just to improve the space, but to "show off the power of design" and highlight the charity. There's a staff joke that EMCC is unfortunately east Madison's "best kept secret," so Moen's grateful for the renovation publicity that's "put us on the map a little bit more," he said.
Asked how he felt on the Friday before the reveal, Moen said that "excited" was an understatement. The design reveals are typically emotional events, Buedding said.
"(If) you want to see a bunch of women just cry and cry and cry, that's what you're going to get," she said.