Marilyn Ruffin's youngest son, Marlon, won't have any excuses for not voting in Tuesday's election.
"We instill in our children the importance of voting, right, Marlon?" Marilyn said on a recent Friday night, drawing her 18-year-old son out of the kitchen and into a discussion he didn't sign up for. "You could vote right now! I could take you downtown before you go back to school."
Marlon was home in Sun Prairie for the weekend from Freeport, Illinois, where he just started his freshman year at Highland Community College. He voted for the first time last spring.
"When Marlon turned 18, I took him in. He registered and he voted because I was running for election!" Ruffin said with a laugh. She was elected to her second term on the Sun Prairie School Board last April.
Ruffin shared her enthusiasm for voting and civic participation from her living room, joined by Qiana Holmes-Abanukam, Teresita Torrence and Dawn Crim. They're members of Sisters Who Read, "the longest running and what? The hippest book club in Madison," Ruffin said.
"It's not just coming to the table, but shaking the table. Not doing what's been done in the past. Shaking it up a little bit. It's not just coming up, which is huge in itself, but shaking it up and have them see a different perspective. That's what I'm thinking at these school board meetings," she said. "It wasn't always discussed and I will bring up those hard questions and hard facts because our African-American children specifically are not doing as well."
Since Donald Trump was elected in 2016, thanks largely to defeating Hillary Clinton in midwestern states like Wisconsin with overwhelming support from white men, reporters have dropped in on rural cafes, taverns and gas stations to hear from men who feel left behind. Illustrated with photos of guys in baseball caps and flannel shirts, stories sought to teach readers more about why members of the demographic group that has been front and center in American cultural and political life since its founding feel angry, hurt and misunderstood.
Even in Madison, which reliably and overwhelmingly votes Democratic, white men drive the narrative, from the mayor's and county executive's offices to this newspaper's columnists.The author of this story is a white guy.
Attention has shifted slightly this fall, as pollsters wonder if suburban white women, who largely supported Trump, will be driven to vote for Democrats by revelations made during hearings for Supreme Court Justice Brett Kavanaugh.
But what about black women? Last December, when Doug Jones defeated Roy Moore for a U.S. Senate seat in Alabama, a rare victory for Democrats that came amid a series of political defeats, black women were the difference.
But stories about how groups of black women gather to discuss voting and important issues did not follow. I shared this observation with Sabrina Madison, the local social entrepreneur and founder of the Progress Center for Black Women, who put me in touch with Ruffin who, in turn, invited me to join her group on a recent evening.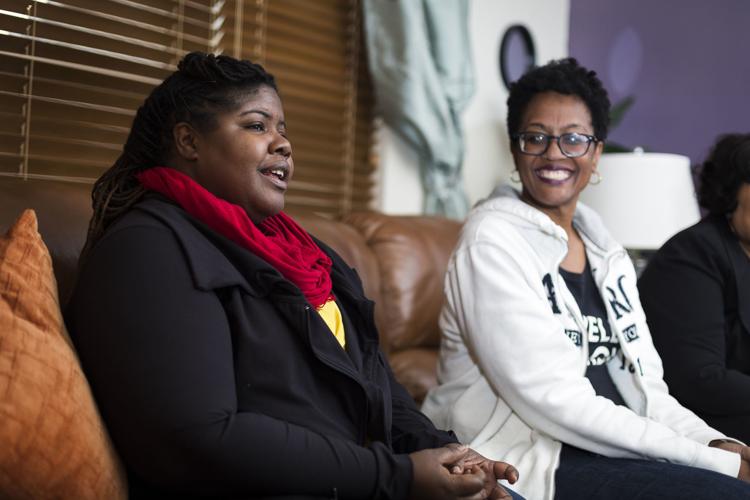 While nobody was eager to get into a partisan political discussion, all four women stressed the importance of following current events and taking time to learn about opposing viewpoints.
"I consider myself independent, because I listen to everybody," said Torrence, an academic advisor at Madison College. "My husband asked me, 'How many people do you get in a conversation with who oppose your views?' I work in a public institution, so you really don't talk a lot of politics with your coworkers. With education, that can be pretty touchy. After the Donald Trump election, people got very quiet."
Crim, who left the University of Wisconsin-Madison last year after working on campus for 23 years, is assistant state superintendent for the Department of Public Instruction's division of school and student success. She said she grew up with political participation as a priority, working on campaigns and at the polls as a child in Philadelphia.
"Politics has always been a part of our lives, but I say politics with a little 'p.' We value and try to respect everybody's voice," she said. "I think that for the most part, people want to do the right thing, so I think the polarization we see now isn't at all what it should be … The level it's at right now is just uncivil and that's not how this is supposed to be. That's not what democracy is really about."
Ruffin said the book club, which will celebrate its 25th anniversary next summer, doesn't specifically go looking for books with political messages, members admitted many titles — "The New Jim Crow," "The Immortal Life of Henrietta Lacks," "Just Mercy," "The Hate U Give" — contain some strong social commentary and have elicited spirited discussions.
"I don't think we necessarily go in to talk about politics, but some of the books we've read talk about systemic racism," said Holmes-Abanukam. "We have to look at the decisions being made in the different levels of government."
Holmes-Abanukam is the education specialist with the Road Home, a Madison nonprofit organization dedicated to moving Dane County families out of homelessness. Criminal justice, education and poverty are all issues that find their way into the group's conversations.
"Reading all these stories and actually working in the social services — I don't want to say I'm amped up, because I'm not — but it really opens my eyes and helps me be aware," she said. "I'm working with people coming from the criminal justice system and it's almost nonexistent to find housing. Even if you're wrongfully accused, now you're lacking all that time with no housing history, no credit. Once you say 'jail,' they don't even want to hear anything else you have to say."
And while everyone in the group works in fields like social services and education, where systemic racism is a regular topic, the fear and disgust that accompany direct racism is never far away. When I asked the group about how they discuss these issues with their families, Torrence spoke about her own vulnerability.
"I was headed to the east coast and I was the only African-American woman on this flight. I looked around, because I was sitting in the middle seat in between two white females and the woman on the aisle seemed to be very uncomfortable next to me," she said. "She never said anything, but this was at the same time when all this stuff was going on; driving while black, picnicking while black.
"It crossed my mind for a quick minute: What if she said something kind of out of order because she's sitting next to a black woman, the only black woman on the plane? I just got this uncomfortable feeling," Torrence said. She just didn't make a connection at all and something about her behavior told me she was a little uncomfortable and I had never felt vulnerable like that, recognizing that nobody else black was on that plane."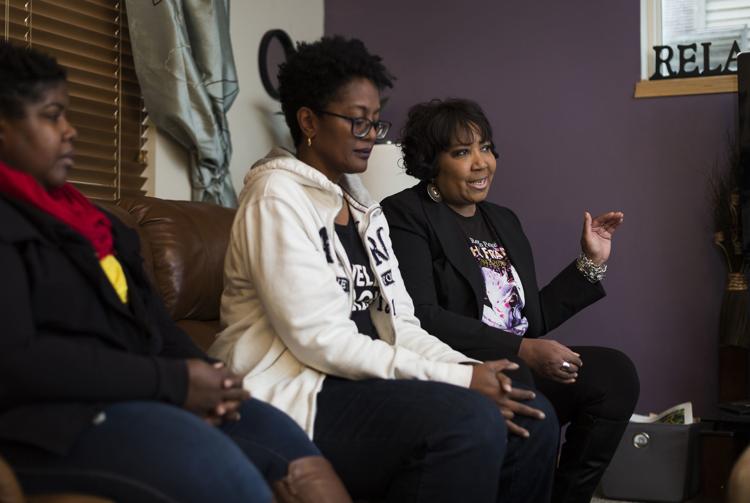 A theme that popped up more than once in our discussion was the importance of motherhood, not just within families, but for children and young adults in the community. Torrence was the only woman present without kids, but her relationship with students often includes personal advice and care giving.
"Black women are kind of in the background, talking to each other. We're building families, educating our youth, whether they're in your family or in the community," Torrence said. "We're not afraid to talk to young people.
"We have a philosophy of, 'Each one teach one,' to help the next generation coming up," she said. "Her kids are our kids."
As was the case throughout the evening, the other women in the room nodded and affirmed what Torrence said as she spoke.
"That's what I liked about volunteering in schools," Crim added. "When I go to the school, they're all mine. Her mom couldn't be here, but I'm here, so what's going on?"
The community participation extends to Election Day. Torrence will work at the polls through the Madison alumni chapter of Delta Sigma Theta sorority and Ruffin will do the same through The Links, Inc., an organization for professional women of color.
And Holmes-Abanukam said she is talking more about voting as an obligation among her friends and clients.
"As I'm getting information or passing it down, it's important for me to translate it to families, not my personal views, but in terms of what's at stake," she said. "In 2016, everyone went to sleep and we all thought it was going to be a shoo-in. I woke up and of course social media was bling bling bling all over the place. Donald Trump is the next president.
"And I had clients come to me and say, 'What does this mean to us? What's going to happen next?' So my first question was, 'Did you vote?' We really do need to help people understand what these things are and how they affect them in the long run."
There was definite optimism and positivity in the group. The moms listed accomplishments of their children, where they're enrolled in college or living around the country. Ruffin showed off a room filled with basketball trophies, photos and medals won by Marlon, an all-conference player at Sun Prairie last year.
Each of the women spoke about how pride in family and community is a driving force.
"We are having these discussions and we are having them in terms of how they're affecting our families and how they're impacting our communities and how they affect our lifestyles," Crim said. "So many things are happening that we're trying to problem solve and look for the positivity and keep our kids inspired and not just our kids, but all of our kids.
"So often, you're not at the table," she said. "You're just not even thought of."