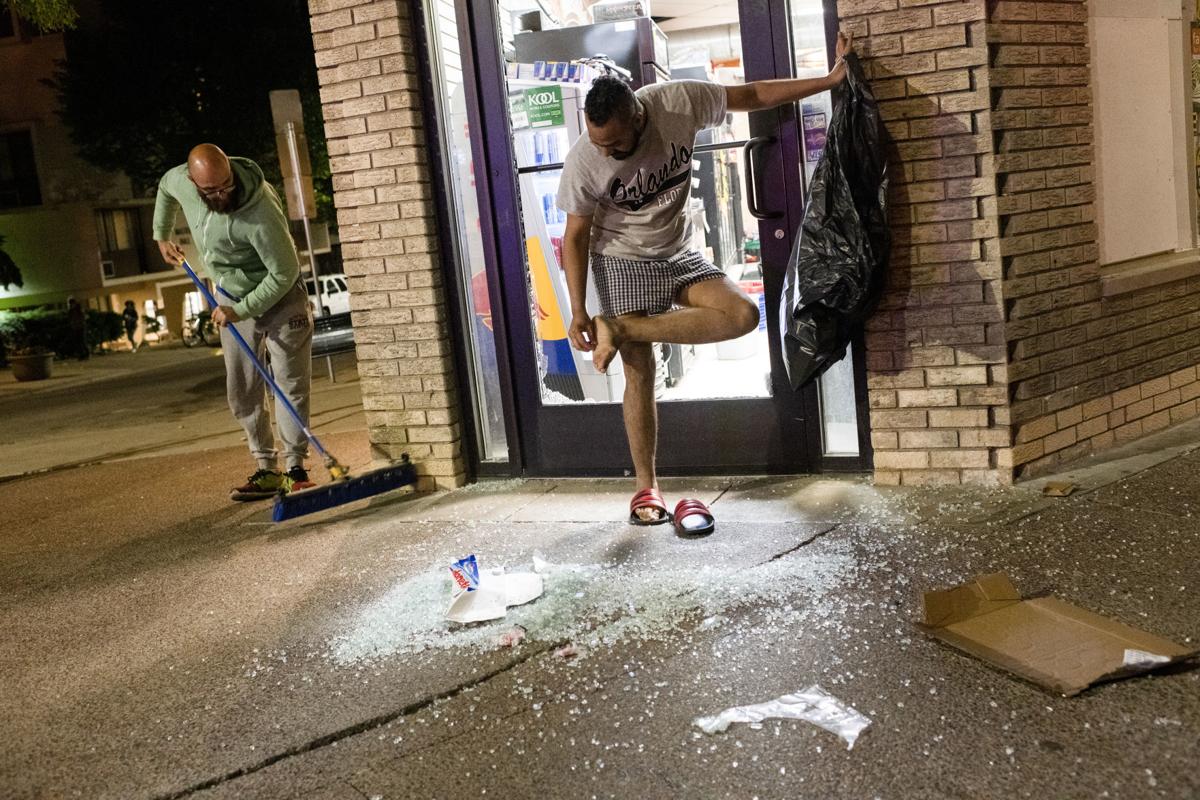 To assist downtown businesses that were damaged during recent protests, Madison officials will consider a $500,000 recovery program to mitigate the financial burden incurred by local owners.
Peaceful marches and demonstrations have been happening in Madison over the past four weeks stemming from the police killing of George Floyd in Minneapolis. But during the first three nights of activism on May 30-31 and June 1, some people vandalized downtown storefronts, smashed windows and stole merchandise.
With businesses already struggling due to the coronavirus pandemic, the costs of physical damages and stolen property compound their challenges. 
"They really are struggling. Every dollar counts," Ald. Mike Verveer, District 4, said. "The fact that the city is stepping up and supporting them financially — although I wish there was more money — really could make a difference to their bottom line."
It could also factor into their decision to fully reopen or close their doors permanently, he added.  
The program was introduced by title only at the City Council's Tuesday meeting. President Sheri Carter, District 14, said the grant "provides hope" and a "message that better days are on the horizon." 
"I cannot overstate the importance of State Street to the economy of Madison," Carter said in a statement Thursday. "This iconic street draws local residents, alumni, and people from all over the world because of its vitality."
Businesses would need to apply for funding through this program and could receive up to $25,000. Verveer said the program would be funded by re-purposing unused capital budget funding for a total of $500,000.  
If the program's funds were to be exhausted, Verveer said the city could consider redirecting about $100,000 from a facade improvement program. 
Only locally-owned businesses are eligible for the funding, which Verveer said would go toward the repair of interior and exterior spaces. Costs for damaged or stolen inventory would not be covered under this program. 
In addition to Verveer and Carter, Mayor Satya Rhodes-Conway and Ald. Patrick Heck, District 2, are sponsoring the program.  
"We hope these funds will make a difference for the mom and pop shops in the downtown business district," Mayor Satya Rhodes-Conway said in the statement. "I hope everyone in Madison will think about shopping local before they place an order online, and step up their support of our local businesses as they struggle in these difficult times." 
According to the city, 70% of State Street businesses are locally owned and operated, and 62% are owned by women and people of color.
Heck added that the program would give a "desperately needed boost" to local businesses downtown and their employees who have suffered financially. 
Madison's Finance Committee is scheduled to discuss the program and funding sources at its meeting Monday at 4:30 p.m. If recommended by the committee, the City Council would discuss the program at its July 14 meeting. 
"We hope to get the checks in hands before July 15," Kenney said.
Kenney is currently trying to contact the 152 businesses that comprise the downtown State Street area to determine what their needs are. Through conversations with business owners, Kenney said costs incurred range from $400 for plywood to cover windows to thousands of dollars like in the case of Goodman's Jewelers, whose windows were smashed. 
In an ongoing survey, Kenney said 41 businesses out of about 120 that responded said it would be "extremely difficult to open again." Though there are compounding factors for some businesses, Kenney said for others, "it kind of feels like it's maybe the last straw."   
The BID is a tax assessment district with an approximately $300,000 budget funded through property owners' tax payments. Through events like the Madison Night Market, the BID raises an additional $100,000 to $150,000.  
"We're really operating on such a shoestring budget," Kenney said, noting the BID does not have extra funds to support a recovery program. 
Kenney said downtown businesses haven't felt the support of the city, which makes the downtown recovery program a "step in relationship-building downtown." The next step for business owners is feeling that it's safe to re-open.  
"They want assurances from the mayor and police that they can open," Kenney said. "I don't know how I can tell them that they're safe right now."  
In other forms of support, the City Council on Tuesday expanded its "streatery" program to include any establishment that serves food or drinks. Under the previous iteration of city's restaurant recovery program, businesses like Cask & Ale and Paul's Club were exempt from expanding service outside.
As the number of COVID-19 cases continues to rise in Dane County, the CDC advises that low-contact methods like curbside pickup and takeout are the safest way to get restaurant food. Outdoor dining is also considered safer than sitting indoors.
Verveer said he is hopeful the city could close State Street to buses, delivery vehicles and other traffic on some days for food and drink establishments to expand beyond their doors to allow for social distancing measures. 
Also, the city has implemented free and reduced cost parking in the city parking garages on Saturdays through the summer. 
"These are somewhat little things, admittedly, but together they can make a big difference to these small mom-and-pop businesses that are struggling so much this year," Verveer said.  
Share your opinion on this topic by sending a letter to the editor to tctvoice@madison.com. Include your full name, hometown and phone number. Your name and town will be published. The phone number is for verification purposes only. Please keep your letter to 250 words or less.
Get Election 2020 & Politics updates in your inbox!
Keep up on the latest in national and local politics as Election 2020 comes into focus.