Madison real estate development shows no sign of slowing down in the new year. To help you keep it all straight, here's a look at some of buildings coming to a neighborhood near you. Some are well on their way to completion, some have just broken ground and others are still proposals seeking city approval. 
In 2014, Madison Mayor Paul Soglin announced a new Affordable Housing Fund, a $20 million initiative that helps create housing for homeless and low income individuals. It encourages developers to pursue Section 42 tax credits for affordable housing, and the goal of the fund is to create 1,000 affordable apartments over five years.
The first year of this project saw construction of Rethke Terrace and three projects currently under construction. The Madison Family Supportive Housing project, Mifflin Street Apartments, Movin' Out Inc. and 8Twenty developments took advantage of the program and were recipients of city affordable housing funds.
In 2017, Fair Oaks apartments, the 1202 S. Park St. Heartland Housing project, Normandy Square and two senior housing projects will all seek federal tax credits. All have a commitment of city funding through the affordable housing fund. 
Approved: Fair Oaks Apartments

A proposed 80-unit, four-story apartment building at 134 S. Fair Oaks Ave, the current site of the Fair Oaks Nursery, was recently granted approval by the Madison Plan Commission. The building would include 2,500 square feet of commercial space. Sixty-eight of the units would be dedicated to affordable housing. In March, the developer, Stone House Development, will be applying for Low-Income Housing Tax Credits. If granted the credits, construction will begin late fall 2017.
Referred: North Butler/North Hancock Apartments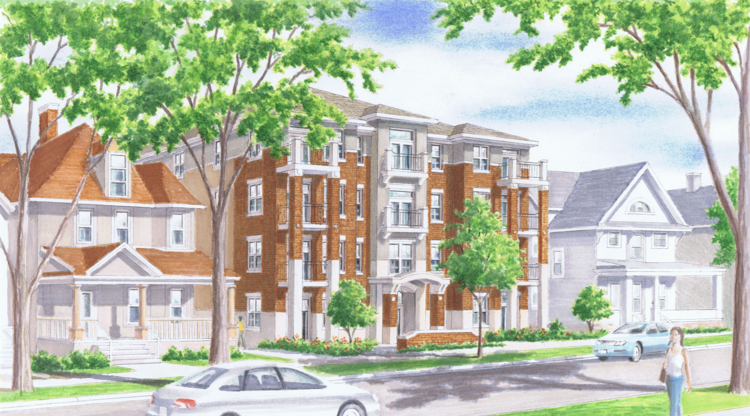 A proposed apartment complex between North Butler and North Hancock Streets specializing in affordable single-resident apartments was recently referred by the UDC, which said plans for the the four-story, 56-unit apartment complex at 119-121 N. Butler St. did not fit with the character of the neighborhood or promote family housing. The UDC voted to refer the proposal, and the architect is currently working to modify the design before bringing it back before the UDC in early 2017. 
Approved: Madison Family Supportive Housing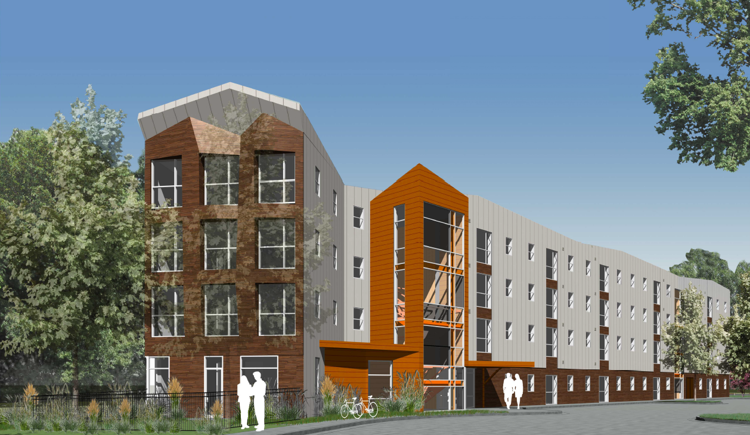 The Madison Family Supportive Housing project by Heartland Housing Inc. will have 45 units for homeless families and YWCA-provided support services at 7933 Tree Lane, near West Towne Mall, and plans to open in March of 2018. Construction should begin in March of this year. Heartland also has plans for a development at 1202 S. Park St. The 60-unit apartment building will also have support services for the homeless, and will apply for federal tax credits this spring. 
Approved: Mifflin Street Apartments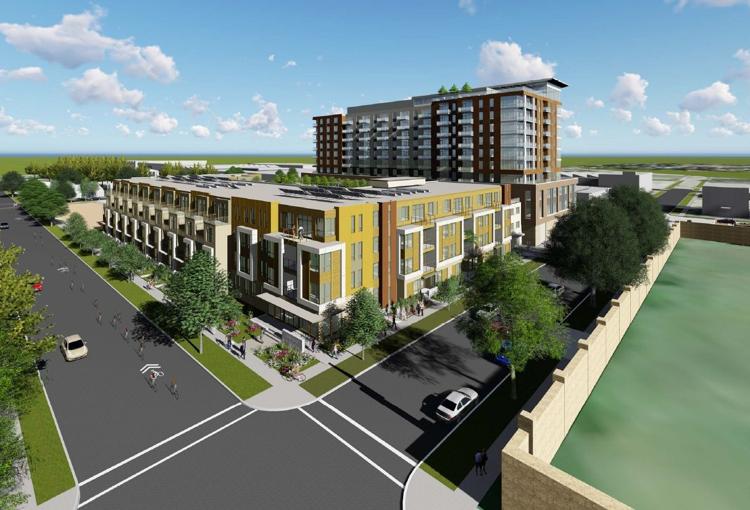 An apartment complex with affordable housing on East Washington Avenue, at the site previously occupied by Madison Dairy Produce and Strauss Printing, is taking shape. The 11-story, 140-unit apartment building slated for the 1000 block of East Washington Avenue, adjacent to Breese Stevens Field, includes 65,000 square feet of office and retail space. The complex also includes a four-story building with 65 units, 55 of which are lower-cost units. According to the city, construction is expected to begin in the spring. 
Restructuring: Movin' Out Inc.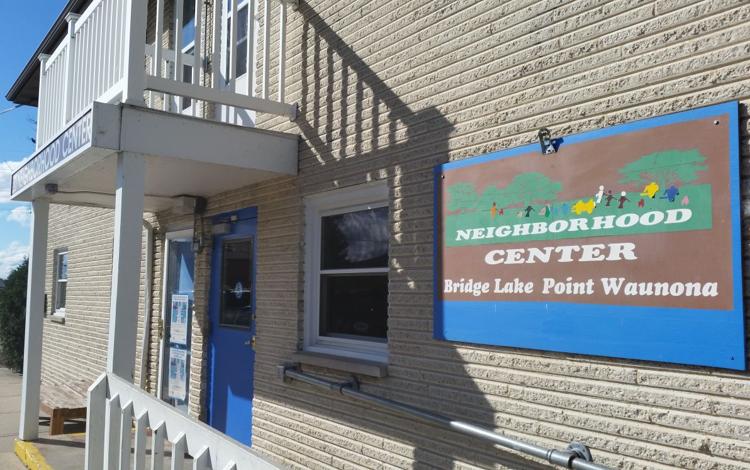 A 48-unit building with 40 units for low-income individuals at 2230 W. Broadway should begin construction this spring. The plan originally also called for a 14,000-square-foot neighborhood community center at 1917 Lake Point Drive, but city funding fell through. In January, the project will again seek city and zoning approval. 
Approved: 8Twenty Park Project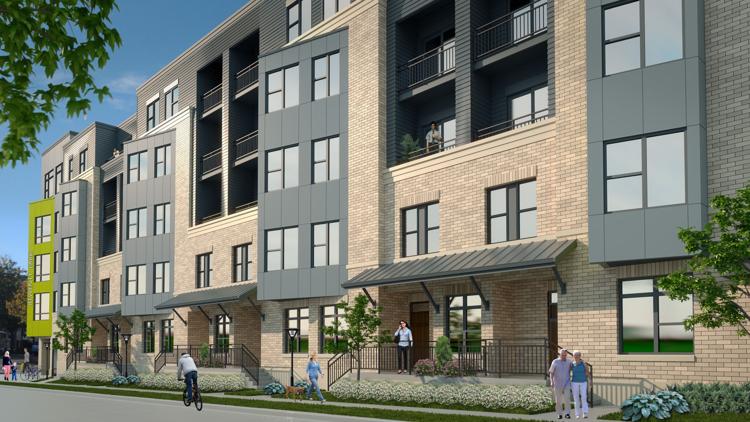 A proposed building with 95 units, 82 of which are for low-income individuals, at 820 S. Park St. is known as the 8Twenty Park project. The project has received approval from the UDC and Plan Commission. Construction is expected to begin in January, completing the first phase of the building in February 2018 and the second phase in May 2018.
Many of Madison's new hotels are marketed as "boutique," meaning they are smaller hotels with a distinct vibe and unique amenities.
Under construction: AC Hotel
The AC Hotel, located a block off the Capitol Square at 1 N. Webster St., is currently under construction and on track to be completed by UW-Madison graduation this coming spring. The 165-room, ten-story boutique hotel will carry the flag of AC Marriott, a lifestyle brand based in Europe.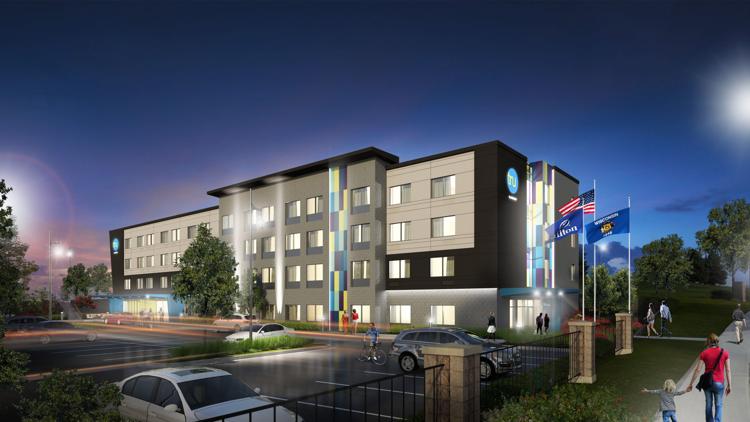 Tru, a Hilton hotel brand, will find a home at 8102 Watts Rd., near the Princeton Club. The $5.8 million, four-story hotel will have 106 rooms and 46,720 square feet, and is marketed as a "revolutionary midscale hotel." The hotel was granted final approval by the Madison Urban Design Commission and the Plan Commission in December. Construction should begin early next year, and is scheduled to be completed by early 2018.
Proposed: State Street Hotel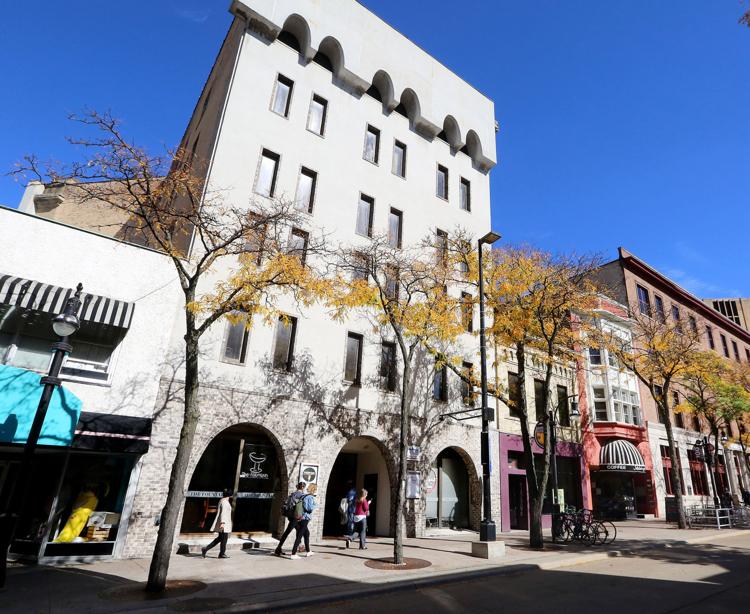 A proposed hotel on the 100 block of State Street would take the place of two buildings: 122 State St., the six-story office building that is also home to the Fountain bar and restaurant, and 118 State St., currently the two-story bar Winedown. Plans are for the facility to open in late 2018, but it must first receive city approvals.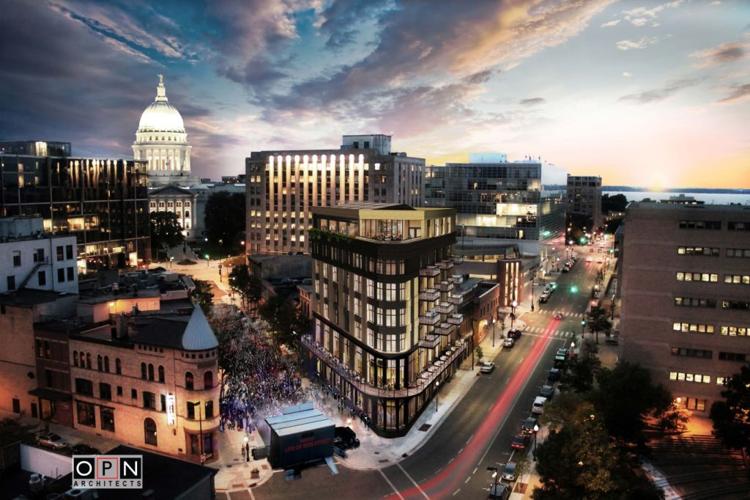 An effort by Josh Berkson and Patrick Sweeney, co-owners of Merchant and Lucille restaurants, to build a hotel that would extend the vibe of their farm-to-table restaurant and craft cocktail bar, is ongoing. The proposed seven-story boutique hotel off the Capitol Square at the intersection of King, Webster and Doty streets would be known as King Hotel. The city has rezoned the property, but there is no official construction date and the project still needs city approvals. However, Sweeney said he sees the project making "significant strides" in 2017.
Proposed: Addition to HotelRED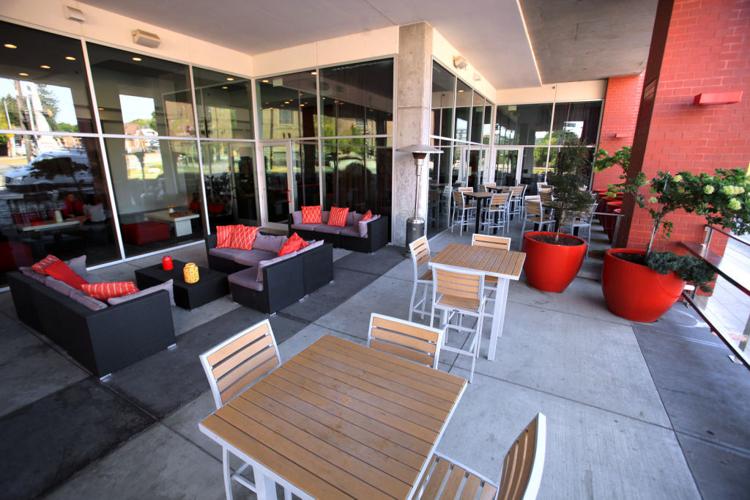 HotelRED, a boutique hotel right across the street from the UW Fieldhouse and Camp Randall Stadium at 1501 Monroe Street, has been open since 2011 and is looking to add 57 rooms to its current 48-room, four-floor building. The new structure would be eight floors, and would add parking, event space and a rooftop garden. The Hotel has made modifications to their design in response to neighborhood feedback, and plans to start the city approval process in early 2017.
Conceptual: Nolen Waterfront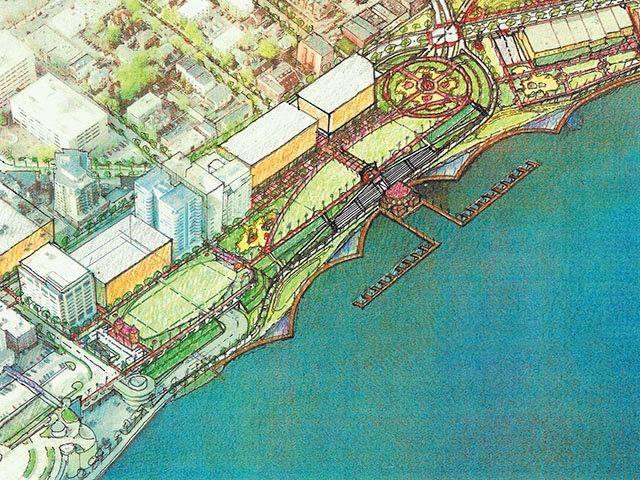 A new design proposal known as the "Nolen Waterfront Vision" for John Nolen Drive would connect the waterfront of Lake Monona to the Capitol Square. The plan would also add seven acres to Law Park and address the congested Blair-Williamson interchange. The plan is still in the conceptual phase, and next steps for the project include assessing the plan's feasibility, securing funding and building partnerships throughout the community to ensure the project's success.
Proposed: Olbrich Beer Garden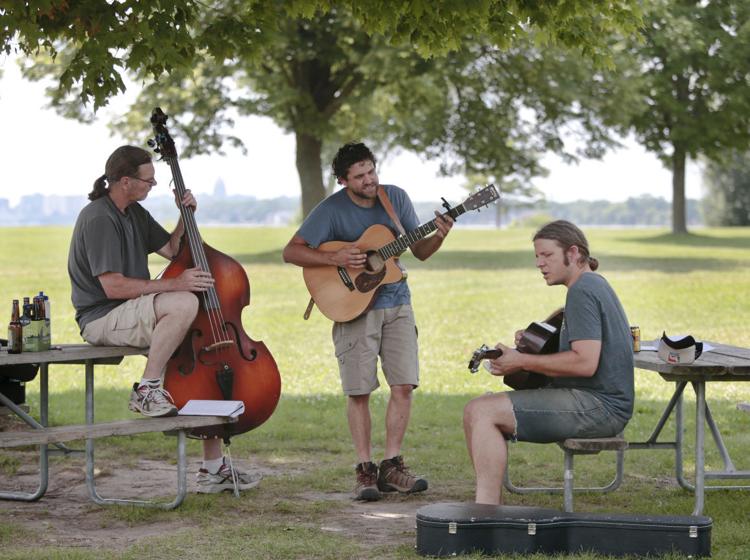 Plans to turn the Lake Monona beach house at Olbrich Park into a German-style biergarten with outdoor seating have been met with controversy, with some neighbors expressing concerns about parking and alcohol consumption in a family park environment. Most recently, the Madison Alcohol License Review Committee decided to refer a decision to its Jan. 18 meeting.
Approved: The Public Market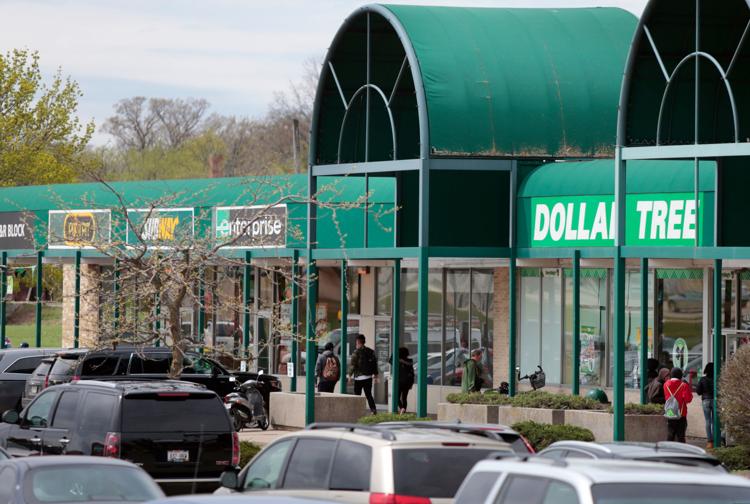 The Madison Common Council approved plans for a year-round, indoor public market on First Street in between East Washington and Johnson Street in 2015 and 2016. The Public Market Committee hopes to present a concept plan for the site design in February. The building design should be completed by mid-2017, and with plans for the market to open in early 2019.
Approved and Under Construction: 800 Block of East Washington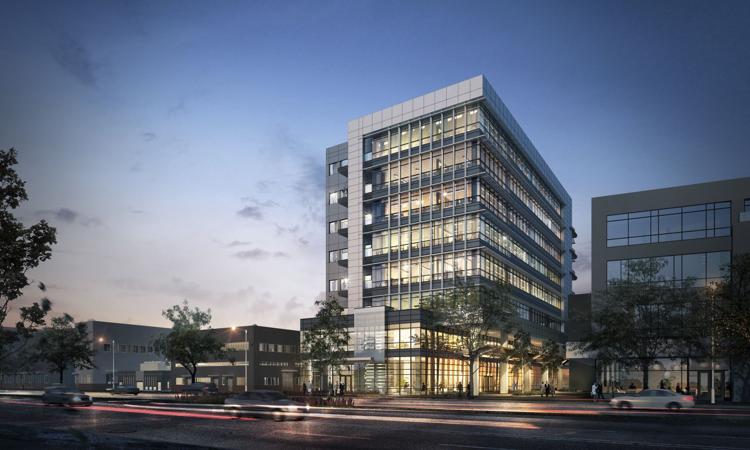 The Gebhardt Development project on the 800 block on East Washington includes the Spark, the Cosmos and Starliner Condominiums and Lofts.
The Spark would be home to office space for American Family Insurance and StartingBlock Madison, a collaborative entrepreneurial center. The proposed building is an eight-story,158,000 square-foot building with a rooftop terrace. The Spark received approval from the Plan Commission in December and will construction should begin in late January or early February of 2017.
The Cosmos building includes plans for a 2,500-person capacity concert venue, as well as retail and office space. There are two possible versions of the Cosmos building, one with four stories and one with eight. The two plans use the same footprint, and the eight-story version would add up to 60,000 square feet of office space. In December, the four-story version received approval from the Plan Commission, and representatives from Gebhardt Development will appear before the Plan Commission again in January to seek approval for the eight-story plan. Construction on the Cosmos will also begin in early 2017. The expected completion date for the Spark and Cosmos is mid-2018.
Starliner Condominiums and Lofts, two buildings in Gebhardt's Galaxie development, include 32 multi-family dwellings and 11 live-work units, has received final approval. Construction on the project started in late December, and should be completed by the end of summer 2017.