There was no question that Monroe Street needed some serious work. James Wolfe, an engineer with the Madison Engineering Division, told the Wisconsin State Journal that the pavement was rated 3 out of 10 and sections of the sewer and water mains were 100 years old.
Now that construction is complete after ten months of heavy roadwork, the street doesn't look quite the same. It's obviously a smoother ride, but a number of neighborhood businesses closed their doors: Brocach on Monroe, Burgrito's, Cat Cafe Mad and Freshii restaurant are gone, and it's unclear if Jacs Dining and Tap House is coming back after temporarily closing.
Yet other Monroe Street merchants and city officials said the process went about as well, or better, than expected. There's a natural turnover in retailers, they said, and some of the businesses that closed may have been fragile before construction started.
Everyone knew the project, which made Monroe a one-way street for 10-months, would be a challenge for the street's almost 100 locally owned businesses.
In March, Michael Miller, city business development specialist, said retailers were steeling themselves for a possible 20 to 40 percent decrease in sales.
Though Miller said there will be more exact data available after the city completes a survey of the Monroe Street Merchants Association, so far he's heard that sales fell between 10 and 38 percent.
Madison Mayor Paul Soglin said "the loss of business for all of the street was significant," but was "pretty close to what was anticipated."
Owners of restaurants like Brasserie V, Miko Poke, Everly and Pizza Brutta said they took big hits at lunch, when time constraints made it trickier for diners to take circuitous routes to their favorite restaurants.
Marcel Colbert co-owner of Art Gecko at 1725 Monroe St., said stores that depend "on any kind of foot traffic really suffered," and even though his store also had access from Grant Street, he saw "very diminished foot traffic."
Lyschel Bersch, owner of Karner Blue Candle and Supply, moved her shop from 1915 Monroe Street to Monona this summer. While construction affected her business, the fact that the project was repeatedly delayed was actually more harmful, Bersch said.
Bersch originally wanted to set up her Monroe Street shop as a retail location for her candles and other gifts. There were other retailers nearby like The Gingko Tree and A Stone's Throw to "pull" customers into the area, she said. But every time construction was pushed back, retail businesses looking to open shop decided not to move in.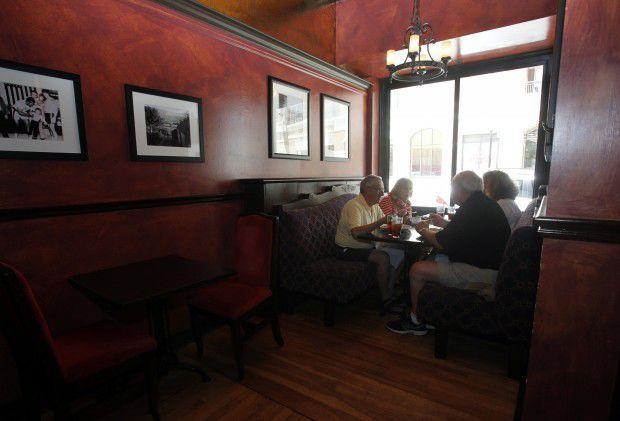 "It kept other retail businesses away and retail needs retail," she said. "Unfortunately with pilates and ice cream and chocolate shops, it just doesn't do it."
After about a year and a half on the spot, she figured retail wasn't going to work in that location, and pivoted to focusing on wholesaling candles before making the move to Monona.
Brocach on Monroe, the restaurant at 1843 Monroe St., just announced it was permanently closing, citing construction and flooding as problems. Cheryl Glover, owner of Cat Cafe Mad, 1925 Monroe St., told the Wisconsin State Journal that "construction just killed us, literally killed us."
Burgrito's, the New York chain that offered burger and fries in a tortilla at 1835 Monroe St., said construction was "probably a factor" in the lack of sales that led to its closing.
The connection between other closures and construction is murkier: Freshii restaurant, at 1605 Monroe St., closed after just two months, although the owner refused to comment on whether construction was a factor. An owner of Jacs Dining and Tap House, 2611 Monroe St., which temporarily closed during construction, said it will reopen, but the business has substantial unpaid taxes and lacks a valid seller's license.
"Every district of small businesses has a certain amount of turnover," said Carol Schroeder, who owns Orange Tree Imports at 1721 Monroe St. with her husband, Dean. "There are a few businesses that suffered, and some of those were fragile to begin with."
Miller agreed. Jason Ilstrup, president of Downtown Madison Inc. and former general manager of HotelRED at 1501 Monroe St., said there's "always natural turnover in business," though road construction was probably a factor.
"I really do think city and Monroe Street Merchants Association did everything they could to protect those businesses in a really tough time," Ilstrup said.
Where some shops struggled, others succeeded: Hive of Madison, a retail store at 1904 Monroe St., weathered construction and survived its first year of business. The new Tin Fox restaurant in the former Freiburg Gastropub space at 2616 Monroe St. also made it to the other side.
Several merchants said decreasing sales wasn't as bad as they feared. They praised the accommodating and timely construction company, helpful city staff and, most of all, loyal customers.
Orange Tree only saw sales decrease by about 10 percent, and customers found their way to the store on the most challenging construction days.
"I actually wondered, how did they get here?" Schroeder said.
Businesses minimized the impact of construction by changing hours, staffing and inventory, Schroeder said. Pizza Brutta bought a mobile pizza oven and served up pizzas on the Capitol Square and at birthday parties.
"You're pulling out all the little stoppers that you ever used to get anybody to show up, and then some," said Derek Lee, co-owner of Pizza Brutta, which only saw about a 15 percent decrease in sales.
"In this neighborhood, they care about their neighborhood businesses and not just from an emotional standpoint," Lee said. "I don't know that that happens in every neighborhood."
A $20,000 matching grant from the city propelled efforts like the "Survive & Thrive Construction Kits" with coupons for area businesses, and the hire of Laura Strickland as a part-time communications coordinator for the association.
Schroeder praised contractor Speedway Sand and Gravel for going above and beyond and working to make businesses accessible. Lee was astounded when crews kept their promise to create access to Pizza Brutta after "literally digging a 20-foot trench in front of our restaurant."
"For as much people love to pick on government, I was totally impressed with our city government," Lee said. "Just how amazing they were, just how ahead of the game they were. They had answers and solutions to all our problems."
Kevin Little, vice president of the Greater Madison Chamber of Commerce, said that greater Madison has "really become a model" for public-private partnerships to help businesses through road construction.
The Chamber conducted a survey in 2007, and found 67 percent of Madison business respondents said they were not "adequately informed" during construction.
That survey led to a discussion with the city about the importance of increased transparency and resources for businesses caught in construction, Little said. He's seen the city of Madison make a "continuous improvement in trying to provide more information."
"We've tried to learn from the previous job and figure out ways of expanding public awareness and public solicitation of the local businesses," Soglin said.
Owners of Monroe restaurants Brasserie V, Miko Poke and Everly have seen business start to rebound since the street reopened in November.
Even so, it's important to keep intentionally supporting the Monroe Street businesses, Lee said. Business doesn't always pick up right away after construction, as consumers may have formed new retail habits. The Chamber survey found a significant percent of respondents said businesses "did not return to prior levels" after construction was over.
"The fun isn't over," Lee joked.
Fortunately, Madison doesn't have too many similar road projects planned for the next decade or so, Soglin said. At some point, the city will have to work on Park Street, and there may be "smaller, significant" projects related to flood mitigation, but "those will not be nearly as extensive as what we did on Monona Drive, on Willy Street, Johnson Street and Monroe Street."
On Monroe Street, there are commercial vacancies to be filled, Schroeder said, as well as a coming mixed-use development at 1720 Monroe St. that she said will bring a "be a nice influx of new customers and new businesses."