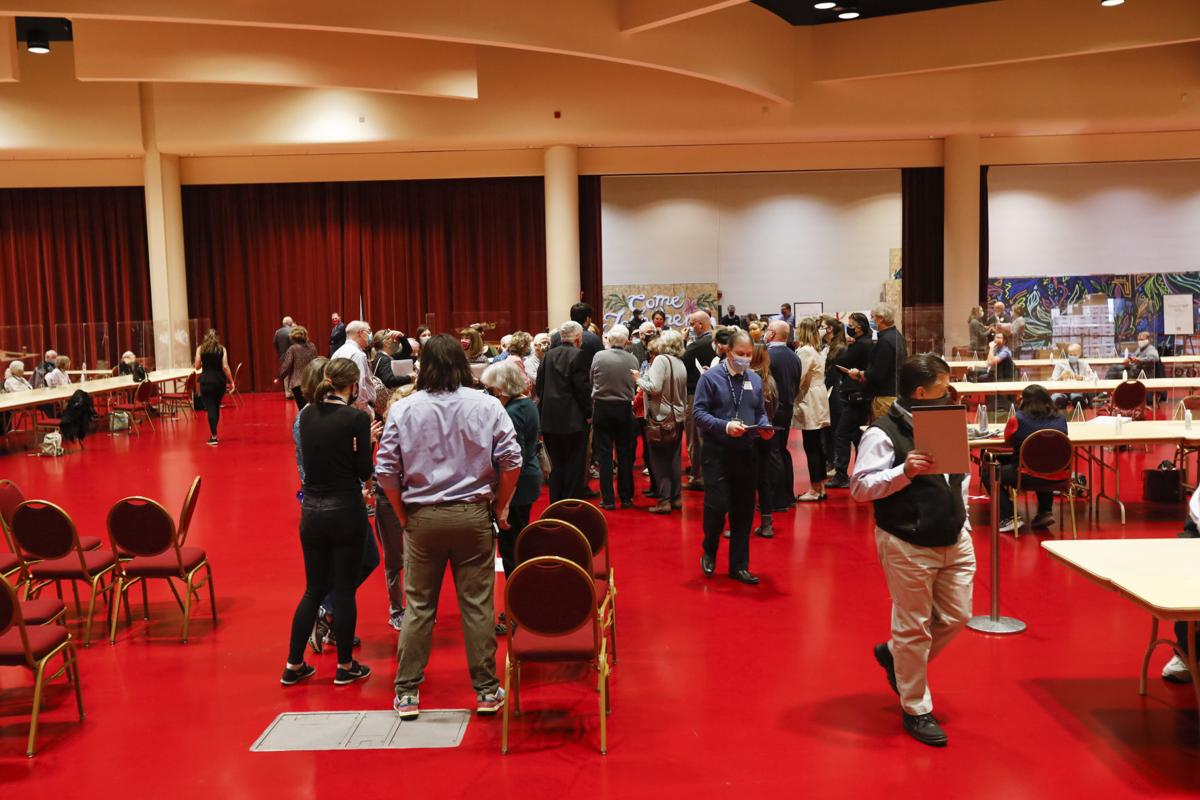 Local officials booked a room at the Monona Terrace convention center with a capacity for 4,000 people, mandated mask-wearing and provided Plexiglass barriers to workers. But in spite of those precautions, Day 1 of Dane County's presidential recount amounted to "a public health disaster," the area's top election official said.
Both Dane and Milwaukee counties, where President Donald Trump requested ballots be re-tallied, are tasked with balancing public health concerns surrounding the COVID-19 crisis and the need for observers from both presidential campaigns to be able to witness the days-long process.
But doing so has proven to be a challenge, leaving at least one election worker to decide she would no longer assist with the effort out of fear for her well-being.    
"The whole idea of doing this is a bad idea, but by law, we have to do it and that's where we're at," Dane County Clerk Scott McDonell said of the recount in a Tuesday interview.
Looking back to Friday, the first day of the process, McDonell said Monona Terrace was "overwhelmed with people." Though some issues have improved — smaller crowds and more mask wearing — others can't be avoided because of the nature of the recount.
For example, McDonell said one challenge includes making sure people can hear each other in the large room without clusters of people forming. If microphones are used in one part of the space to try to avoid clustering, echoes make it difficult to hear elsewhere in the room.
"Even having a recount was a terrible idea from a COVID situation in this county," McDonell said. "A lot of us have no choice but to be here."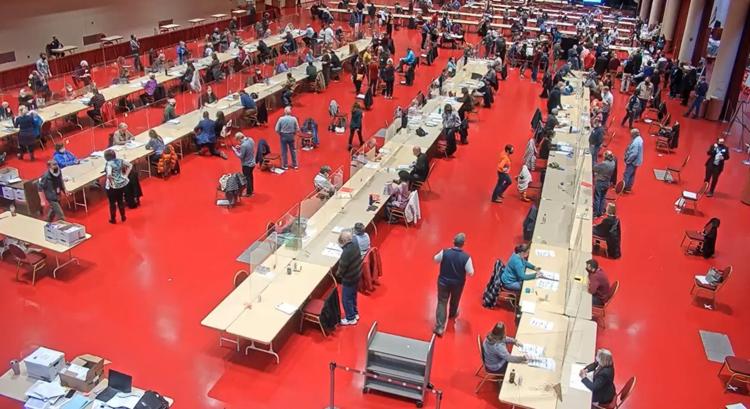 McDonell and others worked with Public Health Madison & Dane County last week and into this week as the recount officially commenced, discussing how the space should be setup, implementing policies surrounding COVID-19 hygiene, cleaning and protective measures, and offering continual feedback on the management of entrances and exists, signage and more, a spokeswoman said.
"We have received some complaints about the lack of physical distancing and proper masking," spokeswoman Sarah Mattes wrote in an email. "The majority of the complaints are in regards to the comingling and lack of distancing in the observer area. We are continuing to provide support to address these concerns for the safety of everyone at the recount."
But longtime poll worker and chief election inspector Brook Soltvedt, who worked four days of the recount, described seeing people peer around Plexiglass screens, touch ballots or not sanitize their hands after touching their masks. She said the first two days were "horrible," seemingly with no limits on observers.
"I didn't see that there would be any improvement, and I was just done," said Soltvedt, who was in line to get a COVID-19 test Tuesday. "It was all on us to keep saying, 'step back, put on your mask.'"
She said she would have liked to see clearer instructions shared with those attending the recount, saying she was frustrated that no one appeared to be able to enforce the public health rules. Also, she was frustrated at the slow progress and the repeated concerns from observers over issues that had already been decided by the three-member Board of Canvassers.
On Monday, PHMDC conducted an on-site evaluation of the recount, noting that additional "X" markings on the ground helped reduce crowd size. Public health officials offered additional suggestions, according to an email shared with the Cap Times, including more frequent intercom announcements to remind people to maintain distance between themselves and others, providing a sign or handout to election observers on public health requirements and considering ways to improve ventilation. 
"I was willing to do this recount in part because I'm proud of our elections," said Soltvedt, who has worked elections for about 13 years and participated in the 2016 recount. "I want to stand there and defend the work we have done." 
Soltvedt ultimately decided the risks didn't outweigh the benefits. Her husband is older and each day at Monona Terrace, she described feeling a pit in her stomach. 
"I look at my husband, and this is not worth it anymore," Soltvedt said. 
Similarly, Saul St. John, a recount tabulator who has been a chief inspector in the city of Madison, left his shift Tuesday night over his frustrations and concerns with public safety. St. John said he has seen observers failing to wear their mask properly and eating or drinking for extended periods of time to avoid wearing the face covering. He also wants to see greater enforcement.
St. John said he wants to demonstrate that Dane County's election is fair but is too worried about transmission of the virus. He said he'll return to the recount Wednesday when he'll make a decision based on if anything has changed.
"I can't justify the risk anymore," St. John said.
Sign-up here for the Campaign Notes newsletter to get important Wisconsin politics updates in your inbox each Thursday, now through Election Day.