When Democrat Tony Evers ran for governor in 2018, he focused on three things: expand health care, bolster education funding and "fix the damn roads."
Some three years and one pandemic later, members of his party say they expect Evers to return to those themes when he delivers his budget speech Tuesday night — even as he seeks to address some of the more immediate challenges facing Wisconsinites tied to the COVID-19 crisis.
"I think that it's going to be in a lot of ways what people are used to hearing from Gov. Evers," said Melissa Baldauff, a Democratic strategist and former Evers aide. "And the things that they hear are going to remind them why they voted for him in the first place. This is going to be about the will of the people (and) ... about addressing the issues that the people of this state care about."
In the days leading up to the release of Evers' second two-year spending plan, he has again announced he'll seek to accept federal Medicaid expansion dollars and push to legalize recreational marijuana — measures that have broad support from Wisconsinites but are unlikely to make it through the Republican-controlled Legislature.
Underlying the policy decisions included in the budget are political considerations. That's because, for governors, their second budget serves to cue up their re-election bid.
Nicole Safar, head of liberal group A Better Wisconsin Together, said Wisconsin's system sets up the budget as "the legislative vehicle of each two-year session."
"Budgets are, yes, about the funds of the state, but they are a reflection of the morals, the philosophy of the governor who writes it," she said. "I do think in the past, previous governors have used the budget to show who they are. It is the thing that voters and residents can remember."
Evers, 69, hasn't said whether he will run for office again in 2022. But already, there's talk of the field of potential Republican contenders for the spot, a list that's topped by former Lt. Gov. Rebecca Kleefisch.
Asked about how Evers could leverage the budget as a tool in a possible re-election campaign, Democratic consultant Sachin Chheda maintained that isn't how Evers thinks.
"I think he's putting forward a budget that is designed to be the best governing document for the priorities that Wisconsin needs and wants," said Chheda, who ran Evers' successful 2009 race for state schools superintendent.
Noting Evers' background in education, Chheda said Evers represented a break from Wisconsin's recent governors, who Chheda largely described as "career politicians."
Evers' predecessor, Scott Walker, served in the Assembly and as Milwaukee county executive before becoming governor; Jim Doyle was a Dane County district attorney and state attorney general; Scott McCallum was a state senator and lieutenant governor; Tommy Thompson spent years in the Assembly, holding leadership roles in the chamber; and Tony Earl was elected to the Assembly and went on to lead two state agencies.
"This is someone who spent his entire life in education and education administration and basically in his last job is the governor of the state," Chheda said of Evers.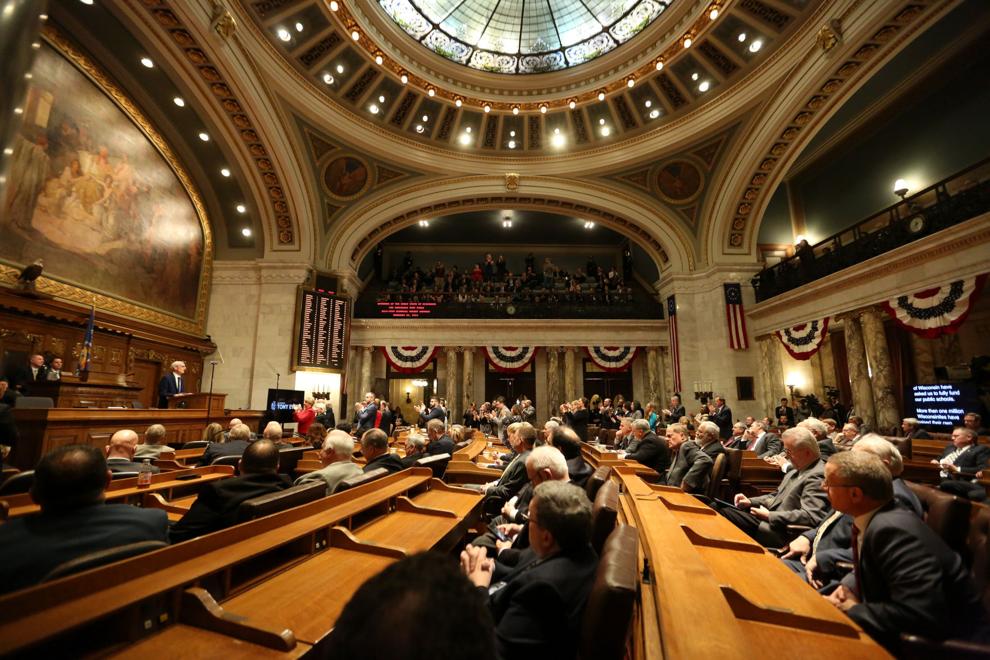 Still, Assembly Minority Leader Gordon Hintz noted there'll be things Evers advocates for in his budget that could aid him politically, in addition to representing a policy change that could help the state or a specific interest within it.
"It's not without political benefit to speak directly to the needs of long-term care both for families and for the long-term care industry that struggles with funding and other things, so it's both good policy and good politics," the Oshkosh Democrat said.
Another facet of this budget cycle is the current state of divided government and broader gridlock underlying a tough and at times nonexistent relationship between Evers and GOP legislative leaders.
Then, prior to and throughout the legislative budget committee's work, Evers was able to go around the state to promote his own spending plan and priorities, which helped him broaden support for some of his provisions and secure media coverage from different parts of the state.
This time, with concerns over COVID-19, Evers in the lead up to Tuesday's address hosted some virtual budget listening sessions. But any further in-person visits or news conferences across Wisconsin are unlikely in the weeks to come.
Safar, of A Better Wisconsin Together, said advocates and others who support Evers' policies have to help sell them to the public.
"It really is incumbent upon the people and the advocacy organizations and the groups who have been working to move these policies forward to talk about it with our members, to talk about it with the press, to give the governor the credit that he's due," she said. "He's not going to be the one to say, 'I did that.'' That's just not who he is."
Evers is scheduled to deliver his budget address virtually at 7 p.m. on Tuesday. The speech is typically given in the Wisconsin state Capitol's Assembly chamber.