MILWAUKEE — Four Democratic presidential candidates touted their policies on immigration, education and health care while taking shots at President Donald Trump and the current administration as they swung through Wisconsin Thursday. 
A few, in talking to reporters following the event, also highlighted the importance of the Midwest and the state in 2020 — one of three parts of the so-called "blue wall" of Wisconsin, Michigan and Pennsylvania that Trump won in 2016.
The town hall, featuring U.S. Sens. Bernie Sanders and Elizabeth Warren, former U.S. Rep. Beto O'Rourke and former San Antonio Mayor and Housing and Urban Development Secretary Julián Castro, came a day before Trump is set to make his second trip to Wisconsin this year. 
Thursday's event at the Wisconsin Center in Milwaukee, hosted by the League of United Latin American Citizens, covered a wide range of issues and came hours after Trump announced he's no longer pursuing steps to get a citizenship question on the 2020 census. He instead directed government agencies to send the federal Commerce Department information to help it to get an estimate of the number of U.S. citizens and noncitizens. 
Many of the candidates in their separate 20-minute talks with the audience addressed the news, with Warren charging that Trump was seeking to use the approach to sow further division in the country. 
"This is not about trying to find out real information about citizenship and noncitizenship in America, this is just about trying to stir up some more hate, to try to get more people excited," she said.  
The Massachusetts senator in her opening remarks walked through her plan to overhaul the nation's immigration system, which she unveiled earlier Thursday. It includes reshaping two federal agencies, U.S. Customs and Border Protection and Immigration and Customs Enforcement, and eliminating criminal penalties for those that enter "the country without authorization" which leaving civil penalties in place, among other things. 
Calling the current system broken and in need of "big change," Warren said her plan "starts with a basic premise and that is immigration is good for the United States of America."
Castro, the only Latino candidate in the Democratic presidential field, also touted his immigration plan -- and took swipes at O'Rourke and former Vice President Joe Biden in the process. His proposal calls for repealing a section of federal immigration law in order to decriminalize entering the U.S. illegally. 
Calling O'Rourke and Biden "wrong on this," Castro said getting rid of that section would "guarantee that a future administration cannot use that law to incarcerate a migrant parent and then separate that parent from their little child." 
"We are not going to have that in this nation in the years to come if I am president," he said. 
O'Rourke wasn't asked about the remarks during his time on stage, but when asked about them by reporters after the event, he said his administration would rewrite federal immigration code, including Section 1325, "to remove criminal prosecution as a consequence for doing what any human would do."
But criminal prosecution would be reserved under that section "for anyone who poses a threat to the safety and security of this country," he said. 
"If we're talking about ensuring that not another child is caged or another family separated, if we're talking about making sure no one who seeks asylum or refuge in this country is criminally prosecuted, if we're talking about as president making sure that we treat people with dignity and respect, then we are all talking about the same thing."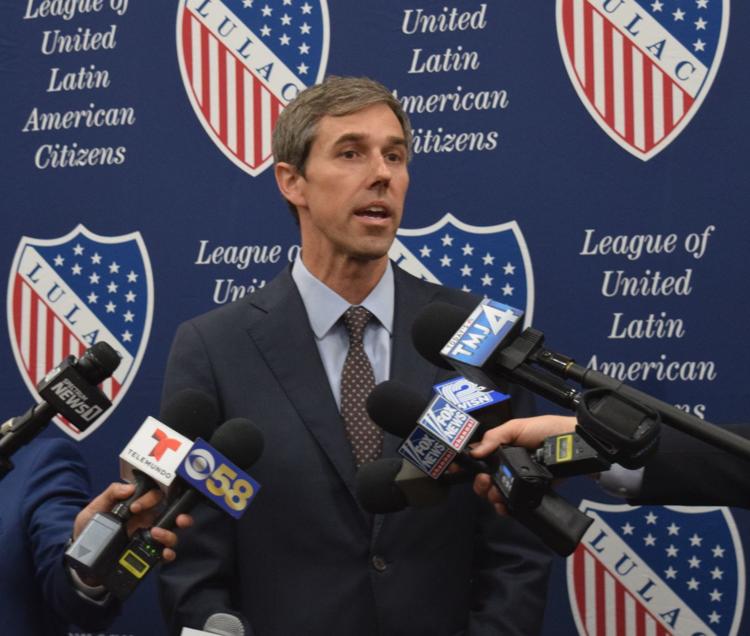 Sanders, who carried Wisconsin in the state's presidential primary over Hillary Clinton three years ago, was quick to throw punches at Trump, using his introductory comments to label him as a racist, bigot, xenophobe and "an embarrassment to everything this country stands for."
Asked about his age, Sanders, 77, jokingly cupped his hand to his ear and asked, "What'd you say?"
He then noted that a candidate's age is a factor, as well as their experience, record and "most importantly" what they stand for. 
"If you look at my record, there are very few if any candidates out there who have spent as much time and effort with success in standing up for the working people of this country," he said.
The Vermont senator topped the wide Democratic field in the latest Marquette University Law School poll, which showed 32% of respondents rated him a "top choice" for president. The April survey found Biden was second, rated as a "top choice" by 29%, while Warren was third with 17%. 
Following the event, Greenfield residents Jose and Eva Martinez said they were impressed by all four of the candidates and saw them in "a different light" after hearing them talk.
"Any of those four candidates, I think, would be ideal for us," Jose Martinez said.
He also had praise for the candidates individually, saying Sanders "captivated the audience," while O'Rourke displayed "a lot of charisma" and Castro "spoke very sensibly." He also mentioned that Castro reminded the couple of the first time former President Barack Obama spoke.
Eva Martinez, meanwhile, said watching Warren onstage left her with "a different impression."
"You usually hear her on TV and just coming in and watching them talk individually, it's more of a personal — you get to know them a little bit more," she said.
Both, though, said they're not yet sure who they'd vote for, with Jose Martinez adding: "In six months, ask us."
The state Republican Party knocked the candidates for advocating "for radical policy proposals and a socialist platform" that Chairman Andrew Hitt said in a statement "threaten the safety and economic prosperity of all Americans." 
"Conversely, President Trump continues to champion economic policies that have delivered real results for our Hispanic Americans in Wisconsin and across the country," he said. "This President's policies have led to record-low unemployment for Hispanic Americans and the opportunity for Latino Americans to start new businesses at a rate nearly three times the national average."
Trump on Friday is planning to visit Derco Aerospace Inc., on Milwaukee's northwest side, in addition to attending a fundraiser that will feature top members of the Republican National Committee
The Derco trip, a White House official said, would include a tour of the facility and comments from the president calling for the passage of the United States–Mexico-Canada Agreement. 
Just two of the candidates who participated in the town hall, Castro and O'Rourke, took questions from reporters following the event. But a fifth candidate — U.S. Rep. Tulsi Gabbard, of Hawaii — also addressed reporters.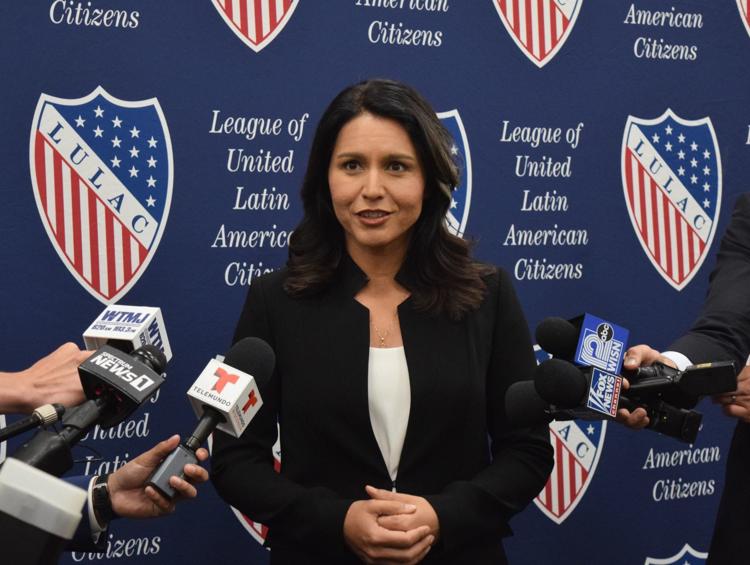 Gabbard said in listening to individuals who "felt so disenfranchised" and voted for Trump after supporting Democrats in previous cycles, it becomes clear the heart of the problem is in "leaders who've left the people behind, who've been influenced by the rich and powerful, thinking about their interests, passing trade deals that help serve multinational corporations but really end up screwing the American worker, the American farmer.