Ben Wikler, MoveOn's Washington, D.C., director and a Madison native, had planned to move back home at the end of the year, but the latest Republican outrage brought him, his three kids and his wife back early.
"We weren't going to come until Christmas," he said. "But I guess Christmas for democracy is coming a little early because we've got a fight on our hands right now."
Wikler was firing up hundreds of shivering protesters on the state Capitol steps Monday evening to battle Republican proposals that would curb the power of the state's incoming Democratic governor and attorney general, restrict early voting and change the state primary date to favor a conservative state Supreme Court justice, among other partisan proposals.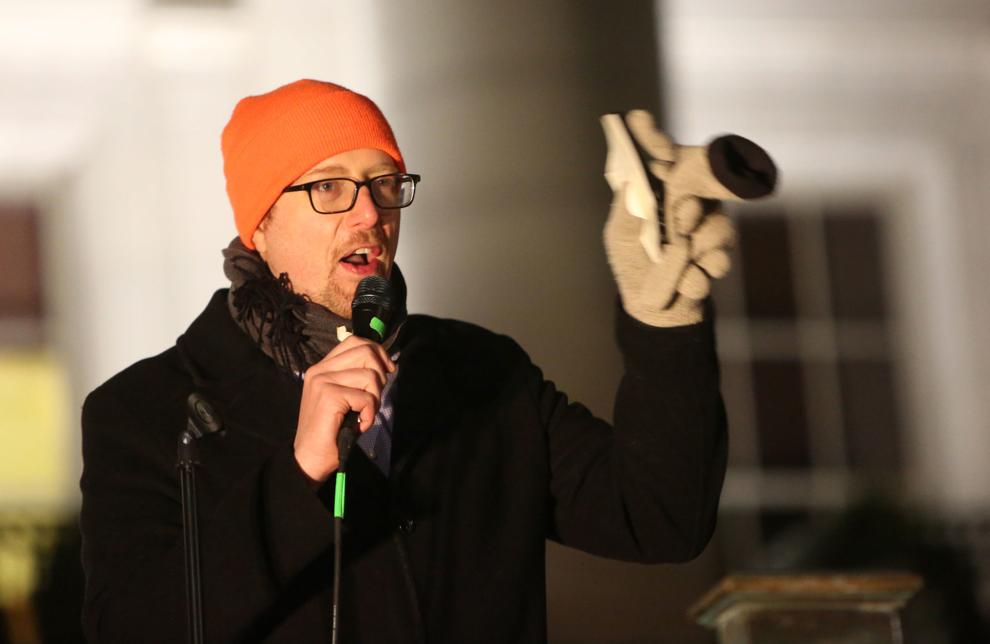 Many of the protesters had been in the Capitol since early afternoon, attending a public hearing on the proposals, some of them waiting in vain to speak, or remaining in the halls in protest. They withstood unseasonably bitter conditions for an hour-long rally to keep the outrage going as the GOP moves ahead with its lame-duck agenda this week.
At the urging of the speakers, many in the crowd packed the fourth floor of the Capitol after the rally to register their opposition to the proposed legislation while the hearing continued into the night.
"They have a lot of really, really, really bad plans," Wikler said. "They're going to do something. But what's clear from today is that right now they do not have the votes to do all the terrible things that they want to do."
He summed up the GOP strategy for passing the package of legislation in the extraordinary session preceding Democrat Tony Evers' term as governor: "secrecy and speed."
"The reason for that is the only way that they can pull this off is if nobody finds out about it," he said. "Are we going to help them keep the secret? Or are we going to tell everyone what they're trying to do? Are we going to use our voices?"
Wikler closed a list of speakers that included state legislators, organizers, activists and John Nichols of the Cap Times' opinion desk and the Nation.
"He's got the entire Republican Party of Wisconsin terrified," he said. "They are so scared, they are so desperate, they are trying to undo democracy itself in order to prevent him from governing."
He described the Republicans proposing the changes, which would limit Evers' appointments and require legislative approval for some executive functions, "a bunch of political hacks who use their last bit of power to try and undo an election result."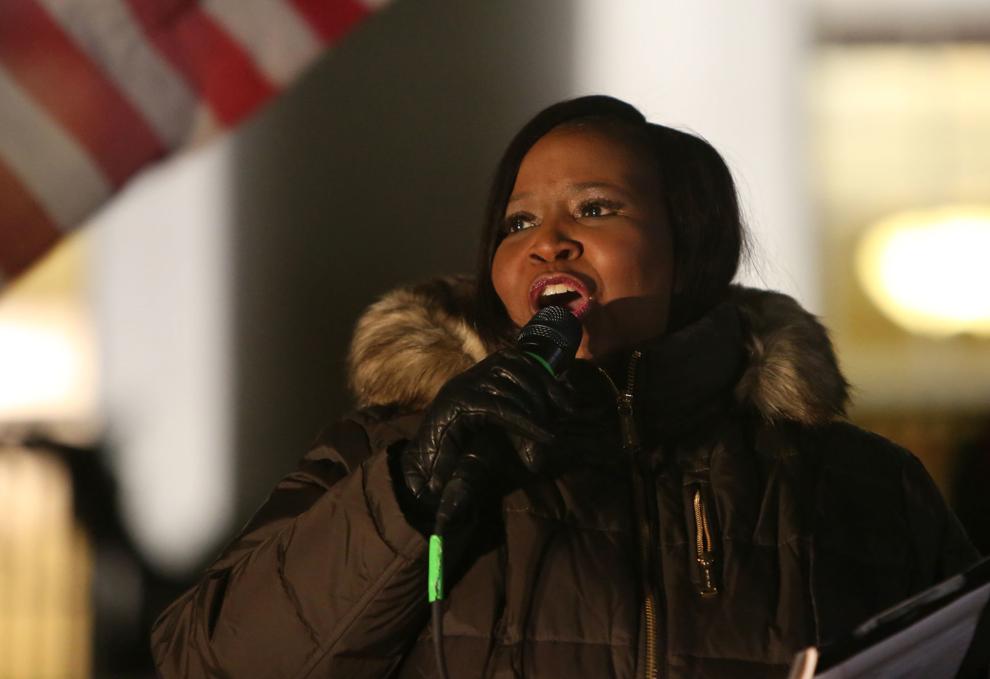 "We know firsthand what it's like to be taken advantage of," she said. "We've been through that for eight years."
Speaker after speaker pointed out that Democrats carried every statewide election, took 55 percent of the Assembly vote, but still failed to make ground in the state Legislature.
"We won every seat that could not be gerrymandered," said Linda Kessel, lead organizer with Indivisible Madison, who MC'd the event.
Longtime Secretary of State Doug La Follette lamented the fact that he's been the lone Democrat in the statehouse during the Republican reign.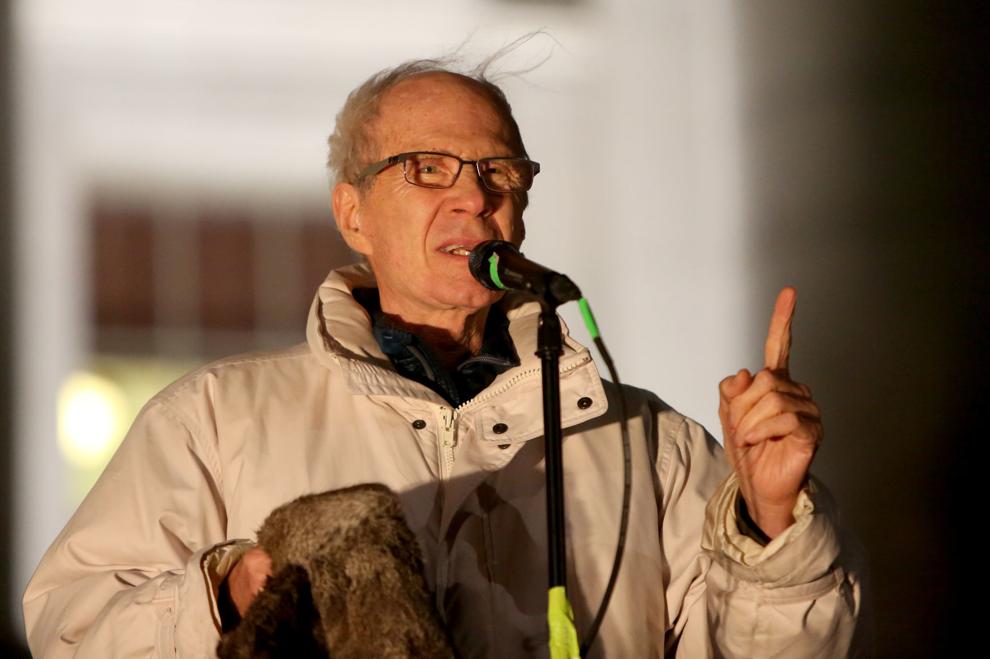 "For the last eight years it's been very lonely here," La Follette said. "But you changed that. You told them that we've had enough of the crap that they've been serving to us for eight years."
He ended by urging the hundreds gathered to bring more as Republicans move ahead with the lame-duck agenda on Tuesday.
"Tomorrow we need 5,000, 6,000, to come here and take our Capitol back," he said.
Scot Ross of One Wisconsin Now, which mounted a successful lawsuit against similar early-voting restrictions on the GOP agenda now, touted record-breaking early voting numbers that contributed to Democratic wins. And he blasted Assembly Speaker Robin Vos for his attempt to impose similar restrictions.
"Republicans like Robin Vos and Scott Fitzgerald want to end that because they think the problem with these elections was that too many people voted," he said. "And we are here today because of one reason and one reason only, and that is because Robin Vos, Scott Fitzgerald and the Republicans inside of that building, our Capitol, refuse to accept the results of the 2018 elections."
State Rep. Melissa Sargent, D-Madison, likened the Republicans' move to "gathering their nuts like squirrels that are getting ready for winter to try and continue to rig the system."
"I'm outraged that we have to be out here. In my future I hope to be working in this building," she said, gesturing at the Capitol. "And it terrifies me that one party can even get close to taking power from our constitutional offices."
Share your opinion on this topic by sending a letter to the editor to tctvoice@madison.com. Include your full name, hometown and phone number. Your name and town will be published. The phone number is for verification purposes only. Please keep your letter to 250 words or less.