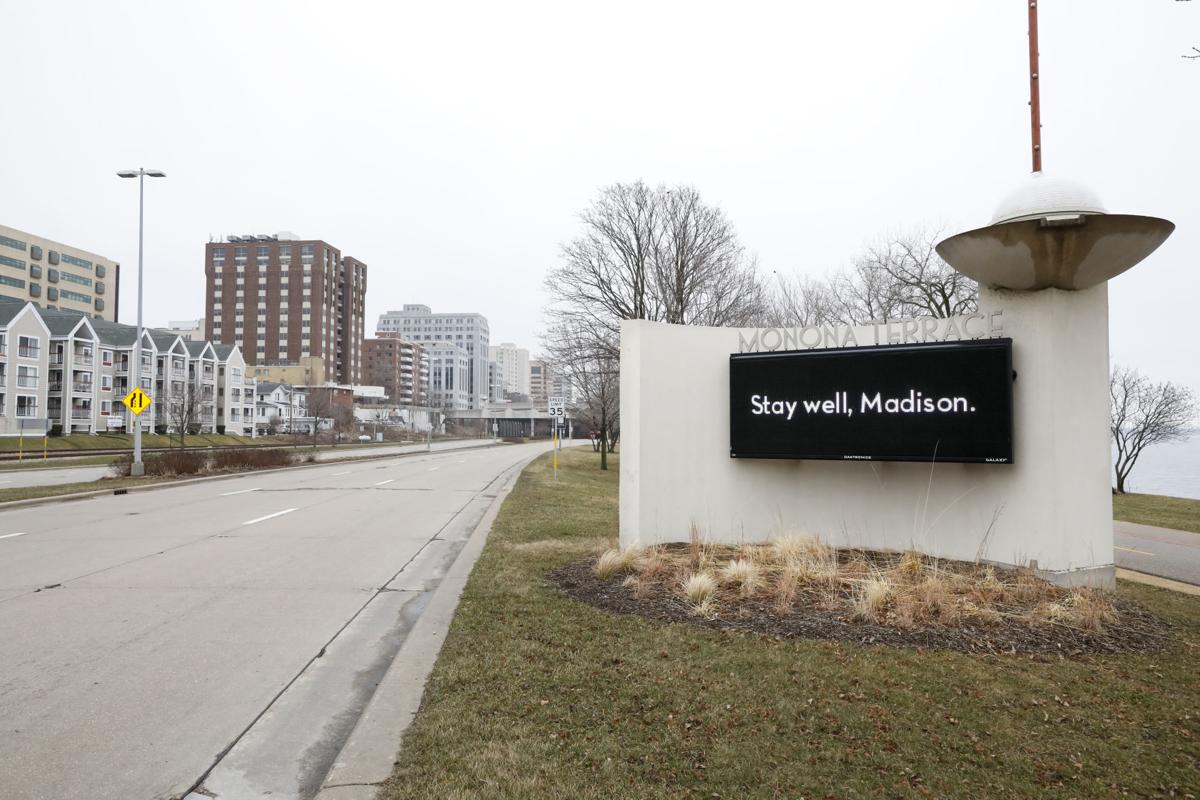 Five days after releasing its own stay-at-home order, Public Health Madison & Dane County announced a phased plan for reopening Dane County during the coronavirus pandemic. 
The sweeping announcement also ushers in a new, relaxed order effective Tuesday that lifts all travel restrictions and dials back regulations on certain businesses, while also allowing tennis courts and disc golf courses to reopen across the county. 
Forward Dane will be a blueprint for a "safe and gradual reopening," Dane County Executive Joe Parisi said in a statement Monday. 
"We, like many in our county, are eager for economic stability in our community," Parisi said. "We also know that slowing the spread of COVID-19 is critical in order to keep people safe and protect our hospital systems."   
The re-opening plan includes nine benchmarks connected to epidemiology, health care and public health. Some metrics are an extension of the state's Badger Bounce Back plan — which is essentially moot due to the Wisconsin Supreme Court striking down Gov. Tony Evers' stay-at-home order — while others are specific to Dane County. 
The county's original public health order was set to lift on May 26, but the new order will remain in effect until the public health department "determines that criteria to implement Phase One has been achieved," according to the text. 
As Dane County meets the re-opening criteria, the community can progress through phases that gradually minimize restrictions across a variety of sectors from long-term living facilities to schools and mass gatherings, according to the plan. 
The nine criteria in Forward Dane are: measuring the county's percentage of positive COVID-19 tests; the number of cases per day; the number of tests conducted; assessing whether testing for health care workers is robust; assessing whether hospitals are in a crisis mode; counting the number of health care workers with COVID-19; assessing lab reporting timeliness and contact tracing capability; measuring the community spread of COVID-19; and counting the number of people that have COVID-like symptoms.   
As of Monday, Dane County fully meets five of the nine benchmarks including: 
Having less than 5% positive COVID-19 tests as a percentage of total tests, averaged across the most recent two-week period
Having robust testing in place for health care workers
No patients are being treated in hospitals in a crisis mode
Seeing stable or decreasing numbers of infected health care workers in the most recent two-week period 
Seeing stable or decreasing numbers of COVID-like cases reported within the most recent two-week period
"Metrics help us understand the growth in cases, the health care system's current capacity, and public health's ability to contain the spread of the virus," Public Health Madison & Dane County director Janel Heinrich said. "These metrics are critical for assessing our readiness to reopen Dane County." 
New order OKs travel, relaxes business operations
Dane County residents will see all restrictions on travel lifted under the latest directive, as businesses are able to lay the groundwork to reopen down the line. 
The order, effective at 8 a.m. Tuesday, allows nonessential businesses to begin stocking supplies, to clean and facilitate remote work, as well as continuing with basic functions such as processing payroll and employee benefits and more. 
Those businesses are also able to do curb-side pick-ups or drop-offs, as allowed under a previous statewide order that the county adapted, while some retail stores are still able to have up to five customers in their stores at once — another holdover provision from the former statewide directive. 
The changes come as local officials say they're "comfortable moving to the phase that allows businesses to prepare to reopen safely." 
"The data look promising, but widespread community testing began just a week ago, and limited testing results are in," Heinrich said. "We need some time to assess the impact of widespread testing before we make any drastic changes." 
In addition to golf courses and drive-in theaters, which were previously opened under past statewide orders that the county put in place locally, tennis courts and disc golf ranges are also allowed to operate beginning Tuesday under the new language. 
For those interested in playing tennis, only two individuals would be allowed on a court at any one time, and players must keep one empty court between them and any other pairs playing. 
Similarities between county-level metrics, state plan
Dane County officials' new metrics model is inspired by Evers' "Badger Bounce Back" plan, which listed six different indicators for eventually restarting the economy. Those included more testing, a two-week decline in state cases and the gathering of more protective equipment.
But rather than copying those standards and applying them locally, city and county leaders added other criteria as well, including one tracking the number of infected health care workers over a 14-day window; one measurement surrounding community spread; and another on the timeliness of reporting positive cases.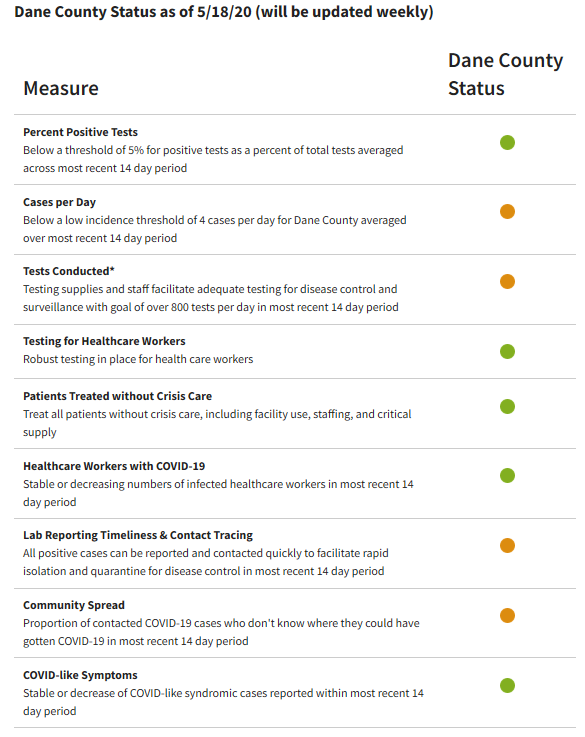 The local standards also differ in that there are three different colors used on the county's online dashboard to indicate progress in achieving the benchmarks: green, yellow and red. The state plan only had two: green and red. 
As of Monday, five of the county's benchmarks were fully met, thus green; while the other four were partially met, thus yellow, a color that has different significance depending on the criteria it's applied to. 
For example, one "yellow" benchmark pertains to the implementation of more than 800 tests per day for Dane County over the most recent 14-day period. Because that listing is "yellow," it means that the county is seeing between 400 and 800 tests done per day.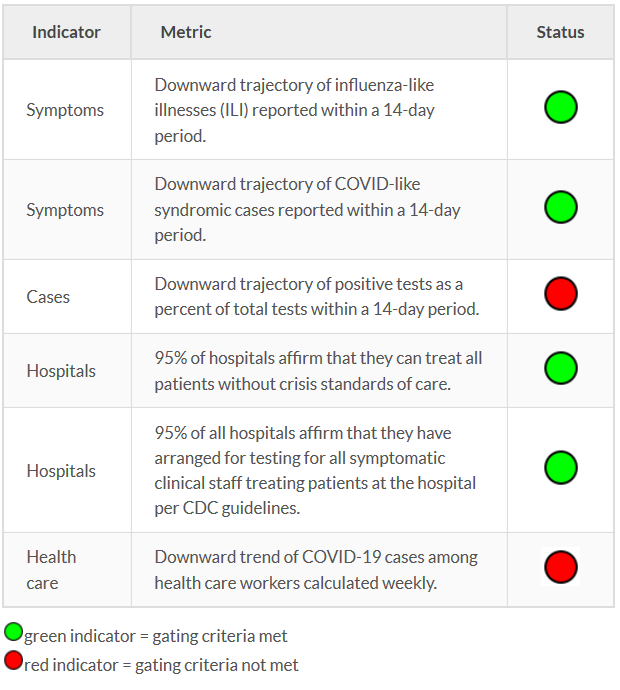 If the county were being evaluated under the former state plan, four of the six listed criteria would have been met, including a downward trajectory of influenza-like symptoms and COVID-19 like symptoms within a 14-day period; and having 95% of hospitals meet certain patient treatment and staff testing standards, according to the Department of Health Services website. 
Fully or partially meeting the targets will allow Dane County to move through phases that gradually loosen restrictions across long-term living facilities, schools, businesses, workplaces, places of worship, recreational activities and mass gatherings until a "new normal" is reached.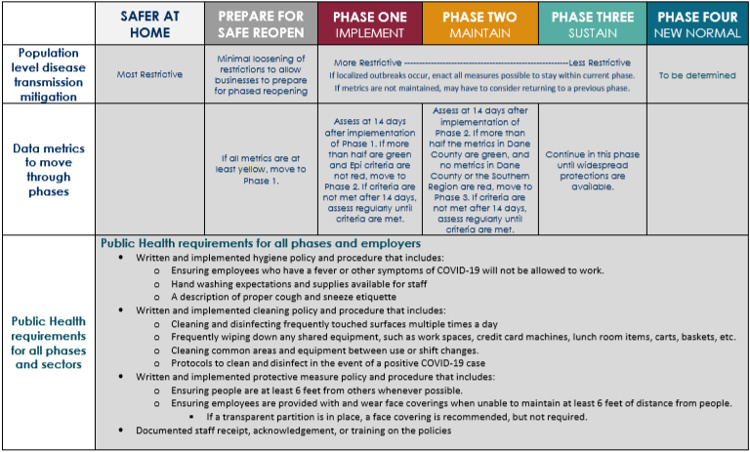 The public health agency expects to spend at least two weeks, or one full incubation period for COVID-19, in each of the first three phases of Forward Dane to assess the data. 
Dane County will be in the "prepare for safe reopen" phase starting Tuesday with minimal loosening of restrictions on businesses. 
"Changes in orders are confusing, and we know how frustrating they have been for businesses and the public," Heinrich said. "By enacting today's Prepare for a Safe Reopen phase, we are making sure each sector has time to get things ready for safe operations during Phase 1." 
To move to the first phase, all nine of its goals must be marked yellow or green -- which is currently the case.
After 14 days, Dane County can move to phase two if more than half of the goals are green and epidemiology criteria are not red. After another two-week period, the third phase can begin if more than half the metrics in Dane County are green, and no metrics in Dane County or a larger 14-county region in southern Wisconsin are red. 
Dane County would then continue in the third phase until widespread protections such as a vaccine or an effective treatment for COVID-19 are available.
With each phase comes more and more flexibility. 
For example, under phase one, K-12 schools could conduct minimum basic operations and activities approved by the public health department. Many public spaces like offices, restaurants, places of worship, gyms and community centers could operate at 25% capacity. Outdoor restaurant seating and outdoor gatherings of 25 people would be allowed. 
Under phase two, K-12 schools and post-secondary education institutions could open. Capacities across a variety of sectors could increase to 50%. Phase three would see capacities increase to 75%; indoor gatherings of up to 100 and outdoor gatherings of up to 250 people would be permitted. 
"Like everyone else, we are eager to reopen businesses and work towards normalcy, but we want to be realistic and practical. We don't want to rush the process and undo the progress we have made so far," Madison Mayor Satya Rhodes-Conway said in the statement. "Data will guide us, and we thank everyone in our community for their continued diligence and patience as we forge this path forward together."  
Share your opinion on this topic by sending a letter to the editor to tctvoice@madison.com. Include your full name, hometown and phone number. Your name and town will be published. The phone number is for verification purposes only. Please keep your letter to 250 words or less.
Get Government & Politics updates in your inbox!
Stay up-to-date on the latest in local and national government and political topics with our newsletter.