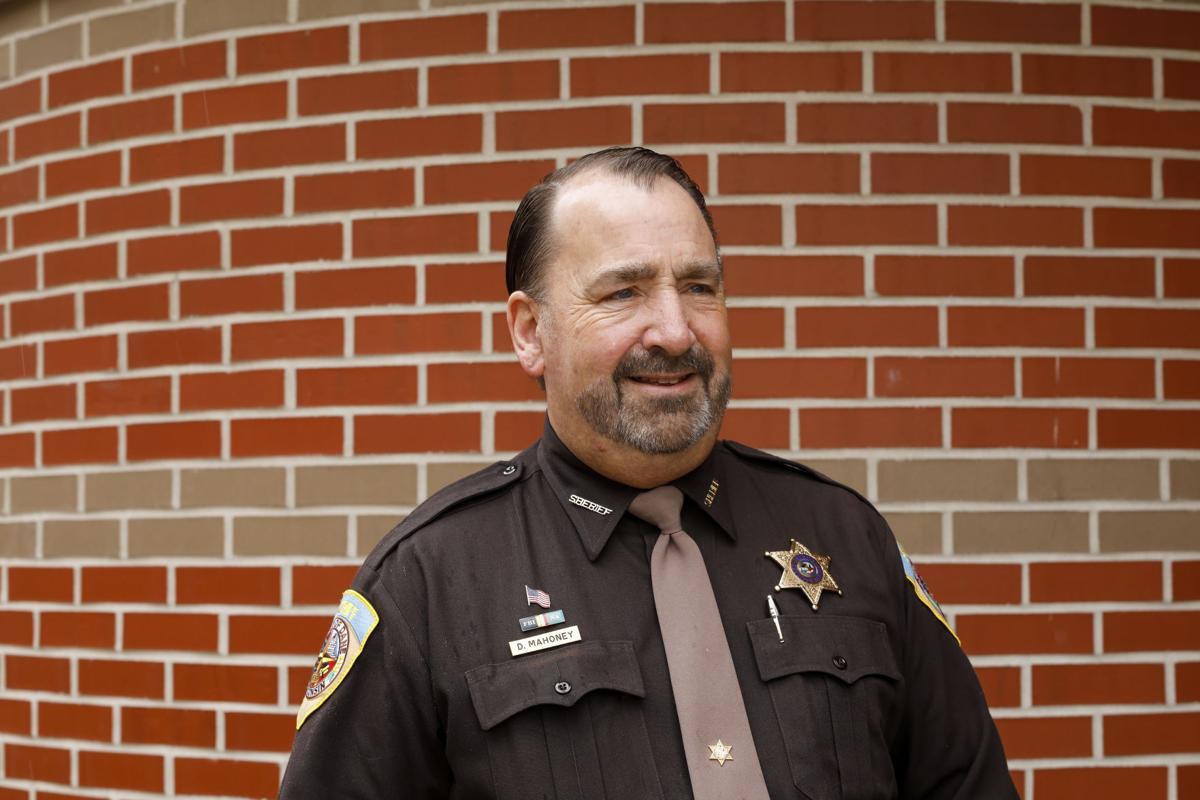 Dane County Sheriff David Mahoney, who has held that office since 2006, plans to retire in May and take on a new role in safety and security with American Family Insurance.
Mahoney said he decided he would not seek re-election in 2022 after consulting with friends and family at the end of last year. At the same time, Mahoney applied for and then accepted a new position with American Family as the director of strategy and support in the company's Protective Services Division, focusing on physical security, risk assessment and incident management.
"It has truly been a privilege to serve as Dane County's sheriff this past 14 years, and it has made me even more proud because of the men and women who do this job every day," Mahoney said at a press conference Wednesday.  
Though 2020 has brought unprecedented challenges like the coronavirus pandemic, which claimed the life of one deputy sheriff, and also saw widespread protesting over violence at the hands of law enforcement, Mahoney said that didn't influence his decision.
"That's not the reason I chose to leave, because that's an opportunity for men and women of law enforcement to rebuild that relationship with their communities," Mahoney said. "I know that our men and women will continue to do that. It's been a priority longer than I was sheriff to work with our community members." 
His colleagues called out Mahoney's commitment to the public and to those working in the sheriff's department.  
"He has given hope to those seeking to improve the conditions faced by community members who find themselves incarcerated in the Dane County Jail by supporting programs to reduce recidivism; engaging in partnerships to create solutions; continually looking to advance medical and mental health access (continuity of care); and working towards a safer consolidated jail," Chief Deputy Chris Nygaard said in an email. 
Dane County Executive Joe Parisi said in a statement that Mahoney's accomplishments during his tenure had a "profound and positive impact" on the sheriff's office and the community. Parisi thanked Mahoney for his "unwavering work to make this community safer and our criminal justice system smarter." 
"Dave led the Sheriff's Office with grace and dignity, displaying every day the values we hold so dearly in this community," Parisi said. "Dave championed not only for the men and women of law enforcement, but also for the individuals they came into contact with."   
Dane County Board Chair Analiese Eicher highlighted Mahoney's "strong roots in the community" and history of service. 
"Dave has been a good partner to the Dane County Board, working in collaboration — and at times — in contention," Eicher said in a statement. "Dane County has embraced innovation and improved our approaches to criminal justice in large part thanks to Dave's leadership." 
Mahoney is the president of the National Sheriff's Association, though he said he would step down when he retires. He also serves on the county's Criminal Justice Council, which pursues criminal justice reform across the entire system. 
Eicher also works with Mahoney in her role as chair of the Criminal Justice Council and congratulated him on his retirement. 
"In this time of transition, I believe the county should continue on the path toward innovative practices, humane facilities, and equitable reforms," Eicher said.  
Four-decade Dane County tenure 
Mahoney is in the middle of his fourth term as the county's 52nd sheriff. His retirement is effective May 8.  
Mahoney was first elected in 2006 as a Democratic candidate, beating Republican Mike Hanson, a Madison police officer. He won re-election in 2010 and 2014 over Shawn Haney and N. Peter Endres, respectively.
Most recently, Mahoney ran unopposed in 2018, and his current term ends next year. The next election for the position will be Nov. 8, 2022 with a primary Aug. 9, if needed. Until then, an interim sheriff appointed by Gov. Tony Evers will take on the role. 
Though the application process has not been announced yet, Sgt. Scott Lehmann of the Sheriff's Office announced in a statement that he plans to seek the appointment, noting that "Mahony leaves big shoes to fill."  
"I want to put my 25 years of experience in law enforcement to work in order to build on the success we've had in reducing the population in the jail, work with all stakeholders on rebuilding trust between communities of color and law enforcement, and find effective, innovative solutions to make Dane County safer and stronger in the years to come," Lehmann said. 
Of Mahoney's 41 years in law enforcement, all but one have been spent with the Dane County Sheriff's Office. 
During his tenure, Mahoney expanded the electronic monitoring program to reduce a jail population that was rapidly increasing at the start of his time as sheriff and ended the costly program of moving inmates out of Dane County to other jails. 
Mahoney also mentioned the expansion of community engagement, involvement with the Justified Anger Coalition, creation of a community preparedness program, growth in transparency and a "dramatic" increase in relationship building as highlights of his career.  
After months of heightened tension between the community and law enforcement and protests over recent police killings, Mahoney acknowledged that relationship building isn't complete.
"Building those relationships in our community, our communities of color, and all of our communities is not a destination. It's a journey," Mahoney said. "There can always be improvements in those relationships."  
Mahoney said an ongoing challenge for his department, incoming Madison Police Department Chief Shon Barnes and law enforcement across the county is juveniles engaging in criminal activity. 
"If there's an area that really needs stronger effort, it's addressing youthful offenders, particularly as we've seen throughout the summer, the theft of motor vehicles and total disregard for law and order," Mahone said. "This will be one of the biggest challenges that we know."  
Mahoney has long advocated for improving jail facilities, particularly the sixth and seventh floors of the City-County Building that have been compared to Alcatraz. 
The $148 million project is not without controversy as community members have called on Mahoney and the Dane County Board to stop funding a new jail and to start investing more in community services. 
Currently, the project includes building a seven-story tower behind the downtown Public Safety Building jail and closing the county's two other jail facilities in the City-County Building and the Ferris Huber Center on Madison's south side.   
Plans include creating medical and mental health beds for the first time in addition to programming space to address core reasons why people enter the criminal justice system. He plans to stay engaged in the project until his last day. 
Mahoney said he hopes by May that the county will have secured contracts and be "working within our community to begin the process of building that new facility and turning a new chapter that's long overdue in how we serve men and women incarcerated in this county." 
"I'll see the doors open but from a different perspective," Mahoney said. "I have every confidence in the citizens of this county. I have every confidence in the county board, the elected officials who will need to make those critical decisions who recognize the fact that jail today does not meet the values of our Dane County citizens."
Share your opinion on this topic by sending a letter to the editor to tctvoice@madison.com. Include your full name, hometown and phone number. Your name and town will be published. The phone number is for verification purposes only. Please keep your letter to 250 words or less.