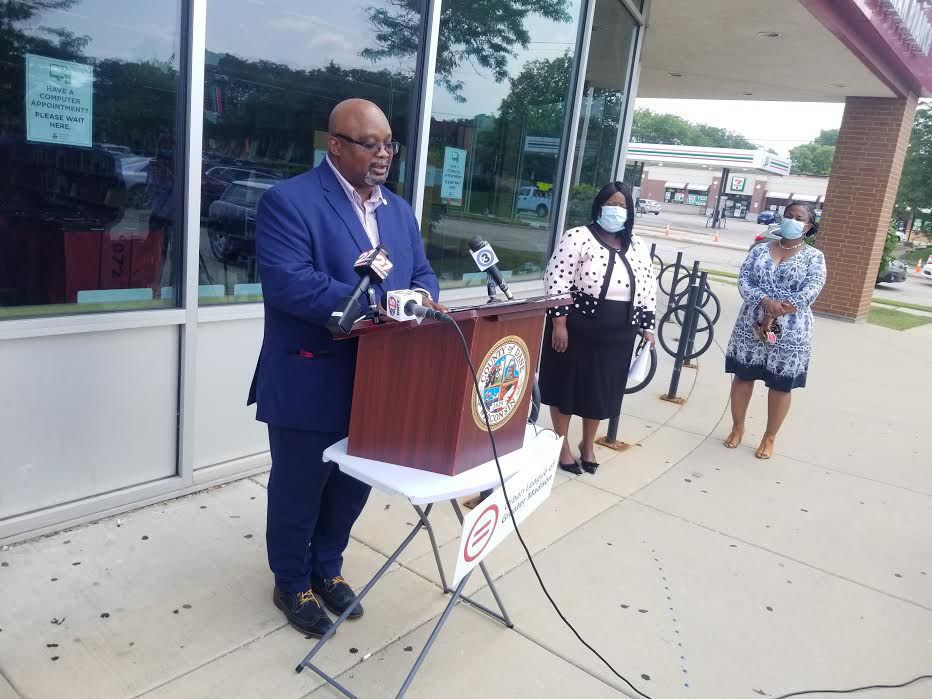 Madison Black leaders and Dane County officials are teaming up to build a south side hub for minority-owned businesses.
The effort, kicked off with a $100,000 planning grant from the county, is modeled on the Sherman Phoenix project in Milwaukee, which turned a building burned in the 2016 Sherman Park riots into a thriving home for Black entrepreneurs.
"We need this to happen here along the south Madison corridor," said Ruben Anthony, president and CEO of the Urban League of Greater Madison. "We need an economic development initiative, and I truly believe that this is the one that will help us get things done."
Anthony envisions a project that provides opportunities not only minority businesses, but also hires minority developers, planners and builders to get it off the ground. He said the effort could also attract a bank to the site, as well as government jobs agencies.
"We see this thing as being a collective ecosystem for developing small and Black businesses here in town," he said.
The $100,000 in county funding was announced at a press conference Thursday in front of the Urban League. It will fund a one-year project planner who will do a site-selection study, develop operational, financial and business plans, engage stakeholders and look for prospective tenants. Anthony said the timeline for the project and the amount of funding needed haven't been determined. But he's pushing for things to move swiftly.
"I hope it won't take too long, because we're tired of talking," he said.
The Sherman Phoenix project was completed in a remarkably short time. Its grand opening in November 2018 at the former BMO Bank took place just over two years after angry crowds set fire to the bank after the fatal police shooting of 23-year-old Sylville Smith.
The building has been transformed into a home for 27 businesses, nearly all owned by African Americans, offering food, spas, counseling, therapy services, yoga, art and clothing. According to the Sherman Phoenix website, the project has generated more than 75 jobs.
Anthony said the project on Madison's south side won't replicate the Sherman Phoenix project, but it has similar goals.
"It created a gateway for high-quality spaces for small businesses of color offering diverse food, wellness services, cultural activities," he said.
The Milwaukee project was buoyed by a groundswell of support, with the bulk of its initial $4 million funding package largely backed by private investors, along with nearly $500,000 in state and city funding.
Anthony said similar community support will be needed on the Madison project.
"We need the community to come around us and make this project work," he said. "And I think the Dane County community as a whole will be better off."
Anthony Gray, a Black developer and Dane County Board supervisor, said the project builds on momentum that is already transforming the south side, similar to the development boom that transformed East Washington Avenue in recent years.
"South Madison, and particularly the South Park corridor, is clearly going to be the next hot development area in the city of Madison," he said.
Unlike the East Washington corridor, though, Gray said the south side boom will be driven by minority businesses, which will help close the racial "wealth gap" that contributes to all the other vast disparities in Madison.
"That disparity is what drives all the other racial disparities in Dane county — the education gap, the achievement gap, the health care gap," he said. "All of that will be directly impacted by shrinking the wealth gap."
Shelia Stubbs, a County Board member and also the first Black state representative from Dane County, vowed to use her influence to help ensure the project's success.
"I have every intention of working with my colleagues to see that this position grows into a stable program that brings Black developers and entrepreneurs back to south Madison," she said.
Get Government & Politics updates in your inbox!
Stay up-to-date on the latest in local and national government and political topics with our newsletter.