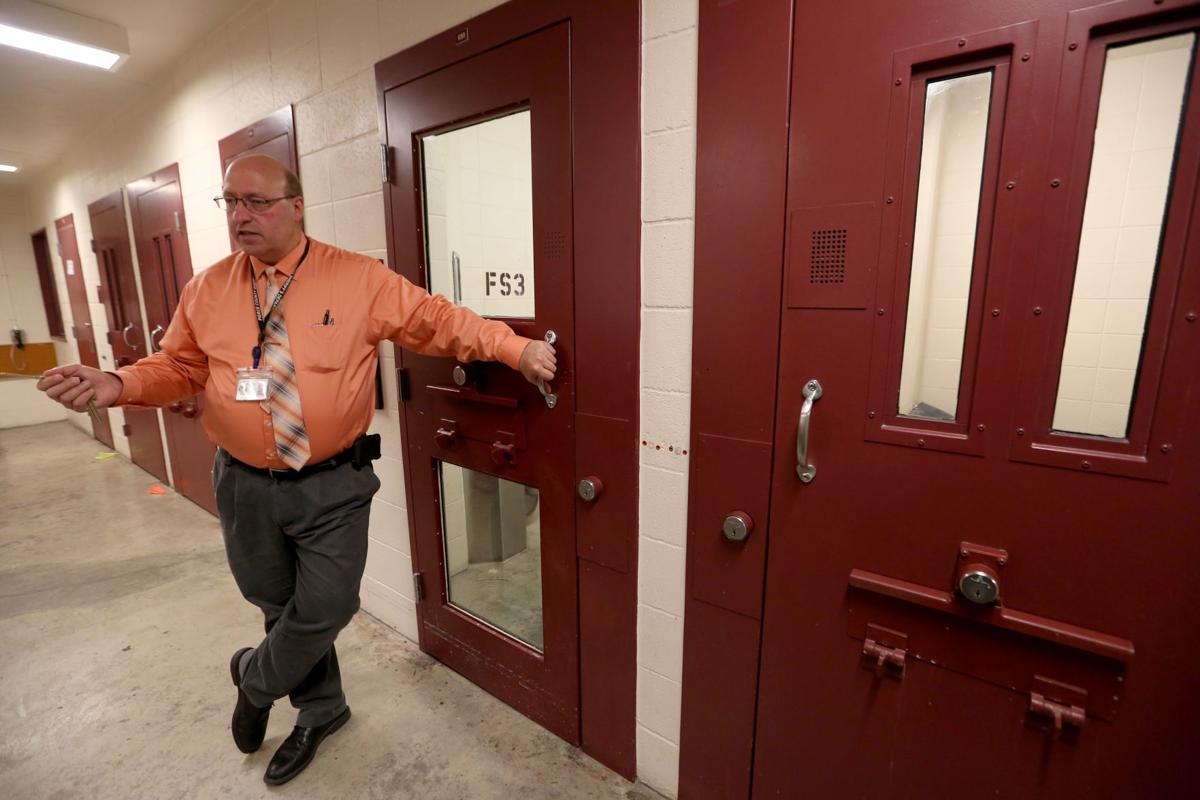 With the Dane County Board likely facing a decision in the coming weeks on unprecedented spending for a jail construction project, Supervisor Heidi Wegleitner is convening a community meeting Wednesday to discuss alternatives.
Wegleitner, who has opposed funding for the jail project, said activists were discouraged when Dane County included $76 million for the renovation project in its 2018 budget. The project aims to consolidate the jail's three facilities and address critical safety issues.
"Organizing efforts to really do anything had kind of dwindled,"  Wegleitner said.
After the original $76 million plan to add floors on top of the Public Safety Building proved unviable, consultants determined it would cost $148 million to build a tower next to the PSB. They also estimated it would cost between $161.1 million and $220.4 million to pursue plans that include building at a new site, likely outside of downtown.
Wegleitner said she is "not ready to accept that this is a done deal." She wants to facilitate a broader discussion about the jail renovation project and consider community-based alternatives to incarceration.
"Such a big topic deserves open meetings, public engagement and a clearer understanding about how well this proposal connects to our other priorities," Wegleitner said.
The community meeting runs from 6 to 8 p.m. Wednesday at the Madison Public Library Hawthorne Branch, 2707 E. Washington Ave.
Wegleitner would also like to let the results of a county-wide mental health study, expected at the end of the year, inform a decision on the jail project.
"It seems like we're doing this out of order," Wegleitner said.
Dane County entered into a $140,000 mental health study contract with Public Consulting Group March 26. The consultants will be evaluating both public and private behavioral health services in Dane County. 
The final report and recommendations are expected mid-September, Todd Campbell, the county's Adult Community Services division administrator, said. 
Following the community meeting, the Dane County Board will meet as a Committee of the Whole Thursday at 6 p.m. in room 201 of the City-County Building, 210 Martin Luther King Jr. Blvd. and hear a presentation from consultants on the four options.
Building a $148 million south tower addition in a county-owned parking lot facing West Wilson Street next to the Public Safety Building
Renovating the sixth and seventh floors of the City-County Building and the Public Safety Building. In addition, this plan would replace the Huber Center at a new "greenfield" site, or underdeveloped land that is eyed for urban development projects. Consultants expect this option to cost $161.1 million.
Renovating the Public Safety Building and using it to house work-release and minimum security inmates. This option would re-purpose the City-County Building and involve building a new facility on a greenfield site that would house maximum and medium security inmates and provide medical, mental health and rehabilitation services. Cost estimates for this option are $164.5 million.
Consolidating all jail operations into a new site. The county could vacate the City-County Building jail, Huber Center and the Public Safety Building. It could then look into re-purposing or selling the Public Safety Building, which could potentially offset the the $220.4 million of building at a greenfield site.
Dane County Executive Joe Parisi and Dane County Board Chair Sharon Corrigan have both said that the south tower option is the most cost effective.
The Public, Protection & Judiciary; Public Works & Transportation; and Personnel & Finance committees will review the jail renovations options in the coming weeks. To move forward, the board will need to vote on a budget amendment, which would likely occur in June.
At the Committee of the Whole on Thursday, supervisors will have time to ask questions, but there is no public comment time scheduled. There will be public committee in committees and when the budget change comes before the full board for a vote. 
Share your opinion on this topic by sending a letter to the editor to tctvoice@madison.com. Include your full name, hometown and phone number. Your name and town will be published. The phone number is for verification purposes only. Please keep your letter to 250 words or less.