Dane County is debuting a Spanish language option for voters that will be available at all polling locations across the county beginning Tuesday, Feb. 19.
Voters will be able to select Spanish when using the county's ExpressVote or Automark electronic voting machines "just like on an ATM machine," Dane County Clerk Scott McDonell said.
"Dane County is over 6 percent Hispanic, and 13 percent of the people in Dane County speak a non-English language," McDonell said. "By leveraging the new technology that we have purchased over the years, we are excited to make it easier for voters in Dane County to exercise their right to vote."
Dane County Board Supervisor Jamie Kuhn sponsored a $10,000 amendment in the 2019 operating budget to offer the electronic dual language option. 
Spanish language printed ballots will not be available. Printing dual language ballots is challenging because referendums and other translations can cause the ballots to be lengthy and confusing, McDonell said.
"By using the ExpressVotes and AutoMarks, voters who come into the polling place anywhere in Dane County, not just the town of Madison, can read their ballot in Spanish," McDonell said.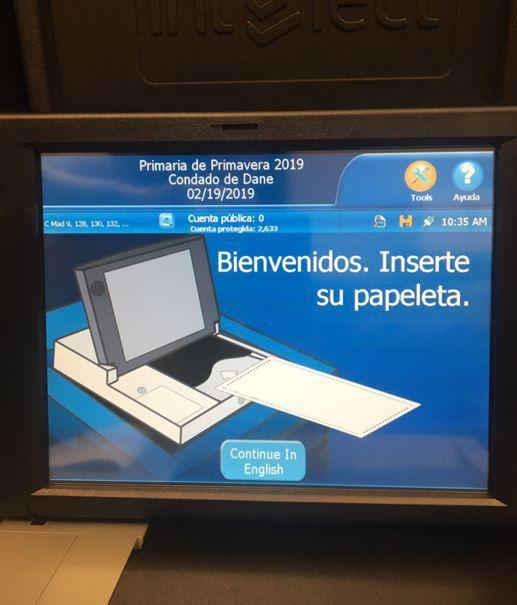 Prior to this development, McDonell said there were few options for voters speaking a language other than English.
Only the town of Madison is required by federal law to provide printed Spanish language ballots. However, that provision will be lifted when the town is annexed into Madison and the city of Fitchburg, which is slated for 2022.
"It would have been pretty difficult to vote if (Spanish language speakers) weren't in the town of Madison," McDonell said.
Voting remains challenging for residents who speak languages other than English or Spanish, McDonell said, specifically mentioning Hmong and Russian language speakers/
"This is still an issue," McDonell said.
A jurisdiction is covered under the federal language provisions when the number of United States citizens of voting age in a single language group is more than 10,000 or is more than five percent of all voting age citizens.