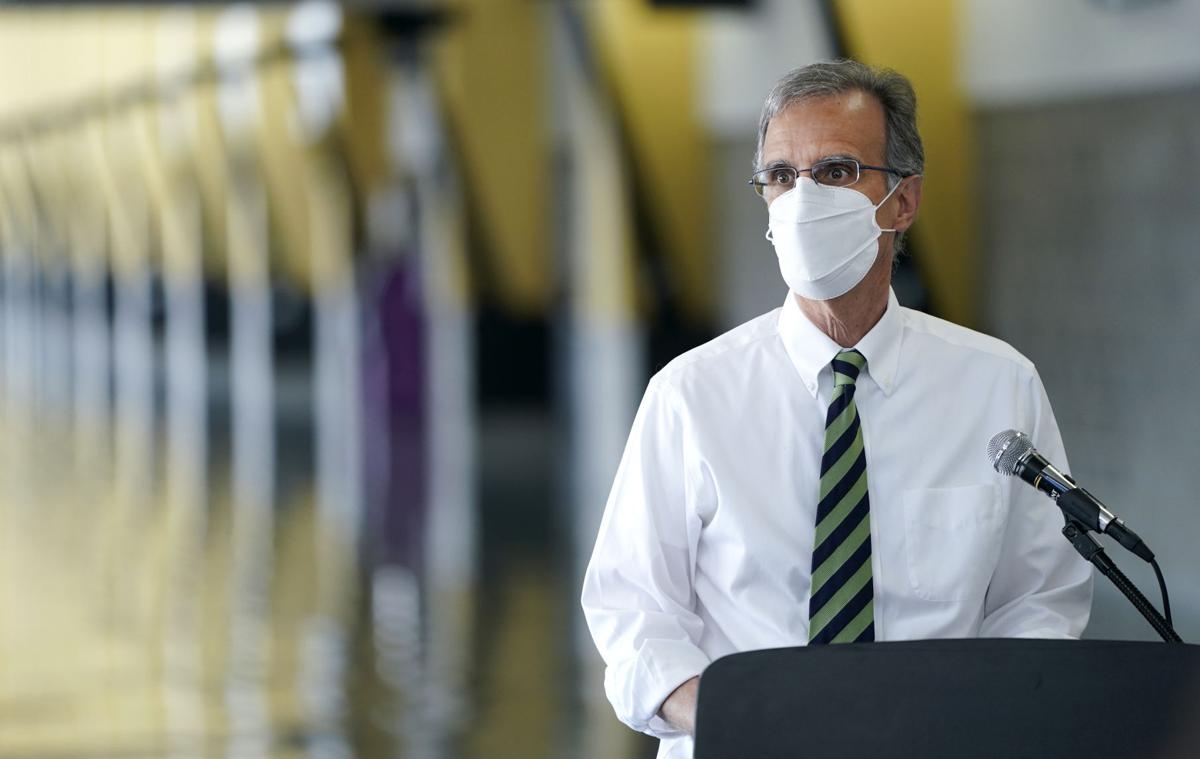 In the midst of the COVID-19 pandemic, Executive Joe Parisi thinks the last thing Dane County needs is a change in leadership. That's why, after nearly 10 years in the top seat, he's running for re-election.
Parisi, who was first elected to the county's top post in 2011 during a special election, said the job is more important now than he ever could have imagined given the ongoing public health crisis that has claimed the lives of 73 and infected 24,901 in Dane County as of Monday, hurt the local economy and exacerbated mental health challenges.
"There's a sense of continuity in leadership that I think is important right now as we move through the next phase of the pandemic and then as we begin to emerge on the other side, there's going to be so much work to do to help our community heal and rebuild and get back to whatever our new normal is going to be," Parisi said.
If reelected April 6, Parisi would serve a third full term, bringing his total number of years on the job to 14 — tied for the title of longest-serving Dane County executive. A primary, if needed, will be held Feb. 16. Paris was reelected unopposed in 2013 and 2017.
"I ran for office to make a difference in people's lives, and the same reason I've run before is in many ways even truer today," Parisi said.
Parisi lamented the lack of a coordinated state, local, and federal response to the pandemic. Ideally, he said the federal government would provide funding to those struggling financially, which would make it easier to set restrictions on capacities and businesses.
"I believe the best thing we could do for the economy is to get the virus under control, so businesses could slowly and safely open," Parisi said. "That political partisanship and dysfunction that we've seen throughout the country is something that's really tragic and has resulted in a lot of suffering and death."
In addition to responding to the pandemic and looking ahead to the "rebuild and healing phase," Parisi said the county is in "mid-stride" on several key initiatives, including work on climate change, behavioral health, lake water quality and the restoration of natural areas.
While work is continuing — the county is opening a Behavioral Resource Center and embarking on a new solar field installation — the pandemic remains a top priority and hurdle. Parisi said the biggest challenge stems from a lack of statewide guidelines, other than a mask mandate. Other than Rock County, surrounding counties have no guidelines in place.
Without neighboring counties adopting restrictions, Dane is left exposed because the "virus knows no borders." Parisi said the county is responding to people who are traveling in and out of the county, contracting the virus and then being treated in the local hospital system.
"We work on addressing the immediate challenges in front of us — the overflowing hospitals, other health challenges, as well as the economic fallout that we're experiencing now — but also with an eye toward next month and three months and six months from now. What are the needs going to be and how do we start preparing for that?"
Parisi said his decade on the job contributed to a faster pandemic response: He already built relationships with other local elected officials, community leaders, residents and those in the health care community and didn't have to introduce himself to anyone.
"You just get to work," he said.
At the beginning of the pandemic, Parisi said he contacted almost every Dane County mayor, village president and town chair to ensure open lines of communication and said he stays in regular contact with U.S. Rep. Mark Pocan. Though Parisi and University of Wisconsin-Madison officials have disagreed over the school's reopening plans, he said it hasn't stopped them from working together.
After the emergency response to the pandemic is over, Parisi said his priority will be to take care of those who have been hit the hardest economically and to address the collective trauma experienced by county residents.
"This isn't going to be over once the illness itself is under control," Parisi said. "We're going to have to pull together as a community for years to come in order to rebuild and establish what this community is going to be once we're on the other side."
Share your opinion on this topic by sending a letter to the editor to tctvoice@madison.com. Include your full name, hometown and phone number. Your name and town will be published. The phone number is for verification purposes only. Please keep your letter to 250 words or less.