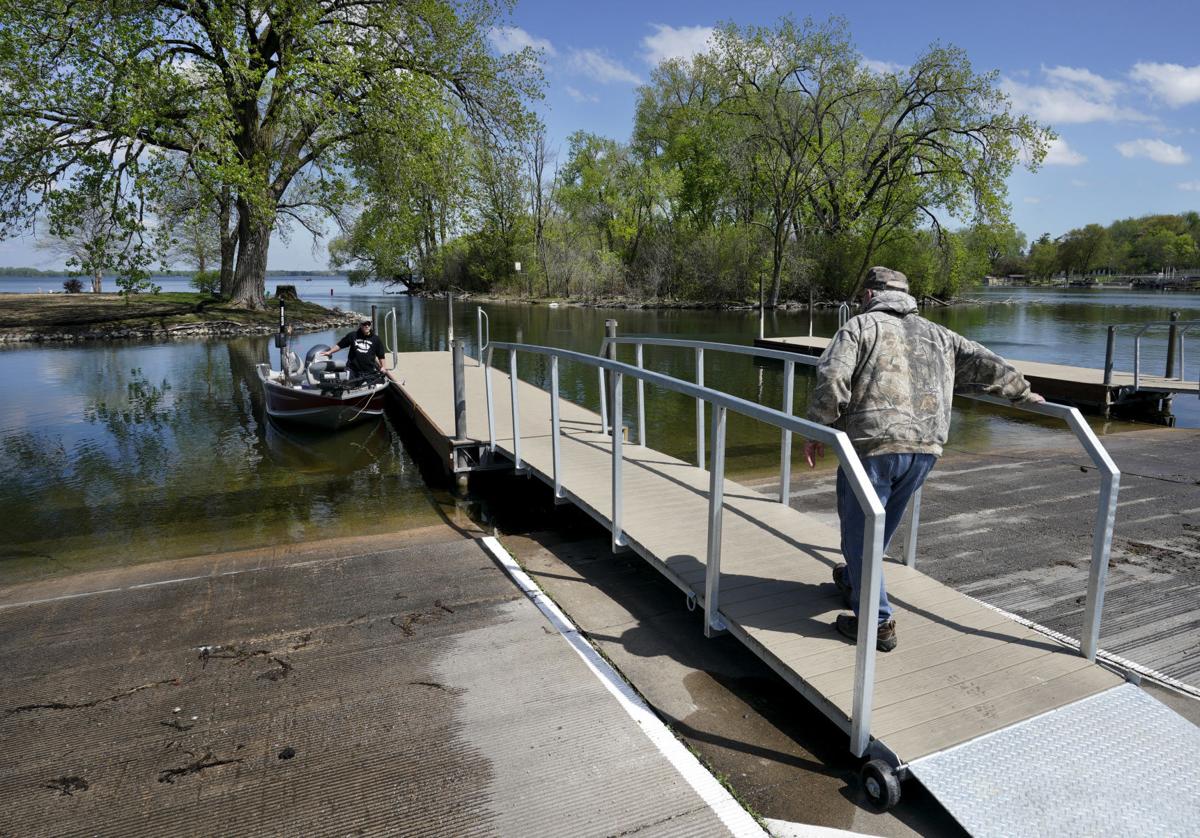 In Dane County's latest effort to make outdoor recreation available to people of all abilities, the Board of Supervisors will consider accepting a $25,000 donation to fund an accessible kayak landing at Fish Camp County Park in McFarland.
For the past several years, Dane County and partners that include Access Ability Wisconsin, Take A Vet Fishing, Madison Fishing Expo and the Foundation for Dane County Parks have advanced a multi-year program to create accessible piers throughout Dane County.
"It really fits into our mission of making all these wonderful recreational opportunities to experience nature available to as many people as possible," County Executive Joe Parisi said.
At its meeting Thursday, the board will consider accepting the gift from Sally Wilmeth and Terry Geurkink in memory of their children Jenni and Kyle. Previously, the family donated $25,000 for an ADA accessible fishing pier at Babcock Park, also in McFarland. 
"It just means more people have more choices without having to say, 'Oh but I can't do that,'" Wilmeth said.
In 2019, Parisi included $100,000 and announced a multi-year program to create accessible shoreline fishing at county parks in his budget. A year later, he doubled the funding to $200,000 to continue the county's push to increase access to its outdoor spaces.
Last May, the county installed two refurbished piers with handrails at the boat landing at Babcock County Park along the Yahara River. The county also installed an accessible pier at Salmo County Park near Black Earth Creek in Cross Plains.
"This is the universal standard that we want to set," said Laura Hicklin, director of Dane County Land & Water Resources Department. "This is, in my mind, the finishing touch on investments that we've made for many years to first preserve lands along public waters."
Future sites identified for accessible improvement projects include Lussier County Park, Fish Lake Natural Resource Area, Silverwood County Park, Tenney Lock Breakwater and Mendota County Park. However, Hicklin said Lussier and Fish Lake are "indefinitely on hold" due to high water conditions at Crystal and Fish lakes.
Hicklin also noted the list is evolving and that more sites could be considered as the park system grows and the county gains public input.
Parisi said the investments in accessibility also demonstrate the county's strategy of acquiring and managing parks and natural areas: "The approach is one of partnership."
Chris James, a senior landscape architect with Dane County, said the partners are also "integral to the design process by helping us to really understand" how the accessibility improvements can work best for the community.
In addition to the accessible piers, Parks Director Darren Marsh said the department also considers making everything from the parking and pathways accessible to make visiting the parks "a good experience for everybody." 
Monica Spaeni, president and founder of Access Ability Wisconsin, said the growing relationship with the county is one way to "let all people use our waterways and our county parks." The nonprofit aims to facilitate opportunities for people with mobility challenges to access and enjoy the outdoors
Spaeni said an accessible kayak pier at Fish Camp is a way to attract people who have different mobility issues to participate and "not be isolated on the sidelines."
"Too many times people with disabilities are allowed to do things with other people with disabilities but not with their family and friends because there's no way to do it," Spaeni said. "Having an accessible kayak launch is a way they can, in fact, kayak with their family and friends."
As the pandemic has encouraged more people to spend time out of doors, Parisi said the increased number of visitors to the county's parks system reinforced the need to consider their accessibility.
The Foundation for Dane County Parks, founded in 2014, has taken on improving accessibility in county parks as a primary goal. Bill Lunney, the foundation's president, echoed the importance of parks, especially the physical and mental health benefits being outside can foster.
"Our goal is to improve the access of people to our county parks system," Lunney said. "What parks have become is a haven for people to go outside and to appreciate nature and to appreciate health."
Share your opinion on this topic by sending a letter to the editor to tctvoice@madison.com. Include your full name, hometown and phone number. Your name and town will be published. The phone number is for verification purposes only. Please keep your letter to 250 words or less.