When Tony Chambers accepted a job at Edgewood College in 2015, he saw the chance to make a difference. Being the first African American senior administrator at the school put him in a unique position to further its stated commitment to diversity and inclusion.
"I believed in the values they have," said the 63-year-old veteran administrator. "I believed that I could do something different."
So he agreed to start work the following January, then announced his retirement from the University of Toronto, where he remained for the rest of the year to fulfill retirement benefit requirements.
The first inkling that he'd made a mistake came before he even started.
About four months before moving to Madison, Chambers attended a meeting of Edgewood student leaders where he was introduced as the new vice president of student development and dean of students.
"What should we call you?" asked one student.
He heard a chuckle from where three white female students were seated in the audience.
"I heard them say 'blackie,' and 'darkie,'" he said. "I just froze and said, 'I don't think that's appropriate.'"
Just as troubling as that incident, he said, was the university's response.
The students were dismissed from their role as orientation guides, but still maintained leadership responsibilities, according to Chambers.
Although their behavior violated the school's code of conduct, the students were never referred to the school's judicial process. Nor, said Chambers, did they make amends.
"An apology would have been really nice," Chambers said. "Never happened. And it was never requested of these students to provide that. That was my initial contact with the culture."
When he officially started work the following January, he tried to keep a positive attitude, but he said microagressions and demeaning remarks from co-workers wore him down.  
"It got progressively worse," he said. "On many occasions my colleagues, mostly the vice presidents, said and did things to me that I would say bordered on — not bordered, they really were — racist attacks. They were biased."
By the time he left after nearly 20 months at the college, Chambers was on medication and in therapy. He was so shaken that his heart raced and he broke into sweats months later when he passed the school while riding the bus from his home to his current job on the University of Wisconsin-Madison campus.
Now, he says, he's over it. But what he sees as the gulf between Edgewood's stated values and the school's ability to uphold them still sticks in his craw.
"I think somebody needs to know about that," he said. "And if they won't admit it, then somebody's got to help them understand that. And if it's my story, fine. If it's not my story, fine."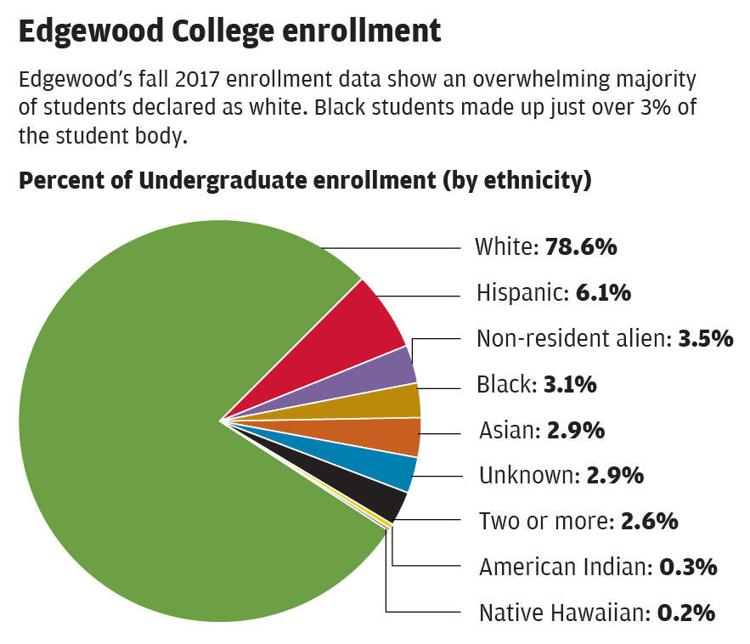 Chambers isn't the only one who feels that Edgewood falls short in creating a welcoming environment for people of color and with dealing with racial incidents. One former staffer, who left in 2016, called the school "one of the most toxic environments I've experienced in my life."
Former African American students described racial incidents they say were improperly handled by college officials, prompting at least two students to transfer to UW-Madison.
But the school isn't alone. Chambers' story and those of others who have worked and studied at Edgewood highlight a vexing dilemma for institutions of higher learning: a growing emphasis on diversity and inclusion brings with it an escalation of racial tensions.
And the election of President Donald Trump in 2016 made matters worse.
"Many campuses are, unfortunately, finding themselves in a situation where this is an issue," said Tia Brown McNair, vice president for diversity, equity and student success at the Association of American Colleges and Universities. "Racial bias and racism on their campuses and racial incidents are happening at a higher rate."
Sherri Charleston, UW-Madison's assistant vice provost for diversity, equity and educational achievement, said the university saw an "alarming and disturbing" increase in racial incidents in 2016, including the infamous incident at a UW football game during which a man with a Donald Trump mask led another man posing as Barack Obama around the stands with a noose.
According to Edgewood College President Scott Flanagan, the political environment in 2016, the year Chambers began his stint at the school, "absolutely contributed to what was a really difficult year."
He admits that some racial incidents at Edgewood could have been handled better. In the past couple of years, he said, the college has sharpened its policies and procedures.
"We've made clear that (the incidents are) not acceptable," he said. "When we've been able to find the people who were responsible, we've held them accountable."
Whether Edgewood is worse than other institutions of higher learning in dealing with racial tensions is an open question. Campuses across the country have in recent years reported an uptick in racist acts like racial slurs written in dorms and public places, a proliferation of white supremacist literature and hate crimes.
Charleston said UW officials have been dealing with the increase in racial incidents by improving the university's information-gathering process and its public response, which could help deal with another potential round of racial strife as the 2020 election approaches.
"We're ready, but we hope we don't have to act," she said.
Unlike small, private colleges like Edgewood, UW-Madison enjoys a vast array of state-supported programs that provide services and a sense of place for minority, low-income and first-generation students, as well as a program that works with first-year students to promote an inclusive environment.
"We have the resources to do it," Charleston said. "And we're very fortunate to have faculty who bring in funding and grants. We have the resources to be able to generate additional revenue in addition to the state support we get. We don't take that lightly. We see it as part of our mission to make good on that promise to keep the door open to anyone who's qualified to get admitted."
Edgewood has similarly revamped policies to better respond to incidents of racial bias.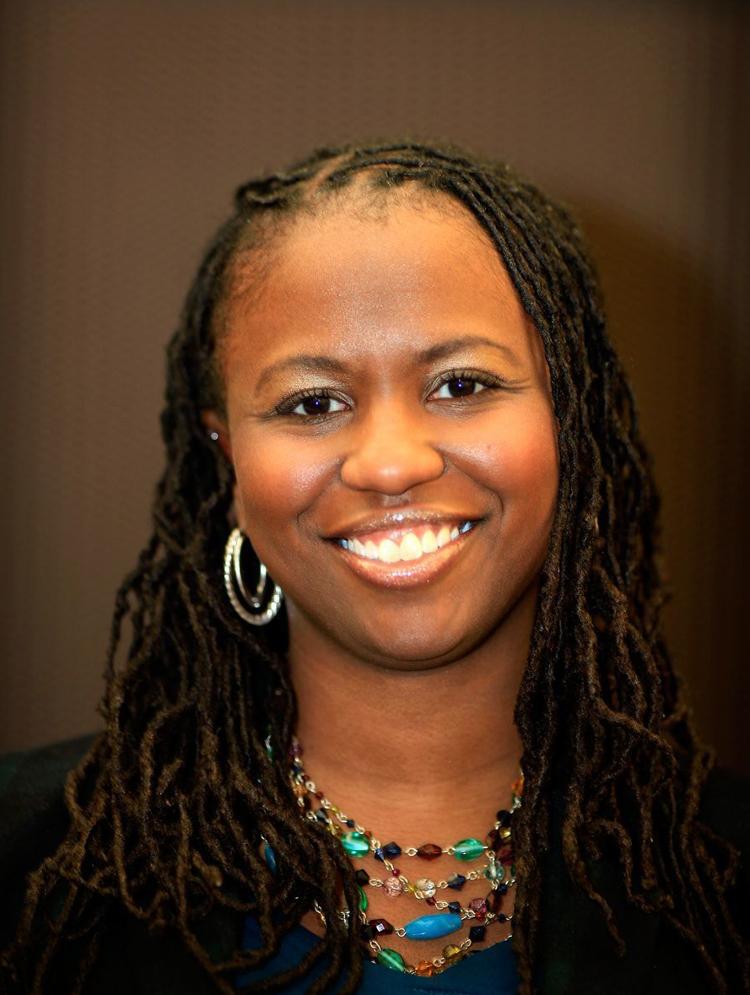 Two years ago, Flanagan initiated a new framework to further the school's mission and address changing demographics. The plan named inclusion among three strategic pillars, along with student learning and community impact.
It's an uphill battle, he said, with entrenched attitudes not only at the college, but in local workplaces, institutions and in the general culture of Madison, where racial disparities rank among the nation's worst. In that context, the school is dealing with vast changes in demographics and trying to adapt "in real time."
"You've got an increasingly diverse student body," he said. "You've got faculty and staff who have different levels of experience and expertise."
The school has worked to develop cultural competency among faculty, and students, he said.
"We are taking this work seriously," he said. "I'm sure we're not doing it perfectly, but we are committed."
On a relatively small campus of 2,160, when incidents happen, students hear about them.
Last year, after two posters of Martin Luther King Jr. were defaced, about 100 students walked out to highlight what they felt was an inadequate response from the administration and a pervading culture of bias on campus.
"Some of us are so tired of repeating what we experience on this racially divided, male-dominant, sexist and let's not forget homophobic, predominantly white campus," student Demond Hill told college officials who attended the event. "When someone asks me if Edgewood College cares about diversity and inclusion, I'm just going to have to tell them the truth. We don't."
Flanagan called testimony from the students "devastating."
Edgewood has long grappled with issues of diversity and inclusion.
A decade ago, a survey found that faculty of color felt "marginalized and excluded."
The Higher Learning Commission, which accredits the college, criticized Edgewood in a 2008 report for a dearth of people of color in administrative positions and on the Board of Trustees. There were few non-white teachers, and they rarely stayed for long.
"While the policies of Edgewood seek to be open and inclusive, a higher rate of turnover among new faculty of minority backgrounds is cause for concern," the report said.
In 2009 the school implemented a three-year plan to improve racial and ethnic diversity on campus, citing as motivations social justice, improvements in the quality of student learning and boosting enrollment. That effort paid off.
Flanagan said that when he arrived at Edgewood in 1998, there were only nine students classified as ALANA (African, Latinx, Asian or Native American). In 2017 about 3 percent, or 70 students, were African American, according to federal data, and ALANA students made up about 16% of the student body.
But those students often feel alienated in a culture many feel serves the white majority.
A 2016 student climate survey found that 59% of ALANA students, of which black students made up about a fifth, felt that Edgewood fosters an environment that embraces diversity and inclusion, as opposed to 72% of all students surveyed.
Twenty-six percent of ALANA students felt they've been discriminated against, while 13% of students overall felt that way.
In a survey of faculty and staff that same year, only 44% of ALANA employees felt that racially diverse populations were welcomed at Edgewood, as opposed to 74% of all faculty and staff.
Surveys at UW-Madison also show a troubling tendency for students of color to feel unwelcome.
In 2016, a UW-Madison student survey showed that only half of students of color felt like they belong on the campus, compared with 69% overall.
The survey didn't break out the responses of black students, but it noted that among students of color, black students, who make up about an eighth of the cohort, "were least likely to report a positive climate."
While short on data, Flanagan said that's likely true at Edgewood as well.
"Low sample sizes make it difficult to draw conclusions, but it wouldn't surprise me if African American students felt like they had a different experience," he said.
"That is what we see in Madison," he said. "That's what we hear at UW. It's not an uncommon experience."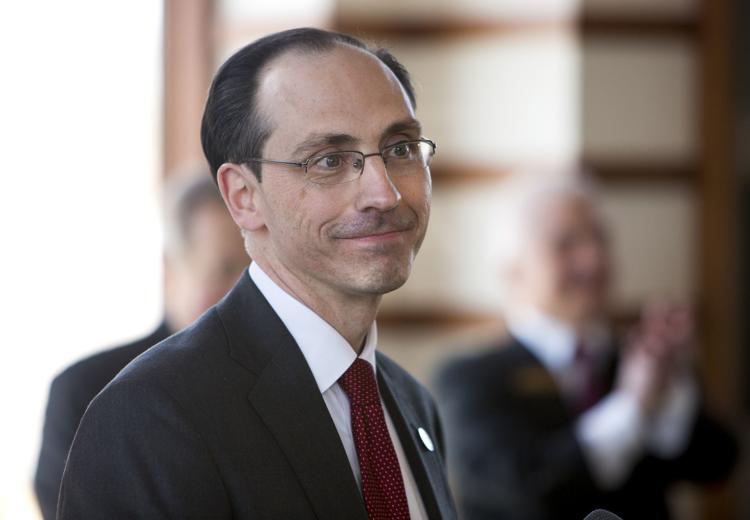 Edgewood has a website dedicated to diversity and inclusion. College officials say the emphasis aligns with the college's teaching and social justice mission. And in an era of declining enrollment, the need to compete for a diverse student body is a financial reality.
On the site, the college vows to "acknowledge and confront inequalities and injustices, including those that negatively impact teaching and learning and those that exist at the institution level."
Several former staff and students say the college's actions don't match the rhetoric.
The African American staffer who left at the beginning of 2016 said her white co-workers were clueless about how to deal with racial issues.
She said she was once approached by a faculty member who wanted to discuss the N-word, which he uttered repeatedly during the conversation.
On another occasion, she said, she attended a diversity and inclusion meeting with students, staff and college leadership where speakers tread lightly when it came to the word "bitch," saying "the B-word" instead, but when the N-word rolled around, "They got to the N-word and used it."
"Not one administrator, president, dean, even the dean of inclusion and diversity, they didn't say a thing," she said.
Former students interviewed for this story focused their complaints on the administration's handling of racist acts.
A black student who was at the student leadership meeting where students used racially offensive language toward Chambers lodged a complaint against the students, but didn't pursue it. According to a document from the college's attorney and supplied to the Cap Times by Chambers, that led to the decision not to refer the students to Edgewood's judicial process.
In a letter to college officials, the student's mother said at least one of the students who made the comments had caused her daughter "some angst" in the past.
She expressed frustration at the decision to allow the students to continue in leadership roles.
"What messages are these young ladies sending to students?" she wrote. "Do they represent the 'learning, belief, and actions' motto that Edgewood prides itself in?"
The student who made the complaint didn't return messages seeking comment, but Chambers said she transferred to UW-Madison the following semester.
Janai Buege-McClain, a black student and resident assistant who graduated in 2018, called Edgewood's environment "not welcoming at all" for black students.
She described one incident in which a poster announcing a rally in honor of Tony Robinson, a biracial teen who was fatally shot by a white Madison police officer in 2015, was defaced and posted outside her room.
During the investigation, she was questioned by two white university officials, one of whom asked her "how I would feel if I was a white person and this was put outside my door."
That official, who is no longer with the college, didn't return a message seeking comment.
"It was me in this room with these two white males and them both thinking that it's OK to ask a person who was just part of a bias incident these sorts of questions," she said.
Eventually, officials tracked down the person who defaced the poster, a student on Buege-McClain's floor.
Discussion about possible sanctions included moving the student out of the building or off campus, but officials thought that was too harsh, she said.
"They ended up just mandating her to move one floor below, and that was just kind of it," she said.
In a letter to the college's Board of Trustees, Buege-McClain, a member of the board's Student Life Committee, said her experiences at Edgewood "have been filled with uncomfortableness, ignorance, and racism."
"Minority students that are involved are used as pawns for photoshoots and panels to show the community and prospective students that we are a college that celebrates diversity, but that isn't the reality," she wrote. "We don't celebrate diversity. We don't engage in meaningful conversation about how minorities function on a predominantly white campus. We aren't attempting to make any strides towards changing our college climate."
She concluded: "From the outside, everything about this institution seemed appealing. Now that I am on the inside, I can honestly say that I will never recommend this institution to another person of color."
Brianna Taylor, also a resident assistant, transferred to UW-Madison after two years, in part because of the racial tensions. She said she got little support from campus security in the wake of racial tensions after the Robinson shooting.
"We started to see students cross out signs that said 'Black Lives Matter' and rip them down off the bulletin boards," she said.
When asked if racial problems were less of a problem at UW-Madison, she said, "I feel like I was better equipped to handle them given that I already had that exposure at Edgewood."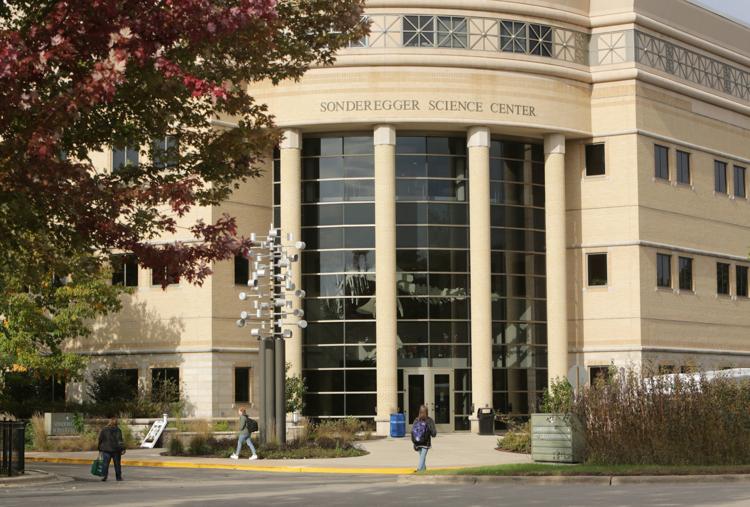 It was about two weeks after the 2016 election when an incident happened that Chambers said "started pushing me toward the door."
Someone posted a sticky note reading "Suck it up, pussies" on the door of the Center for Diversity & Inclusion, where students of color often met for study and activities. A black student who found the note filed a complaint to the diversity and inclusion director and a committee made up of security officials and college administrators determined that it constituted a hate crime under the federal Clery Act, which requires colleges and universities to report crime and security incidents to the U.S. Department of Education. Chambers was not a member of the committee.
The hate crime designation obligated the college to report the incident to the Madison Police Department, which investigated the incident but took no action.
Chambers became the public face of the incident when he prepared a statement to send to faculty, staff and students. In the missive, Chambers called the posting of the note a "targeted act of intimidation and cowardice" that "violated every value that this institution considers to be at its core."
Chambers was mocked by local conservative commentators who portrayed police involvement as runaway political correctness and Chambers' letter as overblown.
Chambers blames talk radio host Vicki McKenna's on-air discussions for fueling a backlash.
 "As a result of her and whoever else, I started getting these threatening calls," he said. "I was getting them and some of the folks on the committee were getting these calls and emails constantly for about a month. It had gotten so bad, they were calling my house, threatening my wife and kids."
Chambers said he asked Flanagan to issue a statement showing that the college backed his response, and that it supported the committee's decision to call the incident a hate crime.
"He told me he wasn't going to do it," Chambers said. "He was not going to make a statement and if we just waited it would go away. Well it didn't go away."
The college's attorney, responding to a complaint Chambers later filed with the state Department of Workforce Development, wrote that Flanagan "simply thought it was a bad idea to issue an out-of-context statement — which might undermine Chambers — and instead thought a more comprehensive communication was a better approach."
Twelve days after Chambers' statement, Flanagan incorporated a statement of support in a newsletter that was circulated among the campus community. Chambers called it "a two-liner hidden in the whole thing. Well, that didn't do it."
He said he continued to get harassing calls.
"It just spun out of control," he said. "The Washington Post did something on it, and the Toronto newspaper did something with it."
Notes from a debriefing of the incident by college officials indicate that others similarly felt that the administration fell short in its support for the staff involved. The notes were taken by Chambers at a meeting of the Incident Review Committee, which reviewed and approved them, he said.
The committee, the notes say, "expressed significant disappointment with the lack of public institutional support for the work of the (incident response) committee on behalf of the College, particularly when the College and particular members of the College came under attack in the media."
Chambers eventually filed a complaint, later dismissed, with the Department of Workforce Development alleging racial harassment and retaliation. Among the incidents he cited was a heated argument with a fellow vice president during which he said the man hovered over his desk and complained about Chambers' "shit-eating grin."
But he said that racism was built into the culture and surfaced in regular interactions.
Melissa Mael was Chambers' executive assistant at Edgewood and served in the same position for Chambers' white predecessor. She noticed a stark difference in the way the two executives were treated by co-workers.
"That was one of the reasons I left Edgewood," she said. "I watched this happen and it totally changed my view of the place. I had worked there for eight years and I was just really disappointed."
Mael, who is white, said there were few incidents that could be attributed to outright racial bias, but there was a pattern of disrespect that consistently played out.
"If you took it one by one, it didn't look like different treatment," she said. "But when you looked at the entire picture, he was definitely treated differently."
Mael didn't attribute Chambers' treatment solely to his race. Rather, it was a combination of his race and his tendency to speak up.
"I think the reason Tony was probably singled out more was because he wasn't afraid" to speak up when he saw instances of racial bias.
"If he was in a meeting he'd be like, 'Whoa, let's hold on a minute. That sounds a little bit like there's some bias there,'" she said. "And there was very much a feeling like, 'Don't rock the boat.'"
Some say that Edgewood merely reflects racial biases that exist within the larger community. Madison and surrounding communities, despite liberal politics, have yet to come to terms with racial disparities, elitism and outright racism.
That's the case at UW-Madison as well, said Charleston.
"There's no way that things that happen in Madison don't affect the campus in some way," she said, "and that racial tensions don't affect the campus in some way."
Chambers agreed that it's not just Edgewood.
"I never saw this in Toronto," he said. "I can say that with clarity. In all the places I've lived, and I've lived in a lot of places, even in the south, I've never experienced it the way I've experienced it here. It happens at the university, it happens in the community, it happens in my neighborhood with my neighbors."
But his experience at Edgewood, he said, was profoundly disturbing.
He spent thousands of dollars on legal representation, filing complaints with the school and with the state, all of which were dismissed.
He considered taking legal action against the school, but found that door had closed. The legal bar for winning bias complaints is considerably higher for people who have resigned than for people who remain on the job, according to civil rights attorney Michael Fox, whom Chambers consulted.
Chambers said he's "at a point now where I'm not upset about it," but he harbors regret.
"I left a tenured professor job," he said, "a lifetime gig, making damn near twice as much money, to come to a job where I was the first and the only senior African American administrator at a small school, because I believed in what they were about — at least in writing."