After taking 2020 off, University of Wisconsin-Madison students resumed the Mifflin Street Block Party tradition last weekend, forming large crowds, damaging property and posing for selfies with Madison police officers, some of whom joined games of beer pong.
Those actions by officers at a Madison rite of spring, which began in 1969 as a protest against the Vietnam War, stand in contrast to their response to last summer's protests against racial injustice, when large crowds also formed and property was damaged.
State Rep. Francesca Hong, D-Madison, was among those who called out the differences this week.
"While cops played ping pong with one group, the other was sprayed with tear gas — that is an unnervingly clear & divisive message," Hong said on Twitter. "It is beyond discouraging to see such a discrepancy in protocol under MPD, and a discrepancy in treatment based on race and class."     
Madison Police spokeswoman Gracia Rodriguez said in a statement Tuesday that three complaints were filed with the MPD and are currently under investigation. As of Tuesday, Rodriguez said the MPD cited a total of 17 people during the block party for reasons including disorderly conduct, violation of glass free zone and open intoxicants on a public street. 
On Tuesday, during a meeting of the Capitol Neighborhoods Executive Council, Police Chief Shon Barnes said he emphasized to officers ahead of the event that the goal was to manage crowds. He also advised officers to engage with partygoers, because those might be the same people they have to later escort out of the event.
"The social distancing was probably our biggest hurdle that we had to manage," said Barnes, who was sworn in as chief in February and was not in the city during last summer's protests. "I think we managed the crowd as best as we could."  
Responding to the vehicle damage, Barnes noted that officers had to wade through a crowd of over 1,000 people and also had to consider that the person on the car could be the owner. Overall, Barnes deemed the event a "success" given the relatively few number of citations, thousands of people in attendance and no custodial arrests.
Ald. Juliana Bennett represents District 8, which encompasses much of the UW-Madison campus and abuts the Mifflin area. She said some of the behaviors she saw taking place at the event were "white people acting irrationally and the police did not take action." Bennett said she feels that the police may have acted differently if the partygoers at Mifflin were predominantly Black or people of color. 
"It really seems wrong, especially for the police to be engaging in the way of playing pong with these people," Bennett said. "It encourages this irrational and unsafe behavior from the very people who are supposed to be enforcing city and county ordinances regarding the pandemic and drinking." 
Ald. Mike Verveer, who has represented the Mifflin area on the City Council since 1995, said he was "taken aback" by the damage caused to the two vehicles and questioned why police officers didn't step in sooner.  
"What did bother me were the images of the police seemingly not intervening in these people standing on top of the cars," said Verveer, who did not attend this year's block party. 
Verveer said he generally thinks it's a positive form of community engagement when police officers are more informally interacting with residents, such as taking selfies with partygoers. But he also recognized the concern from some that police treated the students at Mifflin differently than protesters.
"I can absolutely understand why members of the community, especially the BIPOC community, feel that there is a double standard," Verveer said. 
Protests in response to the police killing of George Floyd in Minneapolis last May lasted several days. Many protests ended without incident, while others included some people damaging property downtown and throughout the city.
Officers, including those from agencies outside of Dane County and the Wisconsin National Guard, used pepper spray and chemical agents and formed long lines and wore protective gear while holding riot shields to contain protesters.   
MPD's response to the protests last summer is currently under review by the Quattrone Center at the University of Pennsylvania law school. MPD spokesperson Tyler Grigg said the report is expected this summer.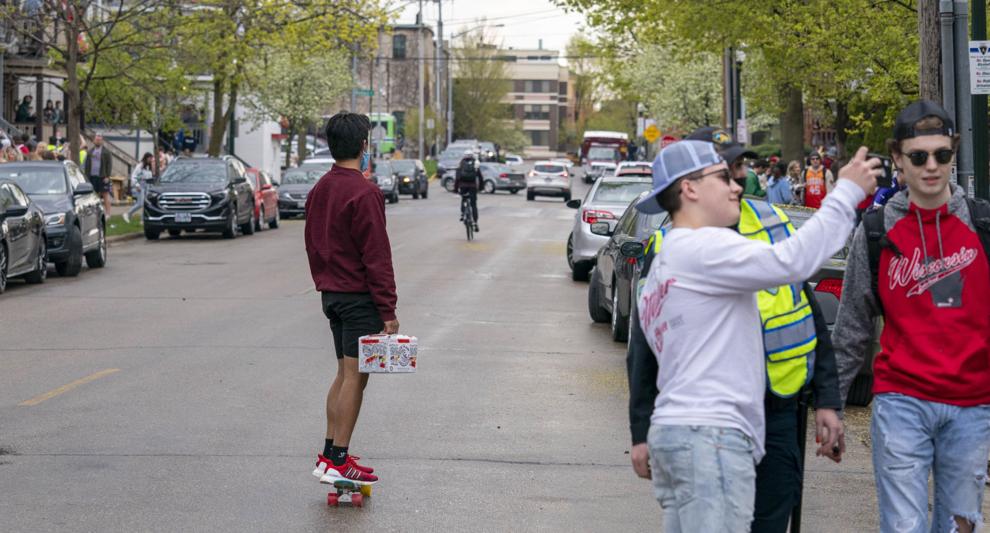 'Glorified tailgate'
For those observing how the police treated both events, the differences are obvious. 
Hong characterized MPD's response to partiers at Mifflin as showing restraint, grace and cooperation and a "testament to law enforcement's capacity & will to de-escalate situations when they want to." 
"Comparatively, peaceful protests urging solidarity with Black lives this summer were met with tear gas and escalation as our community sought reprieve from police brutality," Hong said. 
The UW BIPOC Coalition criticized the block party and an environment in which they saw behavior such as property damage met with inaction by police officers. 
"Name something more Madison than Mifflin Street Block Party, which started out as an anti-Vietnam war / anti-police protest, becoming a place where white students are able to commit crimes in public & play drinking games with the same officers that brutalize black & brown folks," the group said on Twitter.
Madison's new Civilian Oversight Board, which is still in the process of setting up, could proactively take up a review of the MPD's handling of Mifflin. Board members are currently going through training and have not yet hired an independent monitor.
Pandemic concerns 
The BIPOC Coalition called out their fellow students for gathering in large crowds during a pandemic, saying in a tweet that partiers put the Madison community at risk for a "glorified tailgate.' 
Public Health Madison & Dane County communications coordinator Morgan Finke said in an email the department hopes there is no spike in COVID-19 infections as a result of the block party. 
For some Madison residents, watching students gather after spending months following public health rules feels like an insult to sacrifices and careful behavior.  Finke said the department asks everyone to continue to follow public health orders to keep the community safe. 
"In a pandemic, we all depend on each other to prevent the spread of disease, so feeling this way is understandable," Finke said. "We know that it has been a long road, but as we begin to see a light at the end of the tunnel, now is not the time to lose sight of why we take these precautions; to protect ourselves and our loved ones."
Share your opinion on this topic by sending a letter to the editor to tctvoice@madison.com. Include your full name, hometown and phone number. Your name and town will be published. The phone number is for verification purposes only. Please keep your letter to 250 words or less.