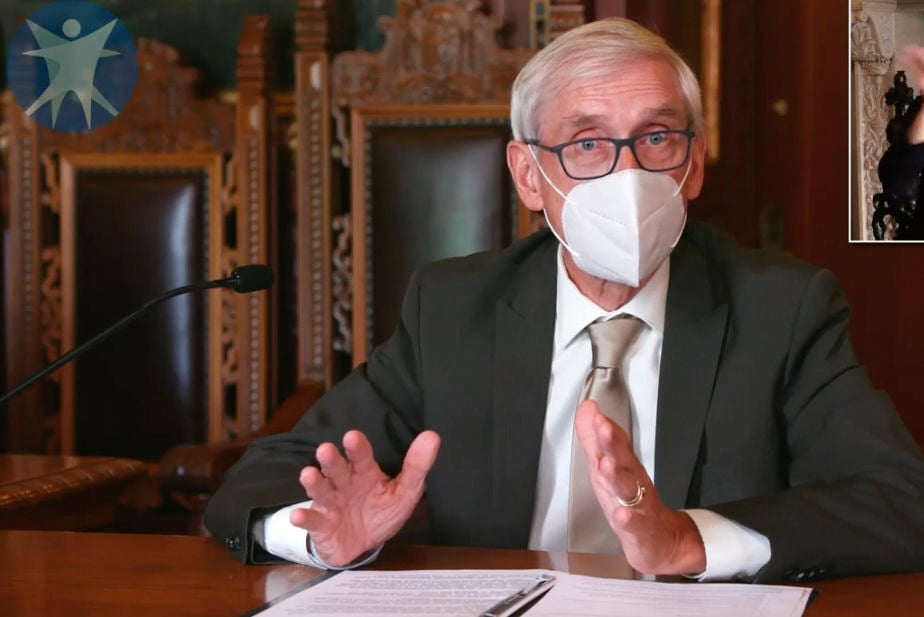 As COVID-19 case numbers and deaths continue to soar, Gov. Tony Evers and his health secretary issued an order Thursday authorizing understaffed hospitals to accept health care providers from out of state without Wisconsin licensing.
On Thursday, with 2,887 new cases, the state broke a record for the second time in a week. The previous record was reported Saturday, when 2,817 cases were reported, though health officials believe the number of cases reported could be the "tip of the iceberg" of actual cases.
The situation has decimated staff numbers as increasing numbers of front-line workers are infected or are under quarantine because they've had contact with others who have been.
Dr. Imran Andrabi, the president and CEO of ThetaCare, which operates eight hospitals in northeastern Wisconsin, said the number of COVID-19 patients has increased from 13 to 64 in the past four weeks, and hospitals are at 95% capacity.
"Two hundred fifty of my workers today, our ThetaCare team members, did not show up for work," he said. "And it is not because they are getting infected at work."
Andrabi said doctors, nurses and other providers at his hospitals are getting infected because people in the community are not masking up.
"If everybody's not masking, you get infected or you get exposed to something in the community," he said.
Northeast Wisconsin, dotted with rural communities where masking and social distancing has been loosely practiced, has been hit hard by the surge, helping to drive the state seven-day average for infections to a record 2,405, up from 727 a month ago.
Also Thursday, another 21 people died from the virus, short of the record 27 reported deaths on Wednesday, but still the third highest tally since the pandemic began in March. So far, 1,348 people in Wisconsin have died.
Officials fear that the dire scenarios anticipated at the beginning of the pandemic of an overwhelmed health care system are beginning to be realized in some parts of the state, prompting Thursday's order.
"Because of the increasing magnitude of the COVID-19 pandemic in Wisconsin, there may soon be too little space and too few healthcare professionals to treat everyone who needs medical care," the order states.
According to the Wisconsin Hospital Association, the state saw a record number of hospitalizations due to COVID-19 on Wednesday with 683 patients reported. That number dropped to 669 on Thursday, but the number of people under intensive care set a record at 208.
Officials said this week that if the spread of cases continues on its present course they may have to open the alternative care facility at the Wisconsin State Fair Park — which has remained idle since its construction in April — to handle patients that hospitals can't accommodate.
The executive order, released early Thursday afternoon, notes hospital rates in state hot spots.
• In the north central region, the number of people hospitalized with COVID-19 has tripled in the past two weeks. Ninety-four patients are currently hospitalized, 38 of them in intensive care. Four of 17 hospitals report critical staffing shortages.
• In the northeast region, the number of patients has increase by 2.5 times, with 113 patients hospitalized and 38 of them in intensive care. Three of 10 hospitals report critical staffing shortages.
• In the Fox Valley, the number of patients has doubled, with 112 people hospitalized and 38 of them in intensive care. Three of 13 hospitals reported critical staffing shortages.
Health officials said Thursday that all of Wisconsin's 72 counties have reported high virus transmission rates, and 45 counties have a recently added designation of "very high," exceeding the threshold of 350 cases per 100,000 people.
Forty-one counties are seeing a growing trajectory, which health Secretary Andrea Palm said means that cases are "on the rise."
"Wisconsin as a whole is also at a very high activity level and a growing trajectory of cases," she said.
The number of infected 18- to 24-year-olds — which drove a surge at the beginning of September with the start of the fall college semester — continued its decline Thursday, while the numbers in all other age groups continued to increase.
In the midst of the surging cases, President Donald Trump had announced plans to hold rallies Saturday in Green Bay and La Crosse, both seeing some of the state's highest COVID-19 numbers. On Thursday, his campaign announced that the president was skipping La Crosse and heading to Janesville instead, where the increases are not so sharp.
Trump has come under fire for continuing to hold rallies where COVID-19 cases are surging, with those in attendance practicing little social distancing and few wearing masks.
"If he has decided not to come to La Crosse I appreciate that," said Evers, who hadn't yet heard about the Janesville event. "It's important timing. And hopefully he'll reach the same conclusion about Green Bay.
During a press update Thursday, Evers made a personal appeal to Trump.
"Please insist that people wear a mask," he said. "And don't allow them into your rally unless they have a mask and they continue to wear a mask."
Evers renewed his appeal to the public to mask up, maintain social distancing and, whenever possible, stay at home.
"We need to have compliance," he said. "We know this is around individual responsibility and individual freedom and all that. I've heard it. I've heard it for months and months and months. At the end of the day, we don't want people to die."
He also again expressed exasperation with Republican legislative leaders, who have pushed back against Evers' attempts to mitigate the spread.
"I don't anticipate the Republicans rushing in to provide assistance to us," he said.
In April, the state Supreme Court's conservative majority struck down his "safer at home" order, and the justices are now deciding a lawsuit challenging the governor's mask order, which has been extended through November.
"God bless 'em," he said of the justices. "They're doing what they think is right. I think they're wrong."
Get Election 2020 & Politics updates in your inbox!
Keep up on the latest in national and local politics as Election 2020 comes into focus.