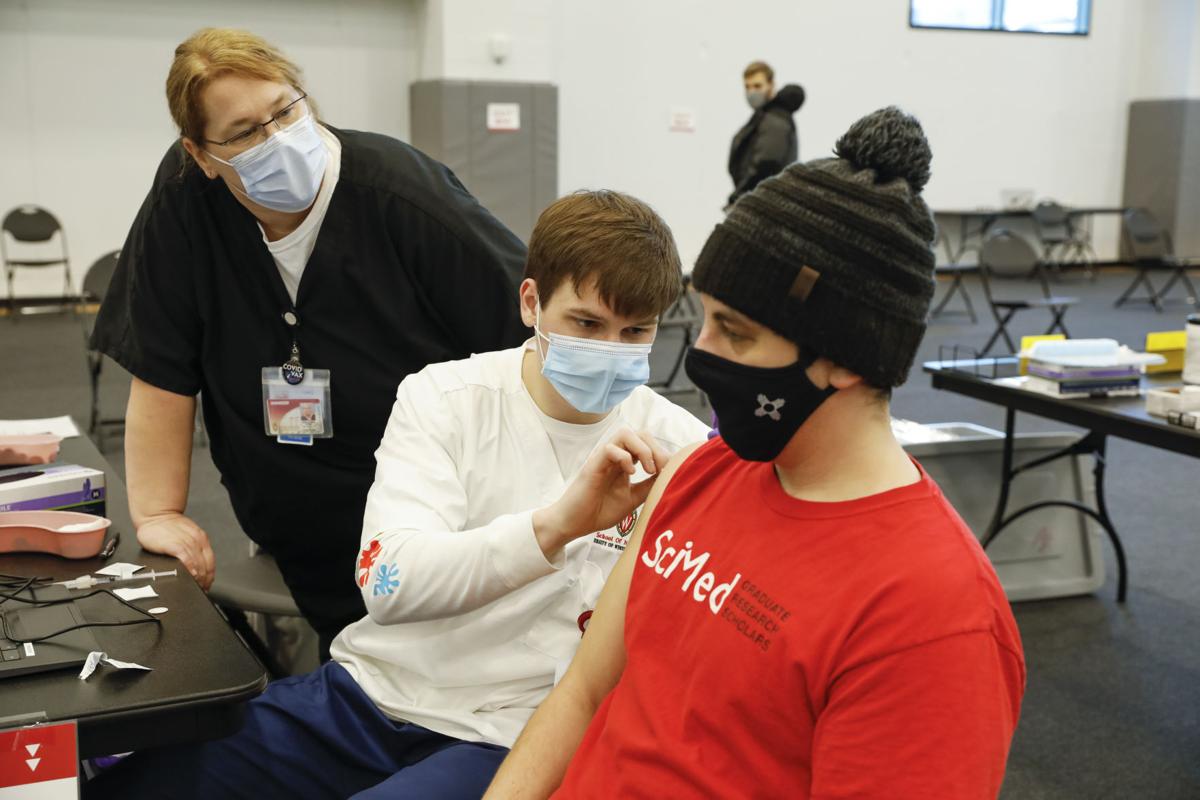 The University of Wisconsin-Madison campus is seeing a dramatic spike in COVID-19 cases at the same time a fast-spreading variant has emerged in the Dane County.
It wasn't clear on Friday if the variant, known as B117, was found on campus, but the increase in people on the UW-Madison campus testing positive for the coronavirus makes up the bulk of cases reported countywide.
News of the spike comes a day after UW System interim President Tommy Thompson announced a goal of 75% in-person classes in the fall.
On Tuesday, UW-Madison reported 112 cases, near doubling highest number so far this year, and on Wednesday the university reported 99 more cases.
"Equally concerning, contact tracing suggests that many of the students who have tested positive had attended gatherings, sometimes without wearing masks," wrote university health services director Jake Baggott in a memo to students Friday.
He said the emergence of the variant makes following health guidelines even more urgent.
"If you test positive, please isolate immediately and follow all public health guidelines," he wrote. "If you're identified as a close contact, please protect the rest of the community by following quarantine instructions."
More stringent protocols have on-campus students testing twice a week since the start of the semester, and until this week number of new COVID-19 cases have been relatively low.
In response to this week's spike, students in some residence halls are required to undergo testing every other day.
"While we hope additional action will not be required, we are preparing to take additional steps, if necessary," Baggott wrote to students. "These may include: limiting access to or temporarily closing recreation facilities, placing residence halls under quarantine, increasing testing frequency for students off campus, and directing students to stay at home except for attending class and work."
Those measures evoke the start of the fall semester when the university quarantined Witte and Sellery halls, two of the largest residence halls on the southeast corner of campus, after more than 1,000 cases were reported in the first week of classes.
Thompson on Thursday directed UW campuses to offer 75% of classes in-person or hybrid next fall.
"I want students to come back and enjoy their college years," Thompson told reporters on Thursday. "It's been tough on the students this year. I want to make sure we get back to as close to normal as possible."
UW-Madison this semester is holding 82% of classes completely online, according to the UW System.
While vaccinations are expected to be available to everyone by the end of the summer, worrisome variants have added urgency to the effort.
The B117 strain found in Dane County is the sixth case in the state, but health officials warn that the variant is spreading undetected through the state. Labs in the state are testing under 1% of all positive cases in the state for variants, and a UW-Madison lab is testing 5% of Dane County cases.
Studies indicate that the new variant, first discovered in the U.K. late last year, is up to 50% more contagious than previous strains, and a British study suggest that it could be 35% more deadly.
As of Friday, 1,523 cases of the variant had been reported in 42 states, although that data doesn't include Wisconsin's latest case and may be incomplete. 
Other variants from South Africa and Brazil have yet to be detected in the state. 
UW-Madison has also reported that some students have been reinfected with the COVID-19 virus.
University spokeswoman Meredith Mcglone said this week she didn't have specific numbers for students who have been reinfected. People are considered potentially reinfected if they test positive 90 or more days after a previous positive test. Those cases are not listed as confirmed, however, because confirmation would require genomic sequencing, which is performed on a small percentage of cases.
Dane County currently lists 126 cases as "suspect" for reinfection, but Kat Grande, head of Public Health Madison & Dane County's COVID-19 data team, said the agency is reviewing those cases and that number is likely to be lower.
Reinfections are still relatively rare, according to the Centers for Disease Control and Prevention, but they are becoming more common as the natural immunity from contracting COVID-19 wears off. While it's unclear how long natural immunity lasts, health experts say infected people may be protected for six months or more.