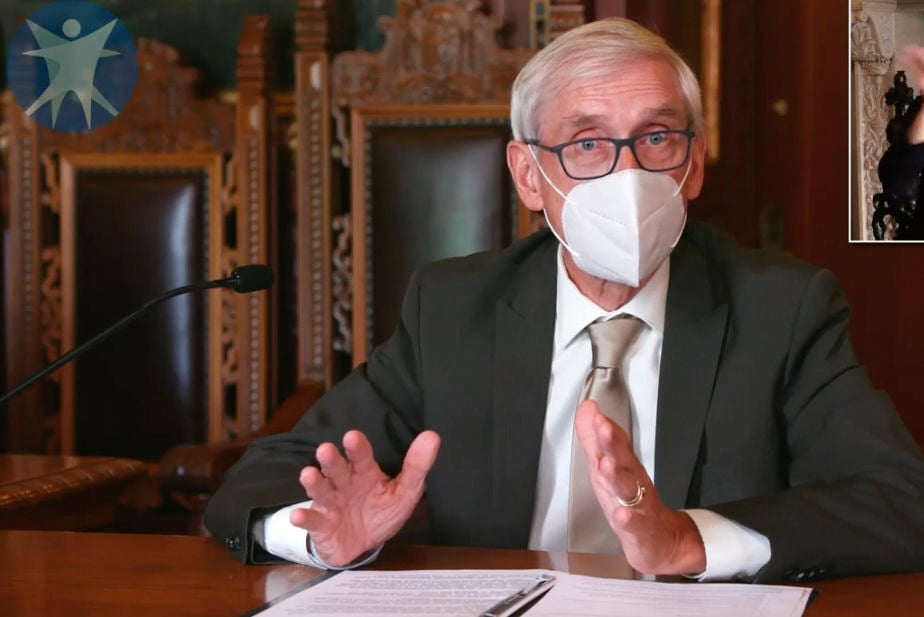 Wisconsin's statewide mask mandate might be in jeopardy after a conservative firm took aim at the legality of Gov. Tony Evers' underlying public health declaration in a lawsuit Tuesday. 
The Democratic executive's second state of emergency order is the basis for the new directive requiring that face coverings be worn in indoor spaces outside of one's private residence. The push, which went into effect Aug. 1, was the administration's first broad effort to combat the novel coronavirus pandemic since the Wisconsin Supreme Court struck down the Democrat's extended stay-at-home order in May. 
Though Evers' order cited "a new and concerning spike in infections" from recent data as the basis for its issuance, officials from the Wisconsin Institute for Law & Liberty argued in a lawsuit filed in Polk County Circuit Court that the directive arose from the same public health crisis Evers sought to address this spring.
That means, the complaint said, the latest order amounts to a unilateral extension of his original state of emergency, which is "unlawful." 
"This lawsuit is not about whether masks are good or bad, or whether Wisconsin ought to do more, or less, to address COVID-19," WILL head Rick Esenberg said in a statement. "It isn't even about whether the state should have a mask mandate. This lawsuit is about our system of government and the rule of law. Governor Evers cannot seize these time-limited emergency powers more than once without legislative approval."
Evers spokeswoman Britt Cudaback in a statement slammed Republicans for aiming to prevent moves to bolster the health and safety of Wisconsinites. 
"From safer at home to the April election and now masks, they've filed more lawsuits than they have passed bills during this pandemic," she added. "We know requiring masks and face coverings will help us save lives, and Gov. Evers will continue listening to science and public health experts in making the best decisions for the people of our state."
The underlying public health order and basis for the mask mandate, the complaint noted, could likely serve as a way to "issue any number of additional measures … including travel bans, lockdowns and the closing of businesses, churches and outdoor gatherings," though Evers has not issued any follow-up mandates in the nearly four weeks since this went into effect. 
Under the mask order, individuals over age 5 must wear face coverings indoors outside of their private residence and in spaces where people congregate, such as outdoor bars and restaurants, taxis and more, when around individuals outside of a person's immediate family, with a few exceptions.
Public health emergency orders are limited to 60 days unless they're extended by a legislative joint resolution. Evers on March 12 initially issued an emergency order, which was set to expire on May 11. A safer-at-home order, originally set to expire April 24, was extended by the administration until May 26. It was later struck down by the Wisconsin Supreme Court prior to its expiration. 
The complaint argued that because the original declaration hadn't been lengthened by the Legislature, promulgated as an administrative rule during a process involving the Legislature and state agencies or placed within the powers or local governments as designated by state statute, "Evers has no constitutional or statutory basis to continue to declare or exercise emergency powers related to COVID-19." 
Evers' new order is set to expire Sept. 28, unless it's revoked by the governor or a joint resolution of the Legislature. 
Even if a judge were to find Evers acted lawfully, the complaint asks the court to determine the underlying state statute that allowed him to declare a new state of emergency be classified as "an unconstitutional delegation of legislative powers to the executive." 
Though Senate GOP leadership immediately threatened to convene to block the mask mandate after it was announced at the end of July, the Legislature hasn't returned to act on it. 
Bringing this week's challenge are three Polk County residents (Derek Lindoo, Brandon Widiker and John Kraft), who the complaint notes are all required to follow the mask mandate and any subsequent orders from the governor stemming from his public health declaration.  
The suit noted the trio were compelled to wear a mask when they would otherwise choose not to as the state spent taxpayer dollars "to promulgate and defend [Evers'] unlawful mask mandate" as well as deploy National Guard troops. 
It doesn't appear that the suit would affect existing local mask orders, which counties and cities initially put in place earlier this summer. 
That includes Public Health Madison & Dane County, which issued its own county-wide mask order in July with stricter requirements than the later state mandate, all of which remain in effect. 
Share your opinion on this topic by sending a letter to the editor to tctvoice@madison.com. Include your full name, hometown and phone number. Your name and town will be published. The phone number is for verification purposes only. Please keep your letter to 250 words or less.
Get Election 2020 & Politics updates in your inbox!
Keep up on the latest in national and local politics as Election 2020 comes into focus.