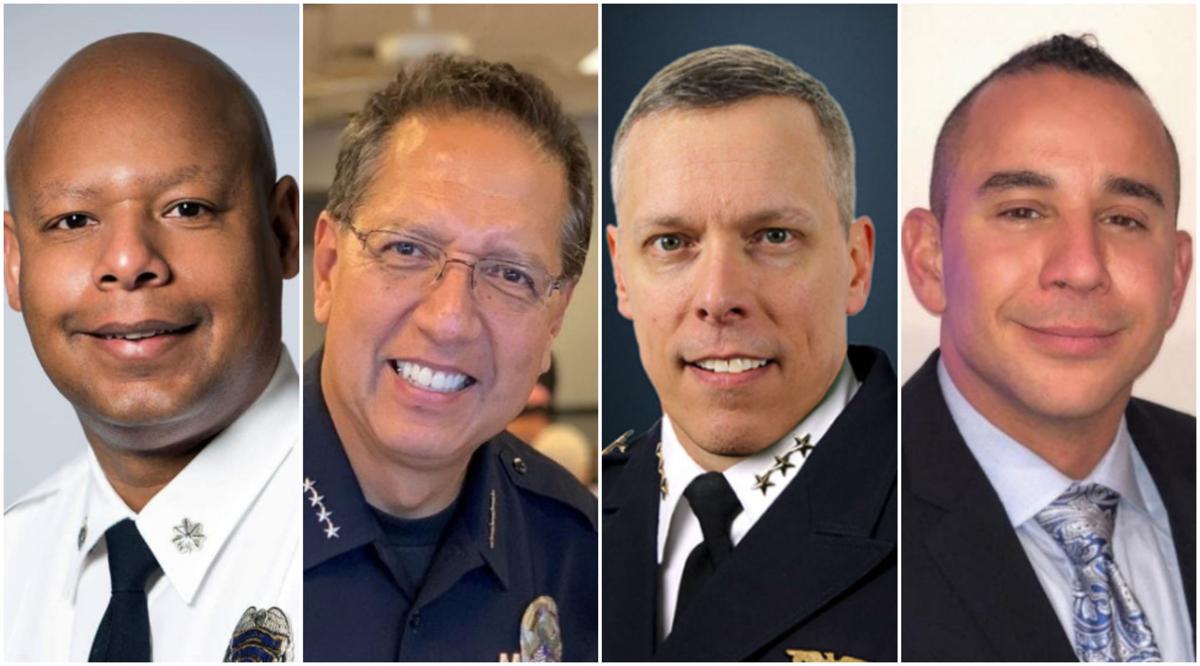 Ramon Batista, a former police chief from Arizona, rose to the top as a favored candidate for the permanent Madison police chief position among members of the public who spoke at Wednesday's Police and Fire Commission meeting.
But those who spoke also decried the process for selecting a new Madison Police Department leader as difficult to navigate, excluding the community members the new police chief will be serving.
The process did not include a way for community members to directly engage with the four police chief candidates, which also include Shon Barnes, Christopher Davis and Larry Scirotto. Earlier Wednesday, the PFC released pre-recorded interviews with each of the candidates answering questions that were informed using community input gathered earlier in the process.
"This is not the way in which Madison is supposed to be functioning," said Shadayra Kilfoy Flores, recently elected vice chair of Madison's Police Civilian Oversight Board. "The PFC is not listening to the community to have done this behind closed doors, for there to be absolutely no community interaction with these potential chiefs of police who will not only be in charge of our safety, who will also be in charge of trying to establish trust, trying to establish healing in this community."
Past methods of collecting input included listening to speakers at meetings, conducting a community survey via mail and email and partnering with the Local Voices Network. LVN, a national community-listening effort to bring underrepresented voices to the public sphere, hosted seven public conversations specifically focused on the PFC's search for a police chief.
Several speakers also noted that the process to register to speak at a PFC meeting is less straightforward than at other city meetings.
"If you want to morally do your duty to the public, I say you scrap this whole thing and restart," Alex Wilburn said.
After the public comment portion of the meeting Wednesday, commissioners entered a closed session to discuss the final candidates. The PFC is scheduled to meet again Dec. 14 at 5:30 p.m. and is scheduled to again hear from members of the public.
Those who favored Batista as Madison's next police chief cited his fluency in Spanish as a benefit to connecting with the Latinx community and a history of implementing reforms within police departments.
Batista was most recently the chief of police in Mesa, Arizona, a suburb of Phoenix with a population of over 500,000. He left the post suddenly in November 2019, according to The Arizona Republic.
He was the third Mesa police chief in the past nine years, and the newspaper reported his tenure was marked by a by a high-profile murder trial, a vote of no confidence from the police union and numerous excessive force cases.
According to The Arizona Republic, Batista quickly made changes, including training officers in use-of-force and de-escalation techniques, to create a different culture in the department and rebuild trust with the community. Under Batista, the department also saw its lowest violent crime rates ever reported since tracking began in the 1970s, according to the paper.
Batista publicly condemned multiple Mesa officers involved in two use-of-force incidents, which led to some wavering support among officers, according to the newspaper.
In addition to Batista, Barnes also received support from some speakers. Barnes, a retired deputy chief of police from North Carolina, currently works as the director of training and professional development for the Civilian Office of Police Accountability in Chicago
"Both appear to have a heart, which is needed in policing here," said Greg Gelembiuk, who was a member of the Madison Police Department Policy & Procedure Review Ad Hoc Committee.
Other speakers pointed to the inclusion of Christopher Davis, the current deputy chief in Portland, Oregon, as an example that the PFC is not adequately listening to the community. Davis oversaw day-to-day operations during a summer where his department clashed with protesters demonstrating against racial injustice.
Scirotto, the fourth candidate, retired as assistant chief of the Pittsburgh Bureau of Police in 2018.
Share your opinion on this topic by sending a letter to the editor to tctvoice@madison.com. Include your full name, hometown and phone number. Your name and town will be published. The phone number is for verification purposes only. Please keep your letter to 250 words or less.