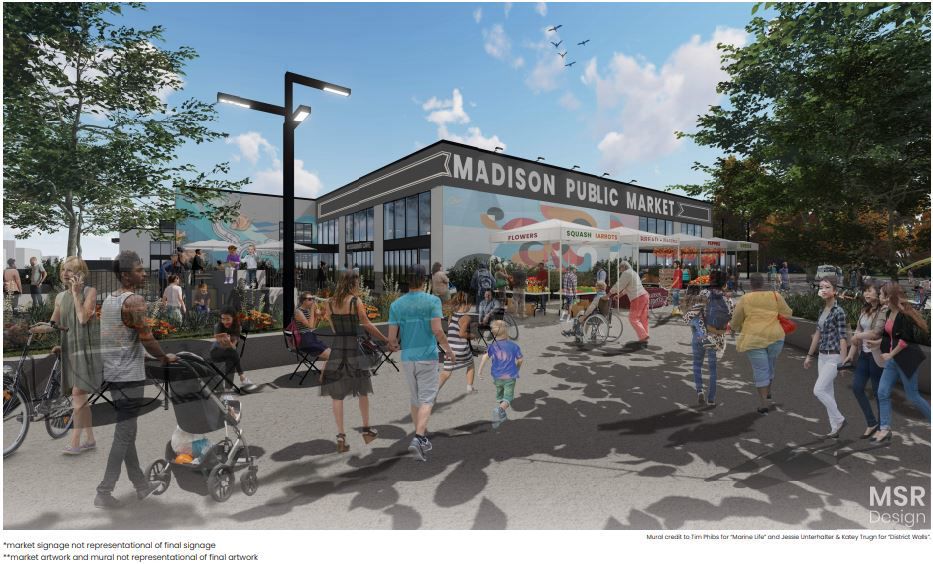 For the first time, officials on Thursday shared designs for the years-in-the-making Madison Public Market that is slated to open on the east side in 2021.
The market will be located in what has been the 45,000-square-foot Fleet Services garage at 200 N. First St., which is owned by the city. The space presents unique challenges and opportunities for a public market. While designers have to work around an on-site fueling station for city vehicles, it also features multiple garage door openings that can be used to blend indoor and outdoor space.
"We have the honor of bringing physical life to all of the dreams and all of the thoughts and all of the brainstorming that has been happening," Traci Lesneski, principal at MSR Design, said.
Lesneski said the focus is on the public market itself and the diverse group of entrepreneurs who are expected to offer fresh produce, culturally diverse prepared food, and locally made food and arts and crafts products.
"We want the architecture to be quite quiet visually, so that the market itself is what you see and notice," Lesneski said.
The market will span two floors, with the upper level featuring a mezzanine area overlooking the main floor. There will be gender inclusive bathrooms on both floors and a children's activity area on the second. A number of outdoor plazas and opportunities for public art would also be available on site. 
The interior will feature modular and flexible vending areas. As currently envisioned, there are spaces for about 30 vending spots, but that can change depending on the space required by the vendors.
"This is really going to give the vendors an opportunity to create their own space," Jamaal Stricklin, Madison Public Foundation Board president, said.
Designers thought carefully about the width of aisles and how market visitors might use the space, from slowly browsing to gathering groceries quickly.
"We've got ample space for people to browse and circulate or have a plate of food and other space for people to move," Lesneski said.
Main entryways would be located along Johnson and First streets. From these areas, patrons would encounter the entry and main halls. A large hall is located on the south end of the building and could be used for banquets and other large events.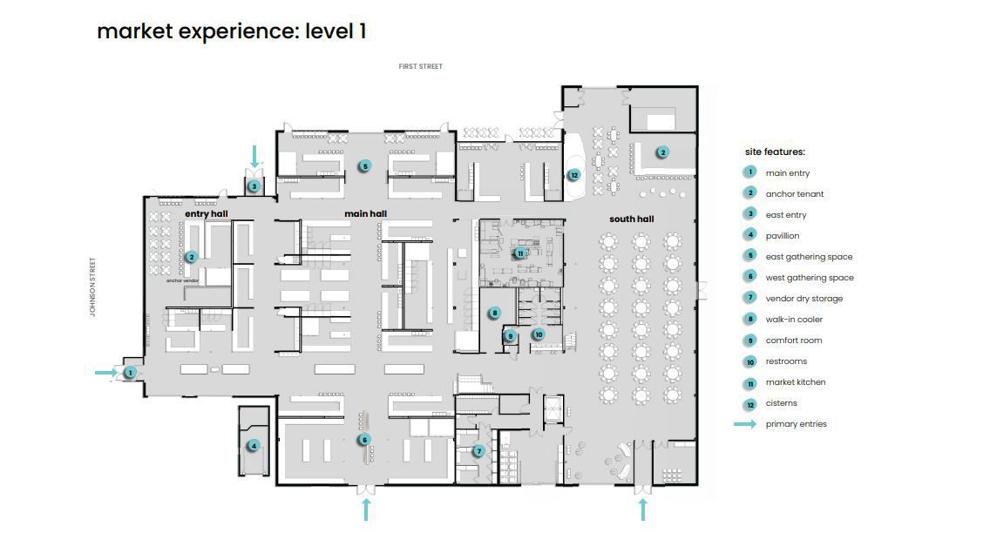 Plans call for ample parking, for both bikes and cars, as well as a ride-share drop-off area. Balancing the likely increase of traffic is a concern for neighbors like Terri Pepper, who lives three houses away from the site of the market.
"I was happy to see they were planning for ample parking along the East Washington side because First Street is already congested," Pepper said.
Lesneski said there are 110 parking spaces planned on the western part of the property.
Chris Heaton, a member of the Emerson East Neighborhood Association Board, was impressed with the designs but is also concerned with traffic flow.
"One of our main concerns would be how this public market interacts with First Street and Johnson," Heaton said.
The market is also expected to feature sustainable initiatives, like rainwater cisterns and a composting program. 
Dan Kennelly, manager of the city's Office of Business Resources, said design plans are expected to be complete in mid-October. At that time, the work will move toward more detailed construction documents.
City officials and community members have been discussing the opportunities a public market could bring to the city for more than a decade. The possible location has changed from a parking lot near the Capitol on East Washington Avenue to the future Judge Doyle Square development and now to its current location in the current Fleet Services building.
The city originally eyed the Fleet Services building in 2014-15 before shifting to a potential opportunity at the Washington Square shopping plaza next to the garage. Plans reverted to the Fleet Services building last year.
"The neighborhood has been waiting with bated breath for this to succeed," Heaton said.
Fleet Services will move to a new location at 4151 Nakoosa Trail when the new construction is complete next year.
City and community leaders hope the public market will be a destination location that anchors the entrance to Madison's downtown via the East Washington Avenue Capitol East Corridor.
"One of the best things about this town is there are so many different types of people in the city," Stricklin said. "What we really lack is a place for all of those types of people to get together on a regular basis."
Like Stricklin hopes the Madison Public Market will fulfill that need, Ald. Syed Abbas, District 12, also envisions the space as a place for people to come together.
"Food is a source to bring everyone together," Abbas said. "This project is extremely important — extremely, extremely important — to move forward because this project brings love, peace, equity and opportunity for all people."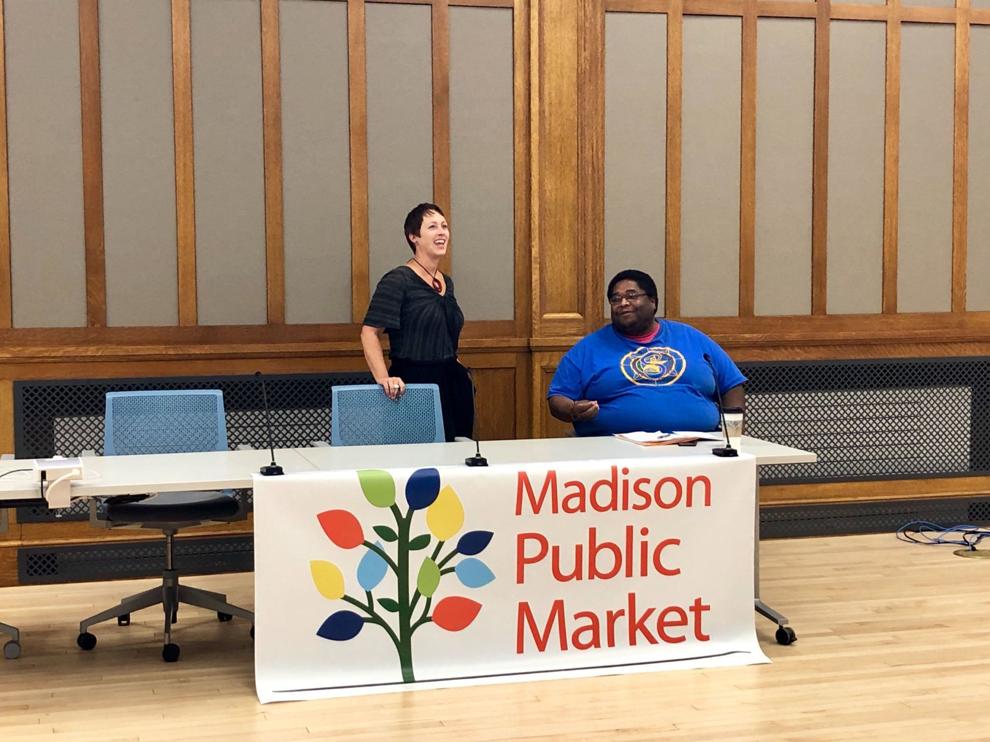 The public market is a $13 million endeavor and will be funded with a mix of city dollars and through fundraising by the Madison Public Market Foundation, a nonprofit organization that is leading the capital campaign and will ultimately run the market.
The foundation was expected to raise $2.5 million, designated for the building project, and $1.5 million to be used for future market operations. To date, Stricklin said the foundation has raised $1.1 million.
However, Mayor Satya Rhodes-Conway proposed shifting how the project is funded in her 2020 Capital Budget proposal.
Her budget would transfer the $7.5 million local funding share to revenue from the tax increment district that runs along East Washington Avenue. It also calls on the Madison Public Market Foundation to raise an additional $500,000 to complete the project.
Kennelly said he thinks the proposed funding strategy will be successful and appreciated the mayor's financial support of the project.
Stricklin is glad the project is "still alive."
"This is an economic development opportunity. This is going to lift up the least of us," Stricklin said. "I'm glad she was able to see that and keeps that funding in there."
The market also anticipates receiving $3 million through a tax credit program. State and federal grants and tax increment financing may also support a part of project costs.
Share your opinion on this topic by sending a letter to the editor to tctvoice@madison.com. Include your full name, hometown and phone number. Your name and town will be published. The phone number is for verification purposes only. Please keep your letter to 250 words or less.