As the city reimagines the future of James Madison Park, city staff have offered two alternative proposals for parking in the popular downtown lakefront park.
Dozens of neighbors and residents weighed in after the city released the draft master plan with concerns that the proposed parking would be obtrusive, block lake views and reduce green space.
"I do not believe additional parking will service the community and it will diminish the beauty, trees and green space that James Madison provides," Emily Yslas said in an email to the Parks Division.
Overall, the master plan focuses on significant improvements to the current park shelter and shoreline and relocates the basketball and volleyball courts.
The draft plan currently includes replacing a 26-stall parking lot behind the Gates of Heaven synagogue on the west side of the park with a lot located closer to the center of the park with the same number of spaces running along East Gorham Street. It also retains an existing eight-stall parking lot on Blount Street.
Under the proposed alternatives, the city would maintain the 34 total parking spaces in different configurations.   
"We're looking primarily at view preservation, preserving green space and tree preservation," said Sarah Lerner, city of Madison landscape architect and project manager.
Both options remove the parking between the Gates of Heaven entrance and Franklin Street to provide several hundred feet of uninterrupted green space along East Gorham. They also reconfigure the existing Gates of Heaven lot to improve sight lines into the park and reduce turnaround congestion.
The first option would keep 12 spaces behind Gates of Heaven, move 14 spaces along East Gorham Street to serve the new centrally located park shelter and maintain the existing eight spaces at Blount Street.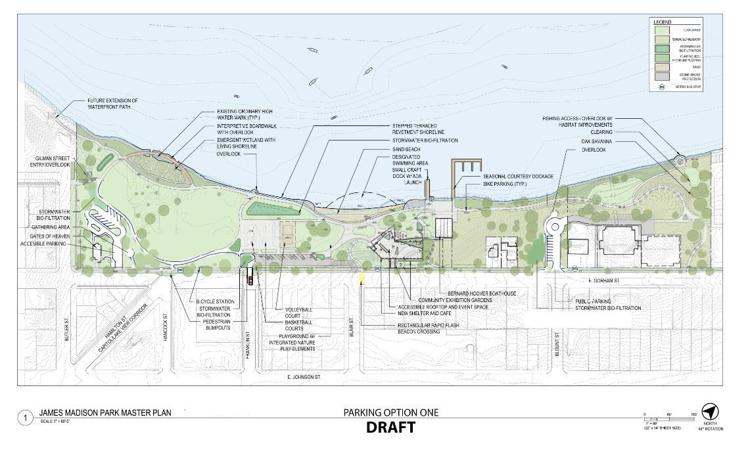 The second option would keep 14 spaces behind Gates of Heaven, have only eight spaces along East Gorham Street and 12 spaces at the Blount Street lot.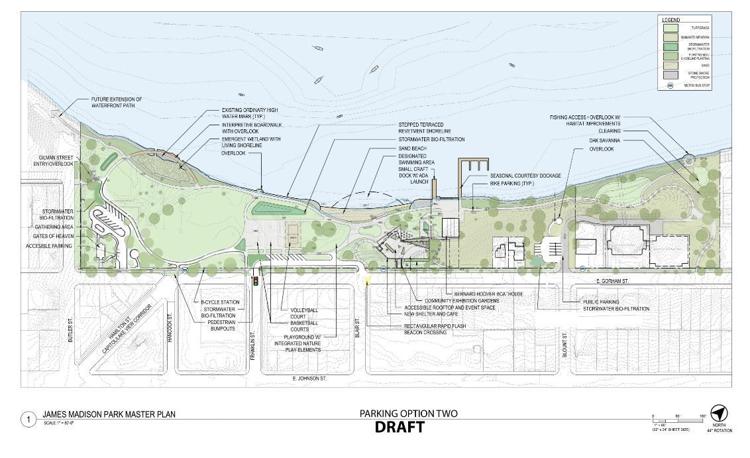 Master plans are guiding documents and any implementation of the plan would require separate approvals, Lerner said. 
The Board of Park Commissioners will consider the alternate proposals in February.