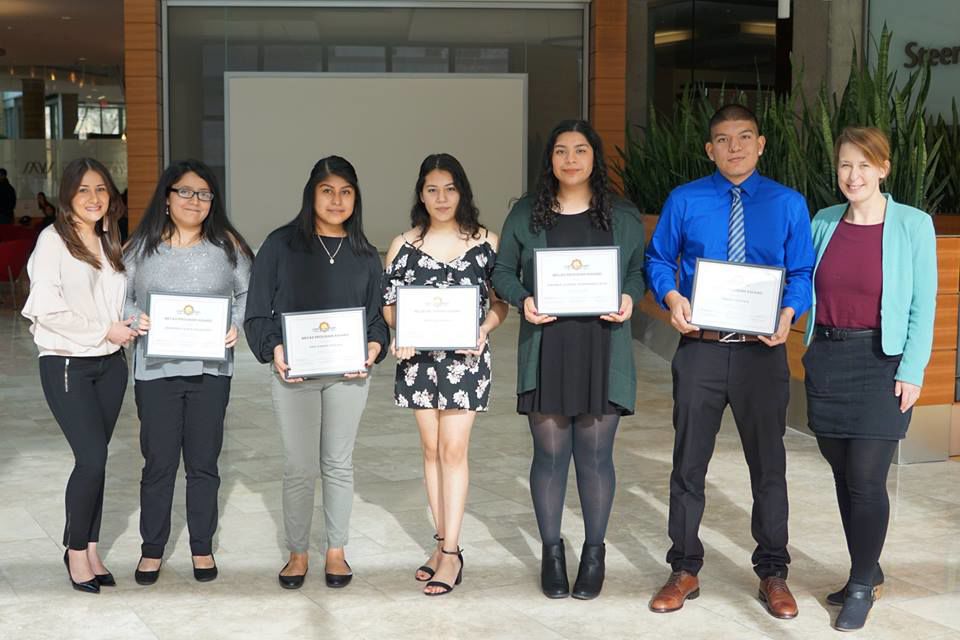 Yamilet Brito is a high school senior working to be the first in her family to attend college when she enrolls at Edgewood College next year. Angeles Flores Ruiz is a first generation high school student and hopes to move on to the University of Wisconsin-Madison.
Brito and Flores Ruiz represent just two of eight students for whom higher education will become a reality on Saturday during a luncheon to celebrate Centro Hispano's Becas Scholarship Program.
During the luncheon, five students, including Jonatan Hugo Garcia-Morales, Erika Aracely Portillo, Samir Soberon-Chehade, Brito and Flores Ruiz will receive scholarships to attend colleges of their choice. All of the high school students were involved in programming at Madison's Centro Hispano, most notably the Escalera Program which provides tutoring, career workshops, guest speakers, resume building workshops, ACT/SAT prep and summer internships. Escalera also has STEM and scholarship components.
Three current college students will also receive scholarships for continued education. Gilberto Osuna-Leon, a senior at UW-Madison who works as a youth facilitator for (RE)Generation at Centro Hispano, Alondra Quechol-Ramirez, a DACAmented student at UW-Milwaukee, and Pedro Zepeda, who is enrolled at Madison College, will all receive scholarships.
The Becas luncheon will take place at the Discovery Building on the UW-Madison campus. Each of the recipients will have their own host table for up to eight people and there will be approximately 200 other guests in attendance.
"Each scholar gets a full table for their family and friends so they can celebrate," said Nina Gehan, director of development and communications at Centro Hispano. "We were really intentional about hosting the awards on the UW campus because a lot of the time the youth and families don't get to be on campus. So we're trying to break those boundaries. I just think it is such a special moment for the students and their families and I think it is an important investment people are making."
The scholarship program has been in existence at Centro Hispano for over 20 years. But Gehan said that the organization reformed the way the program ran in 2017 and formed a committee that would expand the financial reach of the scholarships.
"In the last couple of years we established the Becas program," Gehan said. "It didn't have a name before. We established a committee in 2017 and we've been able to increase the amounts we give for scholarships. In 2017 we gave $20,000 and last year we did $40,000 and this year it is $47,000. Back in 2016 we were at like $5,000."
Rosemary U'Ren chairs the Becas Committee which also includes Julia Arata Fratta, Elizabeth Garcia-Hall, Maria Muniagurria, Alex Ysquierdo and Gehan.
"What's unique about Becas is we made a commitment that 100% of the money goes to the scholars. For the college recipients, we make a pledge to stay with them until they finish their degree. Pedro Zepeda was one of our high school awardees and he's now one of our college recipients as well and it's exciting to see him as he transitions. He embraced the opportunity. He really worked hard but also struggled and it's a beautiful thing to watch him grow. Alondra Quechol-Ramirez was a co-facilitator for our youth group and she is a trailblazer. She's the youngest woman to be awarded as a woman of distinction from the YWCA. She's attending UW-Milwaukee and she's a shining star."
The luncheon will open with remarks from Centro Hispano executive director Karen Menendez Coller and will be followed by youths talking about the impact of the award on their lives.