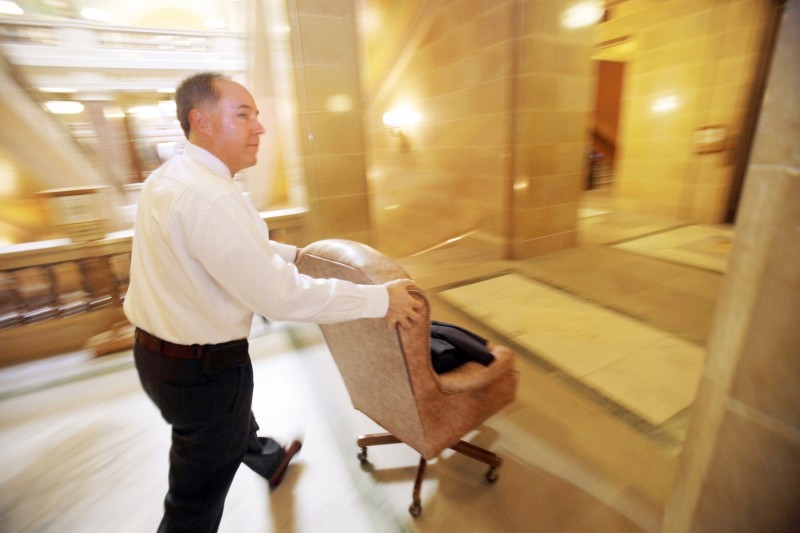 Offices in the Capitol are a sign of leadership, power and seniority.
The public may not grasp the significance, but political types who inhabit the Capitol daily know an office on the ground floor by the bathroom says one thing — newer member of the minority party — while a second-floor office with windows says another.
"There is definitely a lot of noise with all the comings and goings of the people," says Sen. Kathleen Vinehout, D-Alma, who is taking advantage of the new, slim 17-16 Democratic majority in the Senate to move out of her ground floor office by a public restroom. "The new office is away from a high-traffic area. It will be a much quieter office."
GOP Sen. Frank Lasee of De Pere is the current occupant of Room 316 South, Vinehout's soon-to-be office. He's still waiting to learn where he will land next. He's not alone.
Every election brings a game of musical offices, especially when control of a chamber switches from one political party to the other.
So when the June 5 recall elections put Democrats back in control of the Senate after a 19-month hiatus, the moving began.
Although the list has yet to be finalized by the offices of the chief clerk and sergeant at arms, which coordinate the moves, it appears roughly one-third of the 33 senators are going to move to different offices.
That number pales in comparison to the record-setting move that followed the November 2010 election when Republicans gained control of both houses and the governor's office.
That election resulted in 108 legislators — 75 of the 99 Assembly representatives and all 33 senators — moving into new offices before the start of the 2011 legislative session. The most recent count shows about 13 senators switching offices.
The scaled-back nature of the move hasn't stopped the usual behind-the-scenes grumbling, with some questioning whether all the moves are necessary, given that 16 senators are up for re-election in November.
"That was the argument we heard from some lawmakers on the Democratic side," says John Hogan, chief of staff to Senate Minority Leader Scott Fitzgerald, who has to move from his current office, which is designated for the Senate majority leader. "(But) it sounds like they are saying they still want nicer offices, even if it's for a few months."
Vinehout defended the moves, saying the main reason she needs a new office isn't to get away from a restroom, but to get more space.
On Tuesday, Vinehout was named chair of the Senate Committee on Agriculture, Elections and the UW System, bringing the number of committees she chairs to two. She will be adding another employee to her staff and her current office doesn't have room, she says.
Sen. Chris Larson, D-Milwaukee, has only been a senator for 19 months, but his clout is rising because of the shift in power.
Named co-chair of the Joint Committee on Review of Administrative Rules, Larson, like Vinehout, is able to hire an additional staffer.
He says he put a vote to his staff members, who currently work in a window-less office space, as to whether they should move. The answer was yes. They will soon be moving across the hall to the office now held by Sen. Mary Lazich, R-New Berlin.
When asked if it was a waste of time and money to move senators around for what could be a short-lived Democratic reign, Vinehout says no.
"The work of the state government continues whether or not there is a campaign season," Vinehout says. "We will be holding committee meetings. There will be work getting done."
Moving around lawmakers isn't free of cost, though.
There's the cost of moving phone lines, which the last time I wrote an article about this topic cost the state $41 an hour, plus the cost to re-letter office doors and change the locks on the doors, Hogan says.
While some of the moves like Vinehout's and Larson's are optional, there are eight legislative leaders who must occupy a certain office if they have a certain title.
The Senate president, for instance, is always located in Room 230 South and the Assembly speaker always occupies Room 211 West. The majority and minority leaders of the Assembly and Senate, along with the two co-chairs of the Joint Finance Committee, also get designated offices.
Thus, Senate Majority Leader Mark Miller, D-Monona, will swap offices with GOP Minority Leader Scott Fitzgerald, R-Horicon; and outgoing Senate President Mike Ellis, R-Neenah, will switch offices with Sen. Fred Risser, D-Madison.
Sen. Lena Taylor, D-Milwaukee, has been named co-chair of the powerful Joint Finance Committee, allowing her to bump former co-chair Sen. Alberta Darling, R-River Hills, out of her office.
Darling is the most senior ranking Republican who currently does not have an office, meaning she will have first dibs over her fellow office-less Republicans –- Lazich, Lasee and newly elected Jerry Petrowski –- and will have to bump a lower-ranking Republican from his or her office when choosing where she'll go next.
Other moves include Sen. Julie Lassa, D-Stevens Point, moving into the office of Sen. Rob Cowles, R-Green Bay; Sen. Dave Hansen, D-Green Bay, moving into the vacated office of Republican Sen. Pam Galloway who retired earlier this year; and incoming Sen. John Lehman, D-Racine, taking the office of Sen.Van Wanggaard, whom he defeated in the June recall election.
"It's like a big game of Tetris," Larson says.
Get Government & Politics updates in your inbox!
Stay up-to-date on the latest in local and national government and political topics with our newsletter.