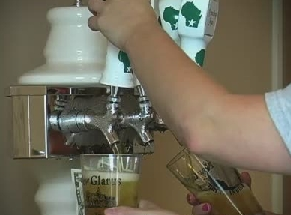 The number of craft brewers is growing across the state, with beer-brand names like New Glarus, Capital Brewery and Sprecher as recognizable to many Wisconsin beer drinkers as Bud and Miller Lite.
In all, the state's 60 craft brewers now account for 5 percent — a rising but still slim percentage — of the state's annual beer sales, according to the Colorado-based Brewers Association, a nonprofit trade group dedicated to promoting the country's small brewers.
Yet even though sales from the state's largest craft brewer, New Glarus Brewing Co., trail one of the state's largest brewers, MillerCoors, by millions of barrels of beer annually — 92,000 compared to more than 5 million — a motion slipped into Gov. Scott Walker's budget would treat brewers of all sizes equally by preventing them from owning or operating a wholesale distributor. 
"Everything in this bill is designed to make it harder for small craft brewers to grow," says Deb Carey, a co-owner of New Glarus Brewing and a member of the Wisconsin Brewers Guild. "It is a slimy piece of legislation."
Carey's anger is fueled by the fact small brewers were never consulted about the change, even though they will be affected along with every other brewer in the state.
Under current state law, a brewer of any size can also obtain wholesale licenses, which are given out by municipalities. The budget provision would change that by combining the brewer's permit and wholesale and retail licenses into one permit under state control. This new state permit bans brewers from owning a wholesale distribution business.
Proponents of the bill, including MillerCoors, the Wisconsin Beer Distribution Association, the Tavern League of Wisconsin and the Wisconsin Grocers Association, are big players in the beer industry. They say the move is necessary to prevent any one company from monopolizing the "three-tier" beer market in Wisconsin.
"We think it's a good thing for everybody," says Tim Roby, a spokesman with the Wisconsin Beer Distribution Association. "It keeps the three-tier system as clean as it can be."
Players in the three-tier market include the brewers, wholesale distributor and retailers who purchase the beer such as restaurant and gas station owners.
Under current law, brewers who sell 50,000 barrels of beer or less annually do not need to use a wholesale distributor to resell their products to a retailer. Because of their size, they can sell directly to retailers, if they so choose.
The owners of several craft brewers see the budget proposal as a power grab by the state's beer distributors who, along with MillerCoors, are overreacting to the potential threat that Anheuser-Busch will try to enter Wisconsin's distribution market.
St. Louis-based Anheuser-Busch is cited in particular because of its recent move into the Illinois distribution market by purchasing Goose Island, a growing Chicago-based craft brewery that sold roughly 111,000 barrels of beer in 2009 and has a distribution business.
"There have been moves by our largest competitor to purchase distributors," says Julian Green, a MillerCoors spokesman. "Illinois was just one example."
MillerCoors does not own any wholesale distribution companies in Wisconsin, Green says. For that matter, neither do any of the state's 60 craft brewers.
Some, like New Glarus, get a wholesale license anyway.
Owner Carey says that although she doesn't use it, she keeps it for future profitability. Having a wholesale license provides the option to expand. It also could make a brewer more attractive to a potential buyer if the buyer knew the business came with a wholesale license.
"It's another business asset," she says. "I'm not giving it up without a fight."
Roby says he can't understand why craft brewers are upset about losing a permit that no one is using.
"They say we are taking away a right for their businesses to grow," Roby says. "But no small brewer in the state now owns a distribution center, not a single one."
Many craft brewers, such as Plover-based O'So Brewery, bring their beer to retailers themselves, but this so-called "self-distribution" does not require a permit. Marc Buttera, the brewery's co-owner and founder, says he does have a wholesale license, however, in order for him to sell beer at large festivals across the state.
He also has a retail store next to his brewery where customers are able to sample his beer while they shop. Under the proposal, he would no longer be able to serve alcohol at the retail store.
The Legislature's budget-writing Joint Finance Committee approved a motion to prevent brewers of all sizes from owning wholesale distributors at a meeting last week.
But in an effort to satisfy concerns from members of the Wisconsin Brewers Guild, the committee voted to increase the size of craft brewers who are not required to sell through wholesalers from sales of 50,000 to 300,000 barrels a year.
"That's still more than three times the size of the largest craft brewer (New Glarus)," Green says. "They can still go to restaurants and sell their beer. All this bill does is prohibit brewers, big and small, from owning and operating multi-brand businesses."
He says MillerCoors supports "clean separation of ownership" between the three tiers.
The Wisconsin Brewers Guild still wants to be exempt from the proposed changes to the state's beer laws.
"We are losing assets and we are losing control over our products," Carey says. "This debate boils down to the fact that the wholesalers do not want a drop of beer going to market in Wisconsin without them making their 30 percent profit from it. That's it."
Get Government & Politics updates in your inbox!
Stay up-to-date on the latest in local and national government and political topics with our newsletter.