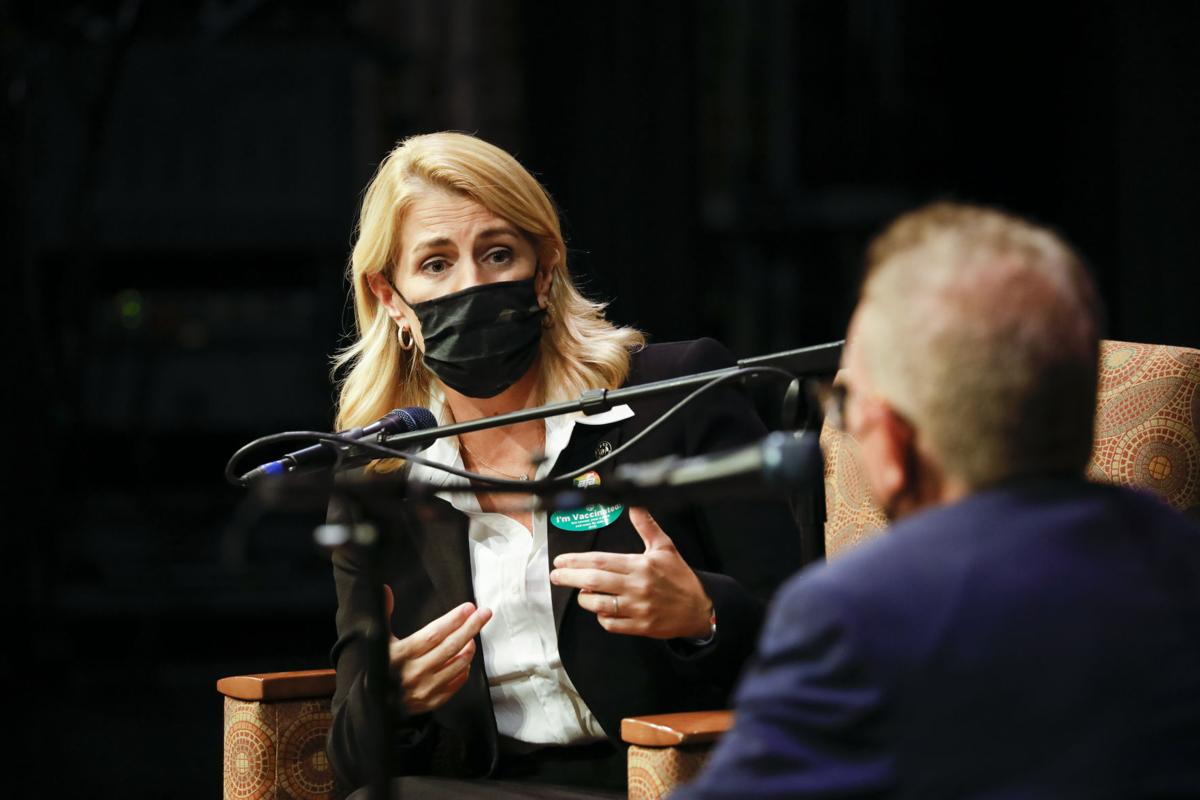 Sara Nelson learned a lot from 9/11. For one thing, greedy corporations will use any crisis to beat down their workers.
In her fifth year as a United Airlines flight attendant, she watched her employer terminate pensions, slash pay, cut staffing and force the remaining employees to work long hours.
"There are those who will take a crisis to take more and more from all of us," Nelson said. "And if we're not ready to respond to that and set our demands and understand that, they will run away with everything."
So when the pandemic hit in early 2020, the international president of the Association of Flight Attendants was ready.
"Because of what we learned from Sept. 11, we knew that this crisis was going to be put on our backs if we didn't put demands forward first," said Nelson, who spoke with Cap Times associate editor John Nichols at a Cap Times Idea Fest session on Sept. 17, in UW-Madison's Shannon Hall.
By March 13, 2020, Nelson's union forced the airlines to go along with its plan for a payroll support program that funded workers' pay and benefits, banned layoffs and pay cuts and put caps on stock buy-backs and executive compensation.
Nelson can also lay claim to the threat of a general strike that electrified the labor movement, sent chills down the halls of Congress and brought the 2019 government shutdown to an end.
Now she's considering a run for the president of the AFL-CIO, the largest federation of unions in the U.S., on which she serves as a member of the executive council.
"It's certainly a consideration," she said. "I think that the president of the AFL-CIO has a tremendous opportunity to strategically move the labor movement."
In his introduction, Nichols called Nelson "the militant future of trade unionism in the United States."
Nelson believes unions have for too long bowed to corporate threats and rolled over for Republican union-busting policies that have cut deeply into union membership. She has no qualms about workers flexing their muscles.
"Strike is a part of collective bargaining," she said. "Strike is about recognizing the power that working people have."
She pointed to successful teacher strikes in recent years, notably in Chicago and West Virginia, as harbingers of a revitalized labor movement that works from a position of strength rather than weakness.
"People want to see results," she said. "They're not going to join something to be a member of a club and simply spend more money on that when they can't even feed their children. They want to be a part of something that they believe is going to be part of changing their lives and making them better."
Looking back to the battle a decade ago over former Wisconsin Gov. Scott Walker's Act 10, the law that banned collective bargaining for most public employees, she said, "Probably if we had a general strike in Wisconsin, it would have gone the other way."
But for anti-labor forces in Wisconsin and other states, the chickens are coming home to roost. Workers are making less, working more and struggling to make ends meet. And the pandemic has only amplified their struggles. Workers from all industries are starting to realize that the way to fight back is to join forces.
"I think we're in a unique moment here," she said. "Because as unions have been beaten down to these low levels, what we have seen through coronavirus is a real shared experience that we can use to organize across industries and understand that just because you work a different job, it doesn't mean you don't have the same struggles with your boss."
Nelson grew up in Corvallis, Oregon, in a working-class family. Her mother was a teacher and National Education Association member and her father was a lumber mill employee. She said she rarely discussed her mother's union activity, but she was shaped by her family's involvement in the Christian Science church. While she doesn't practice Christian Science now, its adherence to equality and social justice left their mark.
"A strong sense of justice and a loud mouth can carry you a long way," she said.
Unions, she said, can no longer merely respond to events. For instance, her union was instrumental in getting OSHA oversight on planes, getting workers trained in communicable disease and supplying employees with masks. So when the pandemic broke out, "I think we were better prepared than anyone else."
What they weren't prepared for is the onslaught of unruly passengers that have plagued aircraft since the political battles over masking, social distancing and vaccines began.
"When people put on their uniforms today, they don't know if it's the day they're going to get punched in the face," she said.
But air marshals who teach self-defense to aircraft personnel are urging them to take a no-nonsense approach. Here's the advice she said one of them gave her:
"These people are out to destroy everything so all rules are out the door. So what you need to do is go for the groin, go for the eyes and get them down."