To avoid repeating the mistakes of Seattle, a panel of public, nonprofit and technology leaders agreed partnerships will propel sustainable growth.
Erik Iverson, the managing director of the Wisconsin Alumni Research Foundation, is a former Seattle resident who is troubled by some of Madison's similarities with the only other U.S. city located on an isthmus, including a lack of affordable housing, increased traffic and a homeless population.
"Seattle walked, so that Madison can run," Iverson said. "We have the opportunity to get ahead of it, and it is our responsibility to do that."
He moderated a conversation on sustainable growth at the 2019 Cap Times Idea Fest with Madison Mayor Satya Rhodes-Conway, Urban League CEO and president Ruben Anthony and Exact Sciences' president and CEO Kevin Conroy.
Anthony recognized Madison for what he said it has become: a metropolis
"We're not Mayberry anymore. We're not a small town," Anthony said. "We have to start thinking about regional and metropolis wins and know when the periphery does well, we do well."
If Madison continues to grow at the same rate it has since 1990, the city's population could surpass 350,000 by 2050, while Dane County's population could top 1 million, according to the city.
To keep up with Madison's projected growth, Rhodes-Conway said Madison needs more housing and better public transit systems — major priorities of her administration. In Rhodes-Conway's recently announced 2020 Capital Budget, she included $7.5 million in 2021 and an additional $17.5 million over the next two years for Bus Rapid Transit.
The mayor said thinking regionally is critical, particularly when it comes to transportation.
"We do technically have a regional transportation system now," Rhodes-Conway said.
Metro Transit serves all of the communities surrounding Madison, except for Monona. However, Rhodes-Conway announced the city is in conversations with Monona about bus service.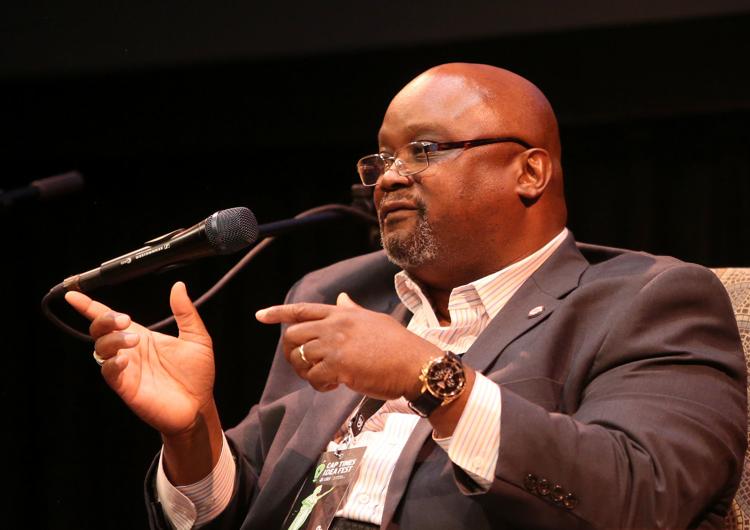 Between 2007 and 2015, nine out of 10 new Madison residents were renters, Rhodes-Conway said. In terms of housing that city residents can afford, Rhodes-Conway said the city needs more.
"We know that if we grow to the extent we are projected to, and I would say want to grow, that we have got to accept a higher density of housing units in the city," Rhodes-Conway said.
The business community and private sector also have roles in addressing Madison's challenges, panelists said.
"If we play a role — when I say we, all the companies in Madison — we'll all be better off," Conroy said. "We'll be stronger companies."
Conroy said Exact Sciences chose to build its new lab on the city's southwest side so that it could positively affect the area. Exact Sciences also partners with the Urban League in a job training program.
Additionally, Conroy said of Exact Sciences' 1800 employees in Dane County, 1,300 are earning $15 per hour and are moving to $20 per hour. Yet, he said the median price for a one-bedroom apartment is $1,175 per month.
"You need two people in a home making decent starting wages to be able to afford to put a roof over your head," Conroy said.
The median rent in Madison increased 23% over the most recent five-year period for which Census data is available, which is well above the 6% inflation occurring during this time, according to city data. Costs for owning a home are following a similar pattern.
"We either have employees who can afford to live and work here or we go someplace else, and we don't want to do that," Conroy said.