In an era where the terms "fake news" and "alternative facts" have become popular phrases used in reference to news coverage, credibility is a persistent concern for journalists and news consumers alike.
On Saturday, a Cap Times Idea Fest panel, moderated by Cap Times' reporter Katelyn Ferral, touched on a variety of obstacles that modern journalists regularly face in their attempt to provide information that can be trusted.
Much of the conversation focused on challenges that credible local news outlets face in trying to stay afloat as businesses while retaining an independent voice that their readers trust.
For Zack Kucharski, who leads the newsroom of The Gazette, a daily newspaper based out of Cedar Rapids, Iowa, the struggle to give voice to the local community while meeting production costs and avoiding undue influence from sponsors is something that worries him.
"Most people, if they were given the opportunity to subscribe to something digitally, choose Netflix," Kucharski said. "I think it's 51% of those who do choose news sources will only choose one, and I think it's between two national news organizations. That becomes deeply concerning to me at the local level. We're fighting even harder because we'd probably be your third or fourth subscription." 
Weighing in on the issue from the opposite end of the local-national news spectrum, Farhad Manjoo, an opinion columnist for the New York Times, echoed Kucharski's concerns and elaborated on issues of consumer access to the news that subscription-based models pose.   
"If you're putting up a pay wall and charging people to read the news, there's going to be a whole bunch of people in the world that can't afford it," said Manjoo.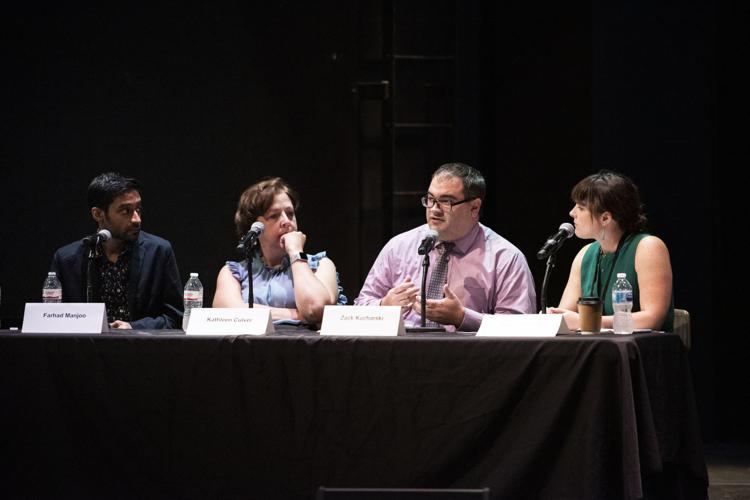 "The other challenge that a subscription-based model creates is that you're beholden to readers in a way that may create some conflict," added Manjoo. "This has the risk of creating an echo chamber or subservient relationship to readers."
Kathleen Culver, who serves as the James E. Burgess Chair in Journalism Ethics at the University of Wisconsin-Madison School of Journalism & Mass Communication, offered up some ideas for how to address what she called the "desert of news" that results when local news sources become unavailable for communities.
"I'd make an argument that yes, you should invest in your local news," said Culver. "But you should also invest in other civic institutions that can carry that news forward." 
She went on to emphasize the importance of public libraries serving as a key hub where people can go and gain access to local news that they may not otherwise be able to afford, and she praised the city of Fitchburg which, after losing its local newspaper, paid to bring it back. 
"The crisis of journalism isn't only going to be solved within journalism," said Culver. "It has to be solved within communities."  
In addition to concerns raised over the loss of trusted news outlets, Kucharski also brought up reporters' methods of selecting their sources as another possible area where credibility may be questioned.
"How often do reporters step back and ask the question of, am I interviewing a few people who look the same too often?" said Kucharski.      
Near the end of the discussion, Ferral asked the panel if they might be able to offer "some hope that journalism is not doomed." 
Culver responded by describing changes witnessed over the years where she's now seeing some of her best students seeking out journalist positions in local newsrooms.
"They're committed to their communities," said Culver. "And that gives me tremendous optimism."