When they were kids, Joaquin and Julian Castro used to face off in the "infinity death match," a contest in which they would punch each other in the arm or some other body part to see who could inflict the most pain.
Joaquin often came out on top.
"But I'm the one running for president," said Julian Castro.
Joaquin and Julian were born on Sept. 16, 1974, one minute apart. They went to high school together in San Antonio, where Julian eventually became mayor. They went to Stanford University together, then to Harvard.
Except for Joaquin's beard — which he grew so people could tell them apart during his brother's presidential bid — they look alike and sound alike.
"Nobody wants him to drop out as much as I do so I can shave this beard off," quipped Joaquin, now in his fourth term as a U.S. congressman from Texas and a member of the House Intelligence Committee, which is investigating President Donald Trump's finances and ties to Russia.
Julian Castro, a former San Antonio mayor and Housing and Urban Development secretary under President Barack Obama, is one of 10 Democratic candidates who have met polling and fundraising thresholds to maintain a spot on the debate lineup.
The two appeared together on Saturday at Memorial Union's Shannon Hall, part of the Cap Times Idea Fest, with moderator David Maraniss, the Pulitzer Prize-winning author and associate editor of the Washington Post.
Maraniss immediately moved to "get the elephant out of the room," referring to Julian's exchange with Joe Biden at Thursday's Democratic presidential debate, during which Julian asked Biden, "Are you forgetting what you said two minutes ago?" which some took as a jab at the 76-year-old former vice president's age.
The swipe came during a discussion of Biden's health care plan, which Castro said would leave 10 million people without coverage.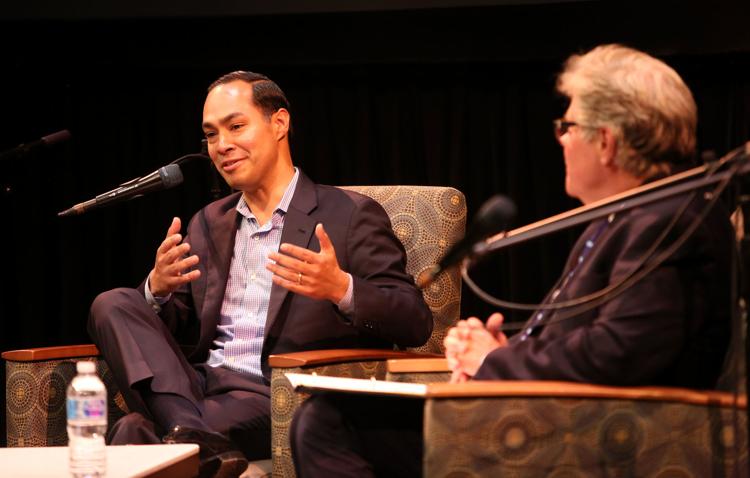 "He had said that some people would have to buy in," Julian Castro said, "If you lost your job you'd have to buy in. I picked up on that and said look, that's right. The fact that you'd have to buy in means that people are going to be uncovered. He said no, that they wouldn't have to buy in."
He said his comment about Biden's memory "was directly related to the fact that he denied saying he used a phrase that he used two minutes ago."
He noted that he knew Biden, having served in the same administration.
"I have tremendous respect for him," he said.
But he said the incident highlights the fact that he's on the debate stage to win.
"I hope that folks have seen in these three debates in terms of what I've done on stage is that when I get up on the stage I'm there to debate," he said. "I'm there to win that debate. And if I get on the stage on October of 2020 and I face Donald Trump, I'm gonna win against him."
While Maraniss asked about the twins' life experiences that led them to succeed in similar political paths — there were raised by a single mother, who in turn was raised by their single grandmother who moved to San Antonio from Mexico — the event gave the Castros a chance to define Julian's policies toward health care, immigration, foreign policy and other issues away from the madding crowd that is the Democratic field.
On health care, Julian's committed to universal coverage. On foreign policy, he wants to "repair relationships this president has damaged" and rein in "rogue dictators" who have been coddled by Trump administration.
On immigration, he wants a rational policy that treats people seeking to enter the country humanely, gives them a path to citizenship, and ends the general assault on immigrants, even, most recently, those who are naturalized citizens.
Joaquin said he was accused of fear mongering by left-leaning groups for warning those planning to petition for citizenship that they needed to act before Trump took office. He said he was merely warning people about the possibility that Trump might restrict legal as well as illegal immigration.
"But what Stephen Miller and the White House are trying to do has gone way beyond even what I thought they would back then," he said. "I thought that they would go after legal immigrants, but now they've discussed going back and looking at people's citizenship applications and denaturalizing citizens."
The two expressed optimism over when Texas — a state whose 538 electoral votes could change the American political landscape — would turn Democratic. Recent Democratic gains have heartened Democrats, who see a huge untapped voter pool. Texas is one of the worst states for voter participation in the nation.
The brothers think the state is near the tipping point.
"We need to get to around 47%, 48% in statewide races," Joaquin said, "because I think what will happen at that point is that everybody will smell blood and there will be a lot of resources and attention and energy to come in here to put you over the top."