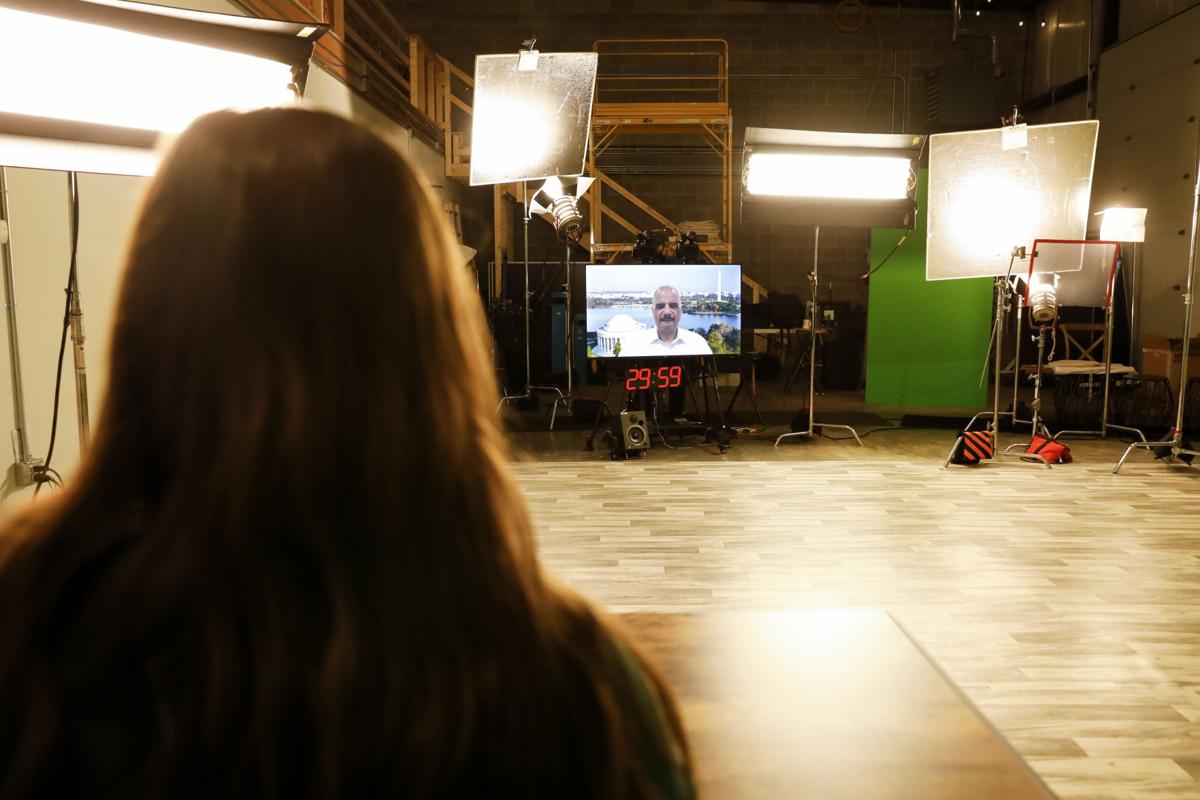 Calling Wisconsin "the poster child of gerrymandering in America," former U.S. Attorney General Eric Holder urged voters to rally around candidates who support nonpartisan redistricting and demand district lines that are "constructed in a fair way." 
Holder, who kicked off this year's Cap Times Idea Fest in an interview with opinion editor Jessie Opoien, has been leading Democrats in recent years in the push for an apolitical process for drawing maps through his National Democratic Redistricting Committee. With those efforts, he has also pursued lawsuits in Wisconsin and campaigned for liberal state Supreme Court candidates. 
But now, his focus is largely on Nov. 3, when voters across the state will weigh in on more than 100 legislative races, contests that precede the next round of redistricting following the 2020 census. 
In the coming weeks, Holder said protecting Democratic Gov. Tony Evers' veto power — and his ability to reject "any partisan, bad maps that the Republican Legislature would send to him" — is key. 
"We have to save Tony Evers' veto ability just to make sure that he is a check on a Republican Legislature that has shown itself to be committed to the retention of power above everything else," he said. 
Assuming Republicans retain control of both chambers but don't pick up the extra seats needed to gain veto-proof majorities, Holder noted the process of redrawing maps could go a couple of different ways: Evers and legislative leaders could negotiate over proposed district boundaries and reach an agreement, or they come to an impasse that would mean a court draws the new lines. 
This time around, though, there's another layer to the process: Evers' "People's Maps Commission," which will produce, in Holder's words, maps that "will be by any objective measure, fair." That product, he said, could then be compared to whatever the Republican-led Legislature comes up with. 
"What will come out of that effort will be some proposed maps that will in fact be fair, that will not discriminate against people in Milwaukee or in Madison, will not discriminate against people of color, will not discriminate against poor people or people perceived to be Democrats," Holder said of the commission.
The body's first public hearing, which Holder said he'd be attending, is scheduled for Oct. 1 from 5:30 to 8:30 p.m., the Department of Administration announced this week. The online meeting, focusing on Wisconsin's 8th Congressional District covering the northeastern part of the state, is the first of at least eight the commission is hosting. 
Wisconsin's current maps were drawn after the 2010 Republican wave that brought complete GOP control to the state's government through the election of former Gov. Scott Walker and legislative majorities in both chambers. 
Expanding SCOTUS 
Holder also voiced his support for adding justices to the U.S. Supreme Court, as he slammed Republicans for seeking to go forward with replacing the late liberal Justice Ruth Bader Ginsburg with a nominee from President Donald Trump, a move that could come before the Nov. 3 election. 
With voting already underway for the presidential contest, Holder argued "the time is too short" to put forward a new prospective justice, calling it "just an exercise of raw power." 
A new conservative justice would bump the court's split from the 5-4 divide it was previously to 6-3. 
Still, Holder said it would be "a legitimate use of power" for Democrats to consider expanding the court, an idea referred to as court packing, and pursuing other court-related overhauls should former Vice President Joe Biden get elected. 
The move, he argued, would neutralize "a conservative majority that should not otherwise be there" and that would be put in place by circumventing "normal processes." 
GOP Senate Majority Leader Mitch McConnell has pledged to bring a vote on Trump's selection to replace Ginsburg, a reversal from 2016 when the body declined to act on Merrick Garland, then-President Barack Obama's nominee. 
While Holder noted there may "be some initial reluctance" to the idea, he said people would "become comfortable with the familiar." 
"Given the stakes, what we know now and what we will see over the next 10, 20, 30 years, I don't think that we should be slaves to the familiar," he said. "I think we want to make sure that we have a system that is constructed in a fair way."
Watch this or any other Idea Fest session on a streaming device like Roku or Apple TV via the Cap Times YouTube channel. Just open YouTube on your streaming device and search "Cap Times" to get to our channel. Once you're on the Cap Times channel, you can also subscribe to make it easier to see new videos.
Sign-up here for the Campaign Notes newsletter to get important Wisconsin politics updates in your inbox each Thursday, now through Election Day. 
Get Election 2020 & Politics updates in your inbox!
Keep up on the latest in national and local politics as Election 2020 comes into focus.