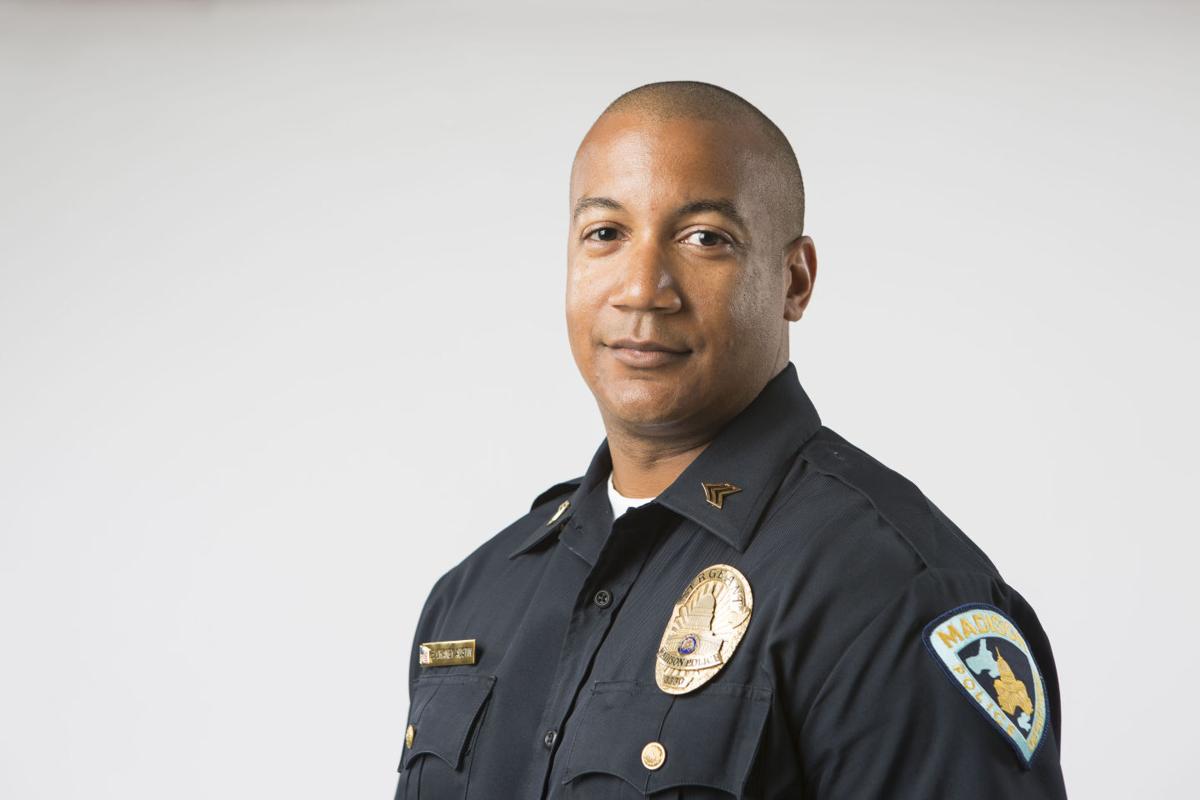 Each day Madison Police Capt. Brian Chaney Austin heads into work, he sees "defund police" painted in large yellow letters on a downtown street. 
The demand to defund police departments can hold a different meaning depending on whom you ask, but the message is received "loud and clear,"  Chaney Austin said this week during a Cap Times Idea Fest panel discussion.
"Now it's best in our opinion to say, 'OK, well what are the next steps? How can we best move on — not forget, not continue as normal and forget that 2020 ever happened — but where do we go from here now that we've received this message?'" 
At the fourth annual Idea Fest, former Madison Police Chief Noble Wray moderated a panel addressing the future of policing in Madison that, in addition to Chaney Austin, included Mayor Satya Rhodes-Conway and Focused Interruption Coalition CEO Anthony Cooper. 
This summer, during an unprecedented pandemic, hundreds of protesters gathered each day to protest police brutality across the nation and to send a message about what they want to see from the police departments. Rhodes-Conway said the public health crisis exposed the cracks already present in the community. 
"What we're seeing is that our system was already inequitable," Rhodes-Conway said. "We were just papering over it, and now with COVID-19, you can't ignore it anymore." 
Cooper emphasized how the pandemic has exacerbated challenges already felt by the community, such as employment and resources for youth. 
"People are hurting, and people are also trying to figure it out," Cooper said. "Everyone out here needs some type of support. It's not enough."     
Cities are also struggling financially because of the pandemic with Madison facing a budget gap between $20 million and $25 million.  
Rhodes-Conway said she thinks about the call to defund the police as an opportunity to evaluate where the city can invest in the future and which tools should be used more or less.
"The way that I think about it is less, frankly, about money and more about how are we creating public safety?" Rhodes-Conway said. "How are we thinking about what is actually the tool that is going to create more public safety?" 
As Madison considers the future of its police department, that process could look like rethinking the responsibilities of police officers. For example, the city and Dane County are investigating a model similar to the CAHOOTS program in Eugene, Oregon, that allows medical professionals and crisis workers to respond to certain calls rather than police officers. 
Chaney Austin said he wants to know what roles and responsibilities the community thinks the police department should have. 
"When we speak on defunding the police, I agree there should be a conversation on responsibilities and perhaps who else might have the responsibility to fulfill a task that the police have historically had to address," he said. 
The panelists also addressed the spike in gun violence Madison is experiencing, which Chaney Austin said is "abnormal," and due to the colliding stressors of a pandemic, economic uncertainty and isolation. 
Cooper underscored that generational trauma can't be dismissed when addressing the intersection of race and policing. 
"Madison is trying to do some unique things, but also you got to think about generationally all the hurt that is there. You have to constantly go back to that in order to move forward," Cooper said. "We have to keep implementing new frameworks into the new generation, so hopefully the next generation isn't going to have to deal with the same stuff taking place." 
Madison is also at a unique time of searching for a new permanent police chief and implementing an independent monitor and civilian review board as a way to increase community accountability over the police department. 
Rhodes-Conway said she hopes the new chief can reset some of the broken trust in the community. 
"It's really important that the next chief understand that she is the chief for the community as well as for the department; for the whole city, not just leading the force," she said. 
Watch this or any other Idea Fest session on a streaming device like Roku or Apple TV via the Cap Times YouTube channel. Just open YouTube on your streaming device and search "Cap Times" to get to our channel. Once you're on the Cap Times channel, you can also subscribe to make it easier to see new videos. 
Get Election 2020 & Politics updates in your inbox!
Keep up on the latest in national and local politics as Election 2020 comes into focus.