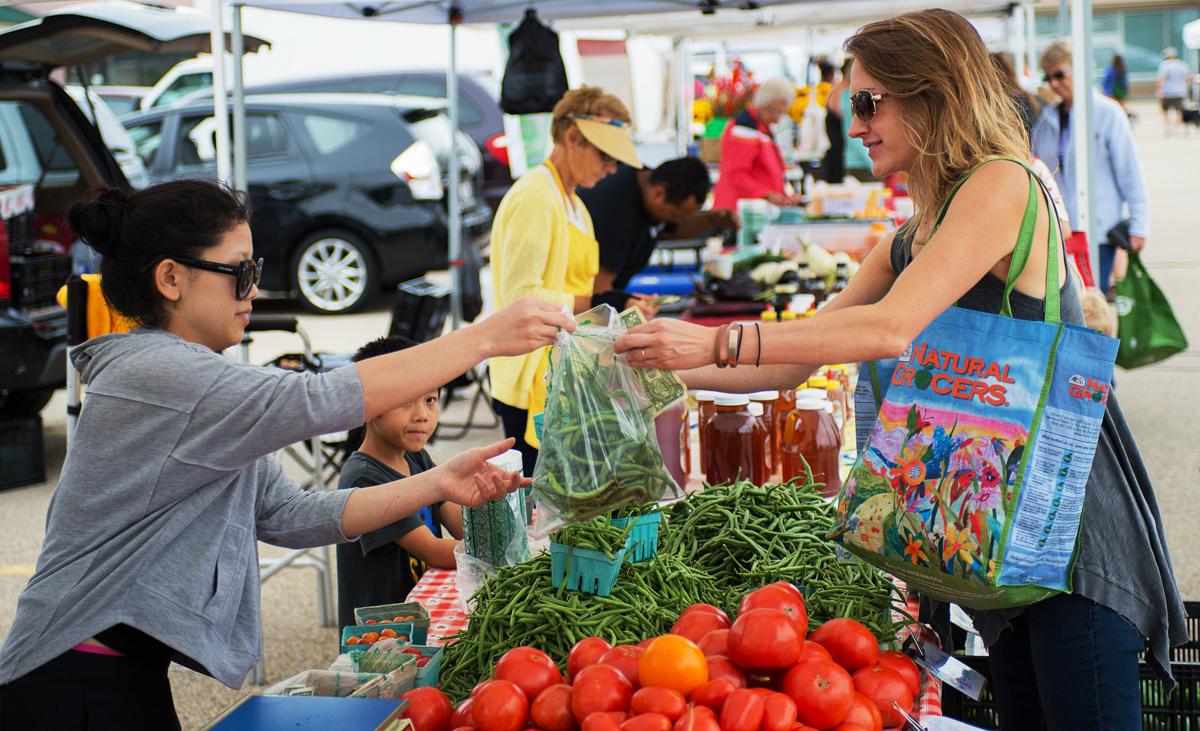 This Sunday at the Northside Farmers' Market, customers will be able to pick up that perfect bunch of lettuce they need for a summer salad.
Or they could buy two, and immediately donate one to The River Food Pantry.
That's the premise of the new "Buy One For A Neighbor" campaign from Healthy Food For All of Dane County with two goals: provide low-income populations with fresh produce and support local farmers.
"We live in this great agriculture area with all these farmers that grow beautiful, nutritious, local produce," said Joe Mingle, volunteer coordinator for HFFA. "We've got to max out the opportunity during the growing season and get it to the people who need it."
The "Buy One For A Neighbor" initiative launches this Sunday. The Northside Farmers' Market runs on Sundays until Oct. 21, 8:30 a.m. to 12:30 p.m. at the Northside Town Center, 1865 Northport Drive.
HFFA works to redirect extra food to local food pantries and neighborhoods, limiting food waste. Formed in 2015, the nonprofit cleans and repackages donated and leftover food from farms and companies like Epic Systems, and has distributed some 260,000 meals to date. The "Buy One For A Neighbor" plan is a new initiative from the organization.
It's already standard practice for volunteers to visit farmers' markets at the end of a day and ask for donations of excess produce, Mingle said. On Saturdays at the Dane County Farmers' Market, volunteers from the Community Action Coalition for South Central Wisconsin circle the Capitol Square with carts to ask for donations from any surplus.
"Once you cut all that looseleaf lettuce, if you don't have a place to sell it tomorrow, it doesn't last very long," he said.
This new effort will avoid waste, but also put money in the pockets of local farmers. The idea originally came from a group of local high students, who tried a similar effort a few years ago, he said.
The campaign also gives market shoppers a chance to make a tangible and tasty difference. Shoppers can know that because of them, a "kid will be eating lettuce tonight," he said.
"My experience has been Madison is full of really caring people who want to help and are looking for ways to make an immediate, direct impact on lives of neighbors who are struggling," he said.
At the Northside Farmers' Market, there will be bins to collect produce, and volunteers will distribute informational flyers about the program. As the market wraps up, the donations will be transported to The River Food Pantry at 2201 Darwin Rd. The River Food Pantry delivers lunches to kids in the summer, serves hot meals and runs a food and clothing pantry, assisting about 1,000 households each week.
Charles McLimans, president and CEO of The River Food Pantry, loves that his organization, HFFA and the Northside Farmers' Market are "working together collaboratively to feed our neighbors."
During the winter months, the food pantry can run low on produce, and has to "rely on what we can get through food recovery or what is coming through the food bank," he said. But food that comes directly from farmers' markets is "not at the end of its life cycle, it's going to be really fresh ... and still stable for a period of time."
The partnership will act as a pilot program, and Mingle admits he has "no idea" how well it's going to work. But he's eager to help expand the effort to other farmers' markets, and encouraged other interested markets to contact him.
The campaign will add on to other local initiatives aiming to put fresh produce on the tables of under-resourced families.
The city's Healthy Retail Access Program funds businesses looking to bring fresh food to underserved areas. Many local farmers' markets accept Electronic Benefit Transfer cards, which act as a debit card for FoodShare funds, formerly known as food stamps. The local Double Dollars program allows users to get a match of Foodshare dollars at farmers' markets of up to $25 a day.
A recent report found that a similar double dollar program in Montana helped individuals in "truly terrible financial situations" eat more fruits and vegetables.
"They discovered new vegetables they hadn't had before … So at the farmers market they were able to try kohlrabi and other things and branch away from staples like onions and potatoes," Catie DeMets, author of the report, told The Missoulian.
Mingle said the "Buy One For A Neighbor" initiative will supplement Double Dollars by providing food to people who may not be aware of the Double Dollars program or who aren't eligible for food stamps.
People in need of food assistance are more likely to go to a pantry than think of going to a farmers' market, he said. And once they get to the pantry, he wants to make sure they have healthy, fresh choices.
Share your opinion on this topic by sending a letter to the editor to tctvoice@madison.com. Include your full name, hometown and phone number. Your name and town will be published. The phone number is for verification purposes only. Please keep your letter to 250 words or less.