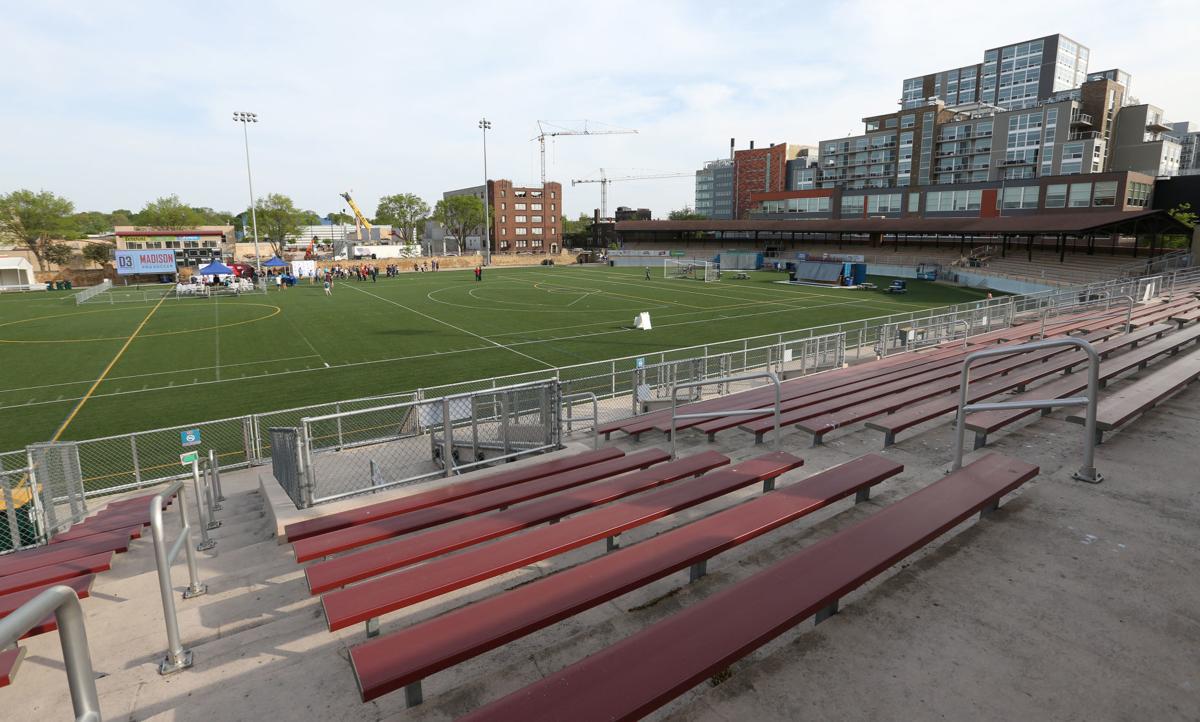 As signature summer events from Brat Fest to La Fete de Marquette have been canceled due to the coronavirus pandemic, operators of Madison Mallards baseball, Forward Madison soccer and Breese Stevens Field events are pursuing fireworks shows and drive-in movies.  
The Board of Park Commissioners on Wednesday granted approval with several conditions to Big Top Events for a "small-scale" pyrotechnics display at Breese Stevens Field for sometime prior to May 1, 2021. 
Vern Stenman, president of Big Top Events and the Madison Mallards, requested flexibility due to the ongoing coronavirus pandemic, saying he hopes to hold such an event when it is safe to do so from a public health standpoint.  
"We think this could be a fitting celebration at that time," Stenman said. 
The final details of the event must receive approval from the alder, neighborhood association, fire department and Parks Division before it can happen. Also, Big Top must engage local residents surrounding the specific date. 
Commissioners voted 4-2 to allow the event with the conditions. Ald. Paul Skidmore, District 9, voted against and said the board lacked enough information to make a decision.  
"We would be remiss to allow an open-ended approval like this, even if it would have to come back to the alder," Skidmore said.  
Big Top Events, which is responsible for putting on events at historic Breese Stevens Field, is proposing a ticketed event at the stadium that would feature low-volume live music and a small-scale pyrotechnics display launched from the rooftops of several buildings surrounding the stadium and from within it. Stenman said the organization is also playing around with ideas that include drones with an LED light show.
Operators are anticipating between 3,000 and 5,000 attendees inside the stadium with free viewing options at Reynolds Park, Lapham School and other parks in the area. 
The Tenney-Lapham Neighborhood Association has already expressed support for the concept, with the understanding that the event would generate 80 decibels of sound or less at the point of explosion. 
"We appreciate Big Top proactively reaching out to us on this matter and continuing to keep us informed and collaboratively involved as details become available about such an event and display," TLNA vice president Tyler Lark said in a letter to the city. 
Also, Ald. Patrick Heck, District 2, is supportive of the concept. 
"I have faith (Stenman) and Big Top will appropriately engage the neighborhood," Heck said. 
Prior to the pandemic, Stenman said the organization was figuring out options for such an event. As of now, Big Top Events is considering holding an event July 3 with limited capacity at Breese, postponing an event like this until later in the year when large crowds of people may begin to gather again or hosting the event at one or several other locations.  
Due to complexity and cost, the Mallards canceled Shake the Lake, Madison's annual downtown Independence Day fireworks. 
Big Top is also working with Public Health Madison and Dane County to understand how guidelines are being interpreted and will not schedule any events without their "full endorsement."
"We will not authorize any events to occur in our facility that are not expressly allowed by public health from a public health perspective due to COVID-19," Parks Superintendent Eric Knepp said.  
On the north side, the Mallards have proposed six fireworks shows for 2020, including May 30, June 13, June 27, July 3, July 4 and July 25. Due to pandemic-related changes, operators are requesting approval to change the dates of shows as needed.  
Some of the planned fireworks shows may become "drive-in" events in case the number of Mallards games is reduced. 
The board referred making a decision on the fireworks shows, but signed off on the Mallards' proposal to host drive-in movies in the outfield at the ballpark. The movies would be projected on the digital video board, and viewers would park on the field and listen from their vehicles.  
Stenman said the drive-in movie concept was critical to the baseball team's financial viability during the pandemic. 
"I would honestly beg for the commission to consider an amendment to allow for the drive-in movies," Stenman said. "We need something to keep our business afloat right now."
Play in the Northwoods League is on hold due to varying stay at home orders in states with teams competing in the summer collegiate circuit. The Mallards are hoping to celebate their 20th season this summer.
Stenman said the public health department and city attorney's office have signed off on holding movies on the field.
Share your opinion on this topic by sending a letter to the editor to tctvoice@madison.com. Include your full name, hometown and phone number. Your name and town will be published. The phone number is for verification purposes only. Please keep your letter to 250 words or less.