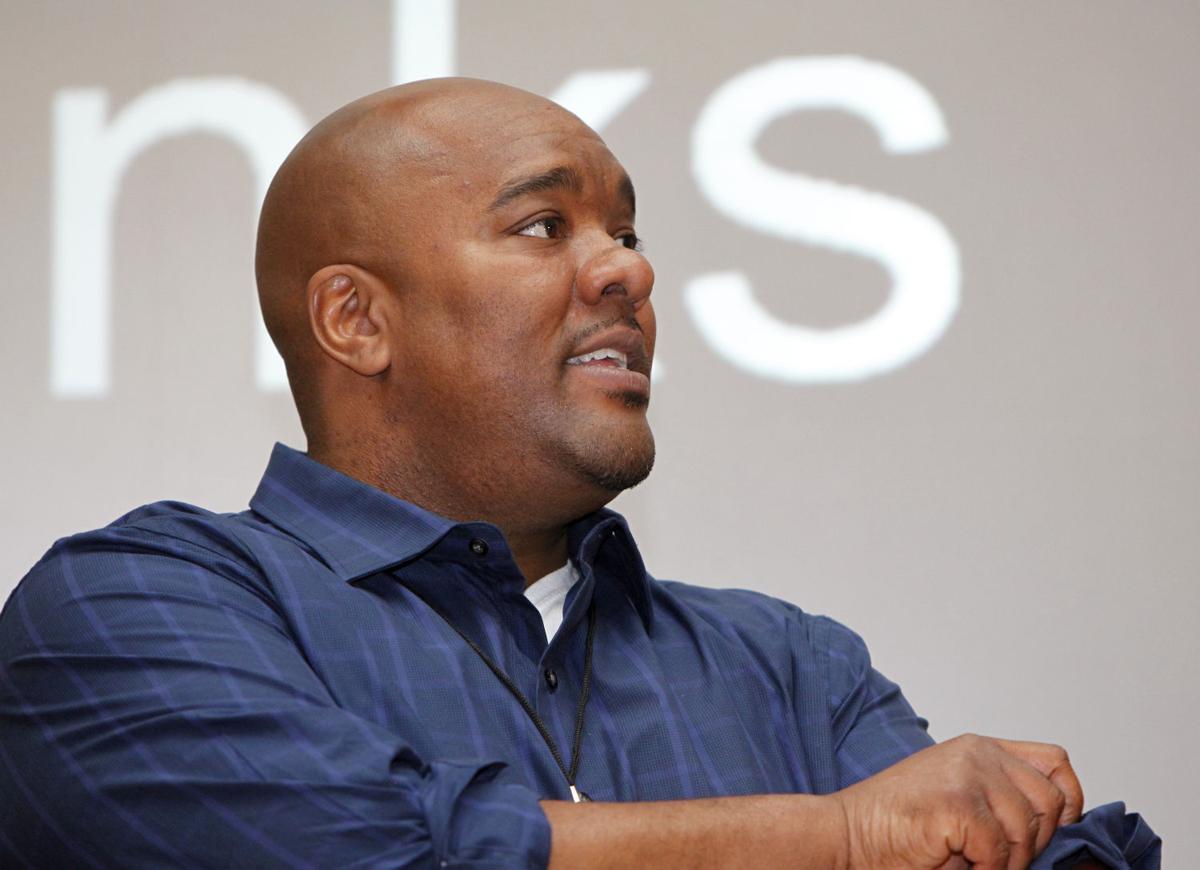 After eight years at the helm of the Boys and Girls Club of Dane County, influential community leader Michael Johnson is leaving Madison to take his "dream job" as president and CEO of United Way of Greater Cincinnati.
"I finally agreed to everything last week, but it's a very emotional decision for my family because I love this community," Johnson said. "I've received so much support."
The Greater Cincinnati branch is the sixth largest United Way in the country, serving 10 counties across Ohio, Kentucky and Indiana.
Johnson came to the BGCDC in 2010, and has been credited with transforming the organization. In a Facebook post listing his proudest achievements, Johnson said the organization served just 1,800 children in 2010, a number that will increase to 8,000 by the end of 2018. The operating budget has grown by 318 percent since his arrival and the BGCDC raised over $25 million.
A charismatic media presence, Johnson led community discussions about topics like racism and Madison's achievement gap, violence prevention, public funding for nonprofits serving children, homelessness and even improving access to menstrual products for girls in school.
"We have to set the stage for the next generation, and it is important for white kids to see people of color as role models, and vice versa," Johnson wrote in a 2014 Cap Times essay about his personal experiences overcoming racism. "In some cases, middle- and upper-class white kids from suburban communities and rural areas miss the cultural connection to other ethnic groups. It should not surprise us to see this type of racial division, because many times there is no history of relationships with other cultures to foster good will and friendship."
The Boys and Girls Club was an important part of Johnson's own childhood.
"I grew up in a very bad neighborhood, with a lot of crime, drugs and prostitution, but really I lived at the Boys and Girls Club," Johnson told Isthmus in 2013. "It was my sanctuary. I didn't have to worry about being shot or stabbed when I was there. And I was there every day. They had to kick me out when they closed at night."
Over his tenure at BGCDC, he led the recreational programming organization to provide more academic support for kids. A big part of that has been the Club's AVID/TOPS program, soon to be nationally recognized for producing 90 percent high school graduation rates for for low income, first generation college students. The program is a partnership between BGCDC, the Madison Metropolitan School District and the Verona Area School District.
Johnson's leadership and fundraising revitalized the BGCDC facilities, said Kaleem Caire, president and CEO of One City Learning Centers. When Johnson arrived on the job, he and Caire walked through the Taft Street location before renovations.
"It was a mess, it needed a lot of work," Caire said, laughing.
The BGCDC runs summer camps, distributes backpacks for school kids, offers paid internships for high school and college students, provides meals and offers emergency funding for families. The Fitchburg location recently established a dental clinic, which Johnson pushed for after a survey of parents showed him that kids were on months-long waiting lists to receive dental care.
Johnson deserves credit for having a positive impact on racial equity issues in Madison, Caire said. Johnson was named Midwest Executive of the Year by Boys and Girls Clubs of America in 2012 and received Wisconsin's Friends of Education award in 2014.
"The mark of a great leader is not their list of accomplishments or the growth of the organization but rather how they positioned the organization to carry on. We all know Michael and his impact here in Madison, he has inspired us to be better, to do better and be part of so many causes," Tim Metcalfe, president of Metcalfe's Market and a close friend of Johnson's, wrote in a Facebook post.
"His vision has always been huge, but accessible to everyone," said Sabrina "Heymiss Progress" Madison, founder of the Progress Center for Black Women.
Johnson made sure there were entry points for everyone — from big donors to single mothers — to get involved in his vision and work, Madison said.
Madison said she appreciated Johnson's advocacy on her behalf, as he would show up "in the room with me to fight with me for my work." He also motivated her and was always available to honestly talk about the struggles of leadership, she said.
Johnson said that even though he's had his "fair share of public fights," they were always about advocating for "those that live in challenging circumstances."
Two examples, which Johnson described in a 2017 article, were "fighting for funding for the 15-point violence prevention plan and speaking out against the mayor of Fitchburg's decision to zero-out funding for nonprofits in his budget."
"At the end of the day, we won those battles," Johnson said in the article. "We lost some supporters, but I would say when I look at the grand scheme of things, we have gained more support this year than we ever have in the history of this organization."
Johnson also developed a reputation for chronicling a lot of his life on Facebook, where he frequently posted live videos. He participated in a pre-dawn bicycle club on a mountain bike he dubbed the "ice cream truck" and spent a few nights each summer sleeping atop a truck outside Metcalfe's store to hit fundraising goals.
"It was really eye-opening," Johnson said of the experience. "I was blown away by the generosity of the people in this community."
Caire and Madison also pointed to the contributions of Johnson's wife, Toya, in her position as director of community impact at United Way of Dane County, and said the two are role models of a healthy marriage and family.
"As black men, sometimes people over-analyze our role as leaders in our community, and don't even think about the role we play in our households," Caire said.
Johnson said he's most excited about the scope of his new position, as the organization distributes millions each year, with $51 million invested in the community in 2015. United Way's top priority is lifting people out of poverty, he said, not "managing" people living in poverty.
Johnson will remain in Madison for another 60 days. In his place, BGCDC chief operating officer and executive vice president Rod Mitchell will be named interim leader of the organization. Johnson called Mitchell his longtime right-hand man and said he recommended Mitchell for the role.
Caire challenged BGCDC supporters to "continue to support the Boys and Girls Club at the same level, if not a greater level" after Johnson leaves.
"Sometimes people can get caught up in the person (leading); it's very easy to do," Caire said, "If they wait to see who the next leader is, they were never committed to the Club."
"There's some people that will say it's a huge loss to the community," Madison said. "But (Michael and Toya) have given so much to this community that I think they laid out a blueprint."
Whoever comes next at BGCDC will "have the opportunity to continue greatness," she said.
"Bottom line, I would have done this community a disservice if I did not prepare for this day," Johnson said, adding that he believes the BGCDC will go on to "bigger and better things without me."